You guys know we're suckers for all things Richmond related. So when a home from our very own hometown popped up in the August issue of Domino magazine, we were pumped. And it was one the most inspiring houses we've seen in Domino in a while (I'm trying to be as impartial as my brain will let me, I swear). The combination of a cozy neutral palate paired with playful and unexpected features (hello stenciled floor!) put us on the verge of hunting down the homeowner and forcing ourselves into her now-famous home.
So imagine our surprise when she found us. We noticed Katie Ukrop's comment on our recent house crashing post when we snooped around Lesley's home a few weeks ago. A few e-mails and phone calls later, and we snagged an exclusive interview with this Domino all-star just for you guys. We're not literally house-crashing this time, since Domino beat us to the punch. Instead, we visited Katie at Quirk (the art-gallery-meets-cheeky-shop that she owns in downtown Richmond) to snag a behind-the-scenes look at her moment in the spotlight.
Here's the scoop: It was a friend of a friend who suggested Katie's home to Domino. She was in town visiting and stopped by to take a few scouting pictures and the rest is history. I guess this means there's no magic formula to catching Domino's eye. But it helps to know the right people. That and have an amazing home. Domino visited Katie's home in Richmond's historic Fan District last summer (yup, it took a whole year from the shoot to the presses) and spent two days photographing every detail. The crew was modest – a husband and wife photographer / story producer team of Paul and Sara Ruffin Costello, an assistant, and the writer Ruth Graham who popped in and out. Overall, a pretty low-key and painless process. In fact, Katie said it was a lot of fun.
The painted floors in Katie's parlor were a surprise to the Domino staff when they arrived. Katie had been planning to do something with her floors for a while, but it wasn't until after the scouting photos were taken that she took the plunge and had the floors painted and stenciled by local paint expert Sunny Goode. Katie worried the magazine would scold her for springing new floors on them, but instead she says "they loved it!"
The floors weren't the only last minute additions. With one of her couches out getting reupholstered, Katie took the shoot as an opportunity to snag a couple chairs that she'd had her eye on for a while (which came home with her just hours before Domino arrived). Other than that, Katie's prep included some good ol' fashion cleaning up.
But to Katie's surprise, Domino didn't want things über tidy. "Domino didn't want perfection. They like it a little rumpled." So before she knew it, the crew was putting keys on tables and pots on the stove to make sure her home looked lived in and loved. They even asked Katie to pull her long blonde hair back to keep things less coiffed and more comfy casual. And to our surprise, Domino didn't bring a single prop. Everything you see in the story is Katie's – even the cut flowers that she snipped from her garden that very morning.
Katie's thrilled with the result, especially the mention of some of her favorite things from Quirk at the end of the article. But of course some shots were left on the cutting room floor. For one, we didn't get to see her beautiful daughters Emma and Flora muggin' for the camera. Fortunately, Katie got to keep some of Paul Costello's leftover polaroids for her family (and us!). And boy are we excited to share these exclusive Domino shots with you guys.
Now that it's been twelve months, things around the Ukrop abode must be slightly different, right? "It's definitely messier," notes Katie. Other than that, she admits to rotating in a lot of fresh art (which I imagine is a pretty natural part of owning a gallery and constantly having great, new art at your fingertips).
We asked Katie what's been the best thing to come from her national magazine debut (besides our stellar interview). She kindly buttered us up ("oh, well, this interview is top-notch") and then got real. "I've fostered a great relationship with Domino. They're fantastic over there." There have also been a few old high school friends who have resurfaced that Katie has enjoyed reconnecting with. But the best part? "All the artists and jewelers that have been contacting us who want to be a part of Quirk."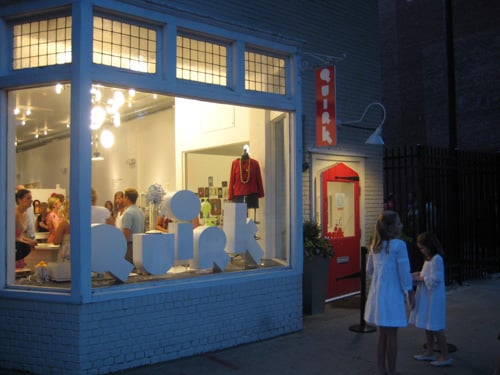 Quirk's Domino Party last month. Katie's the blurry, white shoulder above the "Q."
Quirk is an eclectic art gallery that Katie opened back in September of 2005. The historic brick building was once home to several squatters, not to mention a big tree growing through the back wing (skylight, anyone?). Talk about a fixer upper. It had once been home to the Richmond Stationery Company, which left Katie and her crew with a cool "vault" space that had previously been used to keep envelopes from self-sealing in the humidity. Now every corner of the building is home to Quirk's rotating collection of art, sculpture, jewelry, books, stationery and a whole slew of other cool things – even the vault houses some of the smaller art installations.
Quirk's filled with conversation pieces that are bound to add some interest to your home (or outfit). And whether your budget's measured in Benjamins or in Washingtons, you're sure to find something fun to take with you. So be sure to check out their online Gallery Shop. And while online shopping is in the works, for the time being you can e-mail or call in your order. (I know, bummer, you might actually have to interact with Katie or one of the other gallery "rockstars.")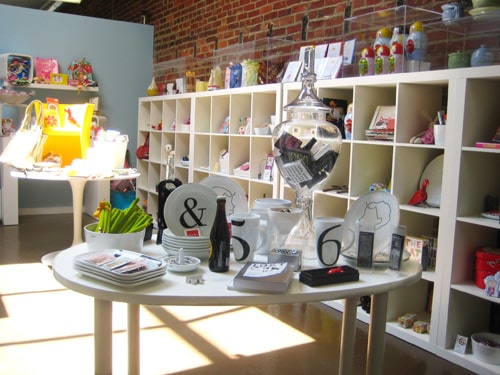 We wanted to know how Katie's home inspired her gallery. And we quickly learned that it was the other way around. "Quirk has changed my aesthetic. I did the girly, flowery, shabby chic thing at home, but I've always loved a crisp white room. Quirk has also given me the courage to throw in a fun chair."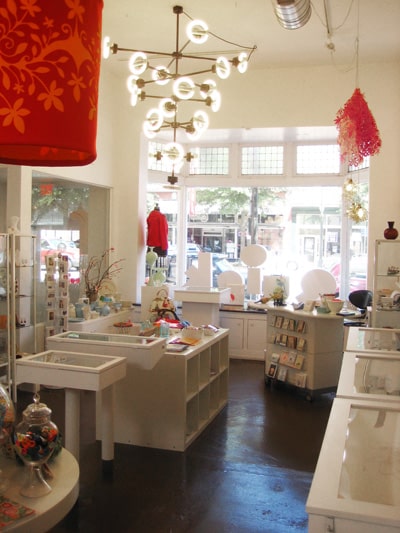 Katie says her favorite part of owning a gallery is meeting all the artists and bringing all the inspiring, eclectic, and artistic pieces together. She admits that not everything at Quirk fits her personal taste to a T, but that's the beauty of owning a gallery- it's helped her develop an appreciation for a wider range of styles. She also advises any budding entrepreneurs out there to "go for it, but don't think it's going to be easy. When we opened we didn't know who would come in the door. But now I know my customers and I know what they want." And boy has her hard work paid off.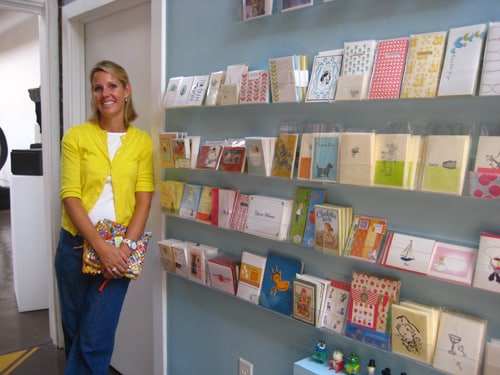 Katie's decorating advice is the same as her advice for collecting art: "Buy what you love and what makes you happy. Don't sit and stew about whether it will increase in value. If you love it, buy it." I'd say that philosophy has served her pretty well, considering how incredible both her home and gallery have turned out. Thanks to Katie for spending time with us and letting us pick her brain about her Domino experience. And thanks to Domino for putting Richmond in the spotlight (and letting us show their pretty outtake pictures above).