Holla. We're donning our best homie gear (via Photoshop… is there any other way?) to pop in and say "really?!" and "thanks!!" to everyone who nominated us for Apartment Therapy's Homie awards, a fun little year-ending blog love-fest. Over the last week more than six hundred home blogs were nominated (we had fun voting for a slew of them!) and we were beyond excited to find out that we're one of six finalists in the "Home Design" category! For shizzle? We can hardly believe our slightly narrowed eyes.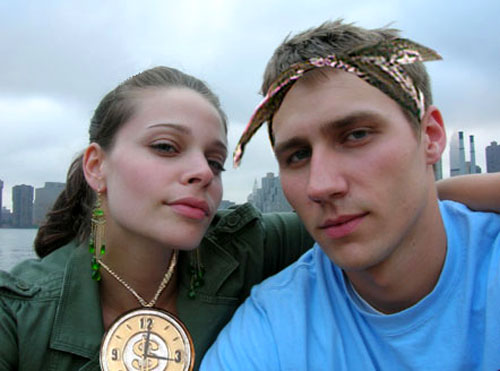 It feels amazing to be grouped with such an ill (in homie talk, this is a compliment and has nothing to do with bad health) collection of bloggers. We still find ourselves shaking our heads and wondering how the heck we got here.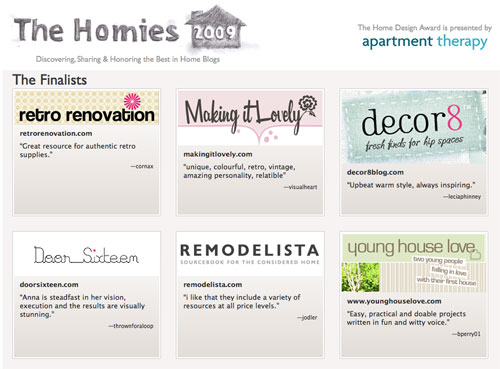 The voting officially ends tomorrow so feel free to drop in and log a vote for your favorite home design blog- whether it's us or not! Everyone gets one vote in each category (like "Green Home", "Home Cooking", etc) so we're also having fun moseying over to support other online reads that we love. If you're already registered at AT, just click here (and if you haven't registered yet click here and once you've confirmed your registration by email just click here to cast your vote).
Like we said, it's a veritable blog love-fest over there and it makes us feel better than busting a cap. Whatever that means. We're no good at this whole hardcore thing. We're really more comfortable with terminology like "cohesive color scheme" and "functional floor plan." Off to study urbandictionary.com a bit more. We obviously have to brush up on the whole homie thing.