If you're not already reading How About Orange you should probably start. Why? For one, because Jess always finds fun things like this Swedish Furniture Name generator (i.e. what kind of Ikea furniture are you?) from Blogadilla. Just enter your first name and presto-change-o you've got yourself a vowel and umlaut-riddled nickname complete with a corresponding furniture illustration. Here are ours: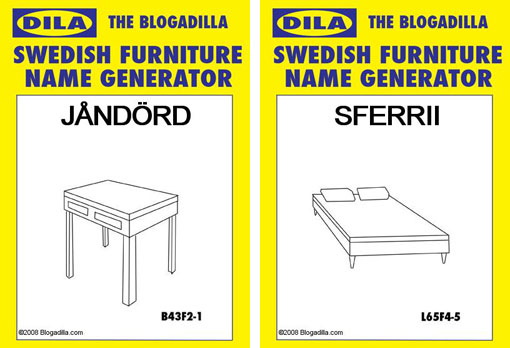 And if you're wondering about the post title, neither of us were blessed with the name FARTYG (which, no joke, is the name of a real light sold at Ikea). But that won't stop either of us from picturing a flatulent rap star who goes by that name. Oh Ikea, you crack us up.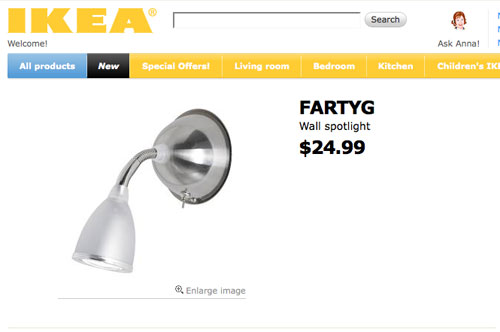 And if you're like me and take the time to wonder what would happen if you put in the name "Billy" (which already happens to be the name of an Ikea bookcase) it still generates an even more Swede-tacular name: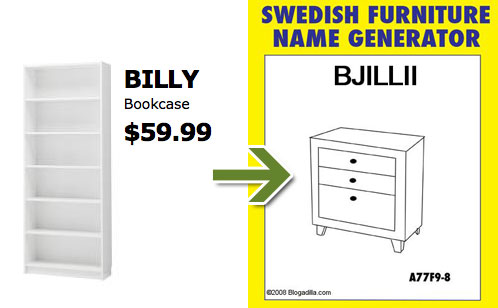 So what'd you guys get? Are you a bed? A chair? An end table?
PS: For more Ikea fun, you might enjoy "Easy To Assemble." This Ikea-approved web series features real actors, including faux training videos like Jeff Goldblum, providing useful Swedish phrases.