… you sure have been full of lovely eye candy lately. Don't think we didn't notice.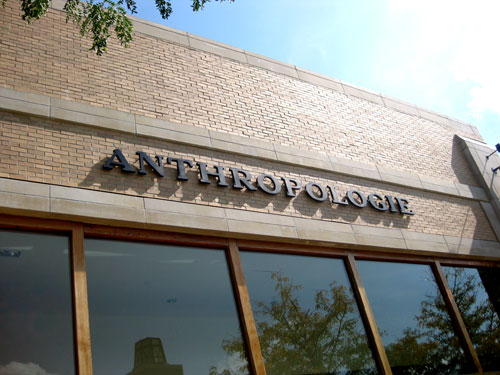 In fact, here's a round-up of the stuff that we loved so much we just had to share. And the good news is that many Anthro ideas can be DIYed on the cheap. Take these pretty numbered canisters for instance. Couldn't you see yourself stenciling on numbers a la these?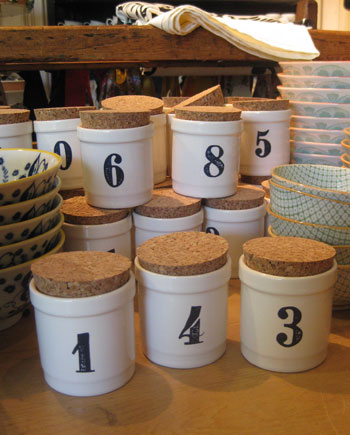 And if you don't want to lift a finger, these guys are only five bucks a pop, so they won't break the bank. We could see them holding everything from sea salt and other spices to bathroom stuff like cotton balls and q-tips. They would also look super cute anywhere from a mantel to a windowsill as decorative objects that display a meaningful number (like your anniversary, house number, etc).
We also couldn't tear our eyes away from this amazing DIY mantel.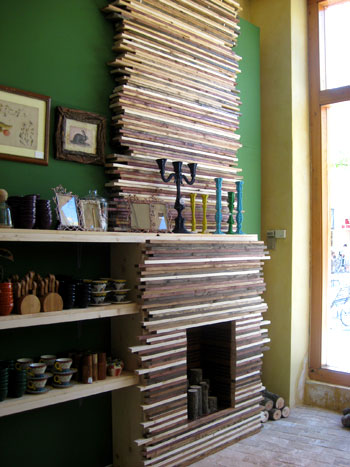 All you need for your own made-it-myself version are some light pine boards cut to varying lengths and stained a variety of tones for a layered and lovely look. We also think the sides would look super finished if they were stained the darkest tone for a polished effect. Of course it would be safer to do this project to create a non-working fireplace (or over an existing non-working one) where you burn candles occasionally as opposed to giant flaming logs.
And in other fireplace related news, we love the idea of grabbing some super long matches and storing them in a glass container like this next to a working fireplace.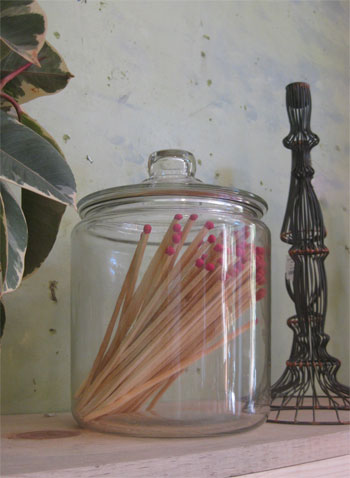 Gotta love something decorative and functional. Of course you can tuck a piece of sandpaper in the jar to use as a striking strip, and places like Target or Walmart sell those jumbo glass containers for under $8.
Then there are these amazing nautical burlap pillows. Sigh.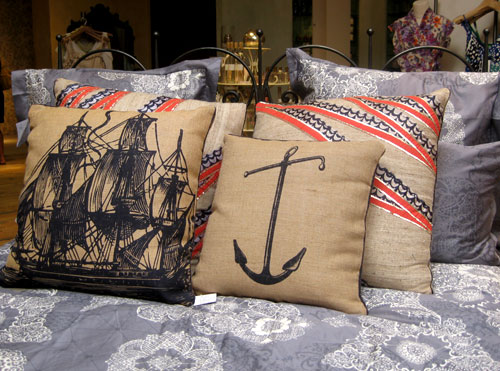 You may want to stencil on your own anchor to get the look, or even cut one out of navy fabric and sew it onto a burlap pillow for a similar effect. We also love the red diagonally striped pillows, so anything from red ribbon to adding stripes with fabric paint could recreate the mouthwatering mix on a dime.
And we can't forget this other genius use of burlap that had us lusting for about fifty yards of the stuff. How great would household art looked matted on burlap instead of a blank white mat? Love that texture.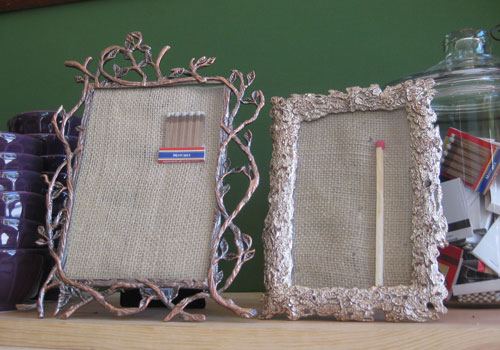 And we can't walk through Anthroplogie without smiling at their assortment of monogrammed mugs. They make such great personalized gifts for just $6 a pop, and you can fill them with candy or colored pencils or anything else the giftee might enjoy.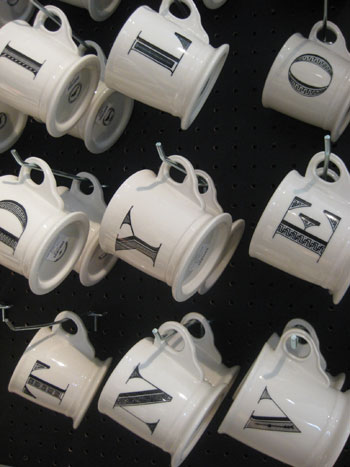 Best of all, there's no gift wrapping necessary. We add any little "filler" like candy or hot cocoa mix, leave them right in the chic little Anthro bag with their pretty tissue paper and hand 'em over right in the original packaging. People never fail to squeal that they love Anthropologie and it feels nice and special without having to splurge for pricey packaging or create extra waste. Every little eco act counts, right?
And of course we had to snap a photo of one of their $12 ceramic egg crates…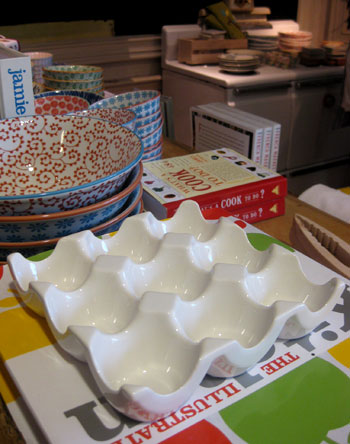 … since I bought something similar years ago in NYC and still use it to organize my jewelry to this day.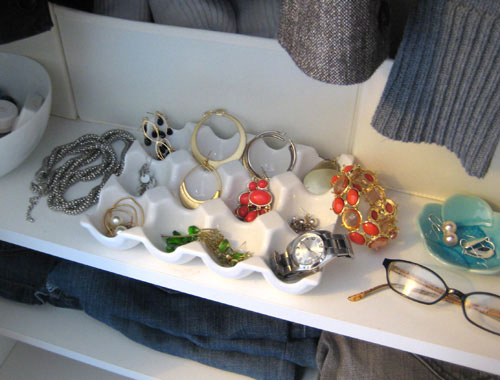 You know me and white ceramic things. It's a sickness, people.
So in summary: Thanks for the memories (and the inspiration) Anthropologie. I'm sure we'll be back soon to drool some more. What about you guys. Have you spotted any Anthro must-haves or items that have you inspired to DIY something of your own? Snagged anything else at another store that has you weak in the knees? Do tell.
Note: No Youngsters were paid or otherwise rewarded by Anthropologie for this post. We're just loving their wares these days and wanted to share a few of our favorite things with you.