Gina's ready to completely overhaul her family room. Here's her letter:
This is very exciting. I'm so thankful for the chance to work with you! My family room desperately needs your help. It's large (20′ x 24′) and I'd like to be able to use it more effectively – hopefully for two functions (maybe squeeze in a table and chairs or some sort of other "zone"). My style could be described as sophisticated classic, I like luxe materials here and there (silk lampshades or velvet pillows) and I like comfort, warmth, and rooms that are inviting. I gravitate towards dark wood, simple stripes and florals, natural patterns like leaves/vines, and green, ivory, brown, and ruby red tones. My home is mostly neutral with contrasting accent colors. I don't like anything too starkly modern or fussy and ornate. We have tentative plans to remove the dark paneling and have the walls sheet-rocked and painted (my brother is law is a carpenter and he'll help us). What do you think? I would love to get a recommendation for a wall color in anticipation of removing the paneling. I don't want to paint the brick on the fireplace but here's what can go: tall dark wooden bookcase, coffee table, bureau under television, and the treadmill. Must stay: bench and louvered cabinet are built in, carpet, sectional sofa, and our flat panel television. Thanks so much! -Gina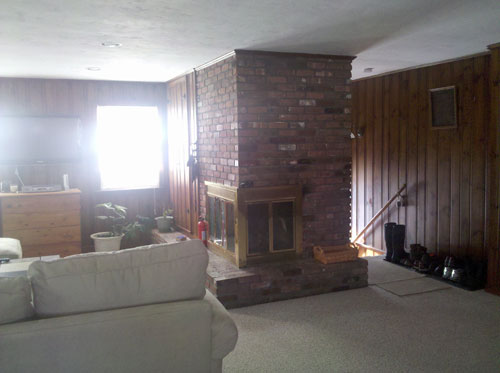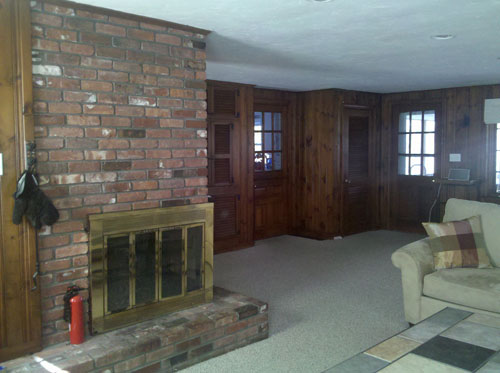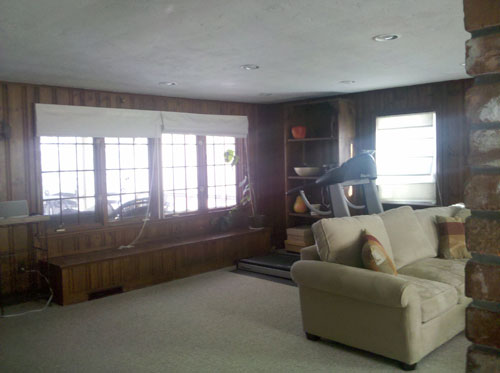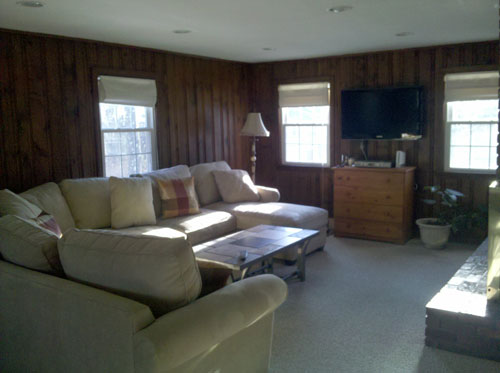 Here's the plan:
And here's the new layout suggestion: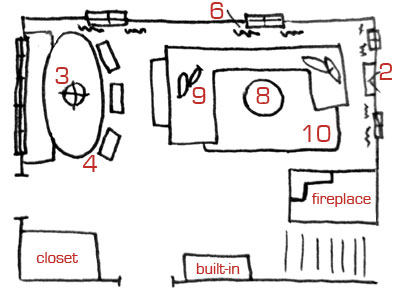 Now for the mood board breakdown.

1. Our color palette will be full of rich browns, neutrals ranging from tan to cream, and hits of sophisticated pear green and ruby red (which will all look especially delicious with the unpainted brick fireplace and the existing berber carpet). As for the paneling, Gina mentioned that she wants to remove it, add drywall, and paint the room and we couldn't agree more that an approach like that would really lighten things up and take the room from dark and woodsy to sophisticated and crisp. Honestly if it were us we would just prime and paint the paneling in a rich cream tone (and keep the built-in bench and louvered cabinet since they both provide lots of function and symmetry). In fact Nate Berkus recently primed and painted paneling on an Oprah makeover and it looked just as good as painted drywall if not better (the linear detail created by the grooves in the paneling adds to the texture and sophistication).
But we totally support Gina and her husband if they'd rather remove it all and drywall instead, in which case we still think the same creamy tone will look great around the room to really allow our accent colors to pop while lightening things up by about five hundred percent. Benjamin Moore's Winter Wheat 232 or Cream Fleece 233 would both be amazing wall color choices and we'd love to see all the trim and those three doors go white for a bit of crisp punctuation in the space.
2. This rich dark wood five drawer chest (on sale!) will provide lots of concealed storage in the place of the shorter and lighter toned dresser that currently lives under the wall mounted TV. We love that it's a bit taller so it'll further ground the TV (and make it look less like it's floating) plus accessorizing the tall chest with some hardcover books in tan, red, green, or brown along with some red vases (like this one) would be the icing on the cake. For extra credit Gina can even get her carpenter/bro-in-law to hinge the top drawer so she can store her TV components in there instead of on top.
And speaking of dark wood furniture, we'd also love to see this elegant and leggy sofa table (on sale!) behind the shorter part of the sectional to provide even more polish from the other side of the room (and serve as a buffet-type space for entertaining at the table). We'd also love a more crisp and elegant floor lamp for the other side of the sectional like this (to replace the existing one for an instant upgrade).
3. One of our favorite ways to define a new zone within a larger multifunctional room is to pop a pendant light in above a large table (around 34″ above the tabletop to be exact). So that's what we'd love to see Gina do with this gorgeous clean-lined nature-inspired pendant that we dug up for just $129. It'll really work beautifully with the curtains and the complementary red accent color, and this plug in light may even be able to be converted to a hardwired version and installed by an electrician for a small fee instead of being swagged over the table (which would also look lovely).
4. We opted for a classic oval pedestal table because it will soften things up even more and add to the flow of this large multifunctional room. We also thought that white was the way to go since so many other furnishings will be dark brown (the chest below the TV, the coffee table and the sofa table behind the sectional) so we wanted to break things up and keep everything from feeling too matchy matchy. By placing the table so that half of it can be used by sitting on the built-in bench (which can either be kept if Gina opts to paint the paneling or rebuilt if she opts to remove it) Gina will really optimize this added area that can be used for anything from eating to playing games and even reading the paper on a sunny Sunday morning. Then by introducing three or four of these elegant skirted parson's chairs (in "harper mocha") Gina can add more of those sandy neutral tones and create that luxe yet totally comfortable and inviting ambiance that she loves. Oh and that red candle holder on the center of the table is just another way to bring in more of our ruby accent color into the space.
5. We think all the rich neutrals, creams, greens and reds will look great with the unpainted brick fireplace, but a few tweaks will make it feel even more posh. For example, Gina can remove the brass fireplace doors and spray paint them with black heat resistant paint (picked up at Home Depot or Lowe's) for a totally crisp look that feels instantly updated. And a simple 5″ thick dark wood toned mantel added about 7 bricks above the top of the fireplace doors that wraps around both sides of the fireplace will really add presence and style. Then something like these red flowers can be placed on the mantel in a variety of clean white vases (three on each side of the wraparound mantel would add elegance, texture, and interest).
6. Here are our gorgeous printed leafy green curtains that will add so much high-end ambiance into the room while making the ceilings feel taller and the windows feel bigger. We'd love to see them mounted on long oil-rubbed bronze rods above each window only about an inch below the ceiling and about 15-18″ wide on each side of all of the windows in the room except for the ones that flank the TV (those can be hung just an inch or two past the window frame since Gina wouldn't want them to interfere with TV watching).
7. Gorgeous high-end looking art like this (here's one, here's the other) will add so much style and pop to the entire room, especially when it's paired with the complementary green printed curtains. We'd love to see them both hanging on the wall behind the long part of the sectional (one centered between the two windows on that wall and one to the right of the first window as you face it (perpendicular to the TV). Once the curtains are hung high and wide there will be just enough space on each of those areas for one of these 20 x 20 prints, so they'll look perfectly proportioned.
8. This elegant dark wood coffee table will fit right in with the L-shaped sectional while the curves will increase the flow and the glass top will keep things feeling airy and light.
9. We'd love to see a few of these chic pillows (on sale!) tossed on the sectional to break up all that cream fabric and add more posh pattern, interest and color to the entire room.
10. This great 8 x 10 rug will ground the large sectional along with our new dark wood and glass coffee table while tying in with our green, tan, cream and red color scheme. It'll also help to differentiate the seating area from the dining/game zone that exists behind the sectional.
So there you have it. A multifunctional family room full of sophisticated and classic style. We can't wait to see what you guys think!
Update: We sadly can no longer find the time to take on client commissioned mood boards (we now whip up general inspiration boards instead) but if we ever reinstate them we'll make a big announcement!