When Clara discovered crawling almost two months ago, she discovered more rooms to play in. And when she made the kitchen her new favorite play area, she made our garbage can her new favorite toy. In a word: yuck.
See, our new house garbage solution over the past five months has been embarrassingly "interim." The cabinet under the sink is too small for even our tiny garbage pail, so it landed in a random corner. Completely out in the open and waiting for little hands to find their way to it. Sooooo… we moved it into the nearby laundry room (which Clara has yet to turn into her playground).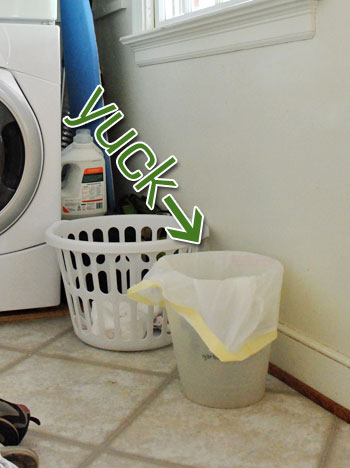 Not our proudest housekeeping moment, but then again this whole laundry room has been living in neglect ever since the new washer & dryer arrived months ago (note the mess of shoes in the foreground). So at least the garbage can fit right in with the whole not-good vibe.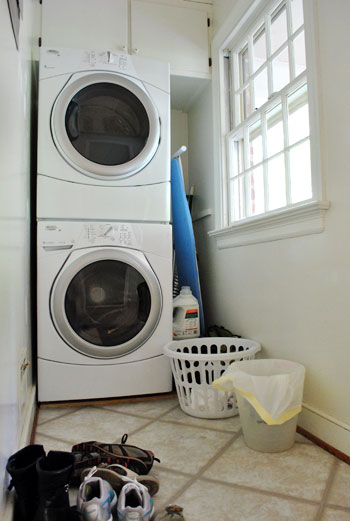 But on a recent trip to HomeGoods we chose to upgrade our trash situation, courtesy of this larger enclosed can.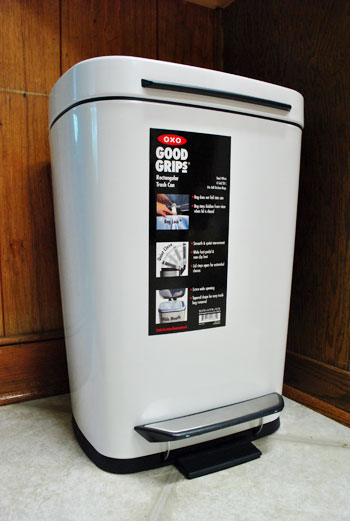 I've always been a bit wary of the durability of these flip-toppin' foot-pedallin' garbage cans, and I was even more so when I saw the price tag. It took just about everything in me to pay $60 for it, so thank goodness it wasn't still priced at over $100 (Sherry googled around for OXO reviews and said they were a great brand that sold many over-a-hundred-dolla cans, so the $60 deal was in fact legit). Maybe I'm just not up to speed on the garbage containment industry, but when did these things get so darn expensive? Did they start making waffles and changing diapers too and I just missed the memo?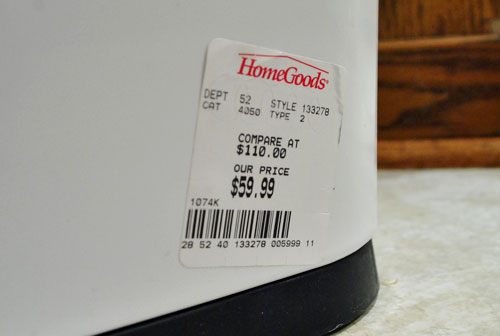 Then again my sister does own (and love) an $100+ SimpleHuman trash can that calls for custom bags. So at nearly half that and without a need for custom bags we decided this guy was the can for the job. Har har. See what I did there? I replaced man with can. Oh the hilarity.
In the end, sixty beans is well worth this scene: Clara being able to play without us having to worry about little fingers fishing out an old teabag or clumps of lint. Instead, she can focus on practicing her gang signs (apparently she's sending big ups to her homies on the west side).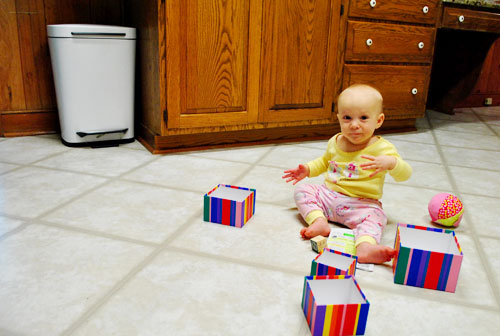 And once we give the kitchen a much needed overhaul with sleeker appliances and more updated looking cabinets it should fit right in. Plus Clara doesn't seem to have any affinity for the can's step-lever on the bottom (something we initially worried about) so it's nice to know that she's kind of over the idea of playing with the trash now that it's tucked out of sight.
Our new can also earned bonus points from me for this little feature – which we didn't even notice when buying it: a bag lock that helps keep any old grocery store garbage bag taut around the can. It actually seems to work too (there's a bag in it in the pic above and we love that it doesn't flop out and look messy – or collapse into the depths of the can when we toss things in).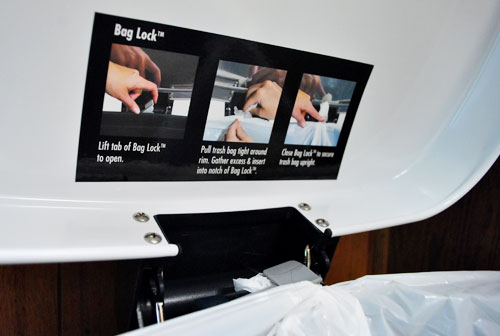 And not only does it look neat and keep our baby out of trouble. It might help her learn something too thanks to its magnetized sides which are compatible with Clara's magnetic letters (which are a fun Etsy purchase – more info here). She discovered that herself – isn't she smart?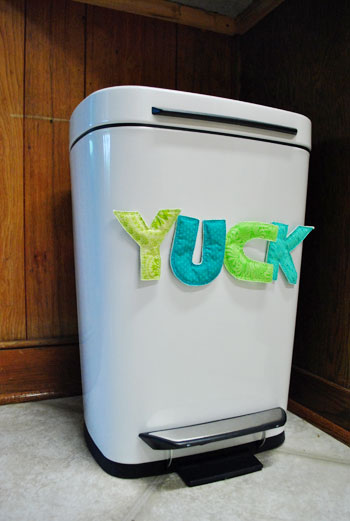 As for me, I'm just happy not to have to do laundry next to an open garbage bag. Moving it out of this room even inspired us to tidy up our shoe mess with a basket that we already had around.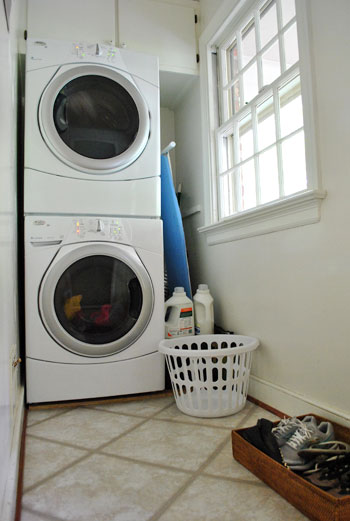 Not a big improvement, but at least it's a step in the right direction, right? Booyah. Pun wholeheartedly intended.
Psst- We weren't paid or perked for this post, we just dig our new trash containment device.