Remember last fall when we created a separate little site just for browsing mood boards and mentioned that we wanted to create one full of actual photos from house crashings and reader redesigns (where you could search by color or room)? Well, after a few more midnight coding tantrums and accidental hunger strikes we've (finally) done it. It's a big ol' gallery full of real rooms for your viewing pleasure. And you can access them anytime by clicking the "Room Gallery" tab under our header. Sidenote: I've always wanted to start a post with dude. Mission accomplished.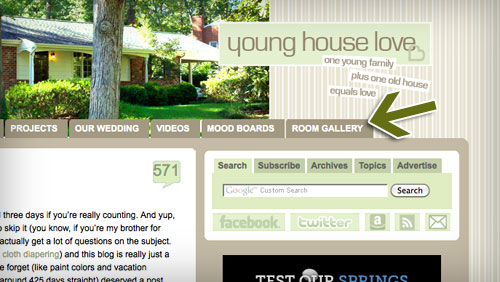 This new "Inspiration Gallery" follows the same basic format as the existing Mood Board Gallery, only these are actual photos of rooms that might come in handy when you're looking for ideas for your casa (you know, as opposed to boards full of furnishings and accessories). We've uploaded pics from over thirty House Crashing adventures as well as some of our solved Design Dilemmas (which gives you over 340 pictures to peruse) and we plan to beef things up over the next few weeks by adding images from all of our previous Reader Redesigns too. You know, once I can see straight again.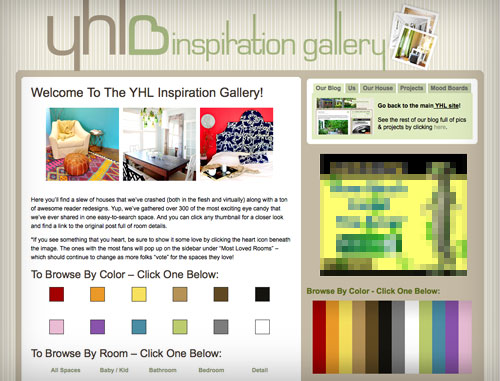 Things are tagged by color and room (just like in our mood board gallery) which means you can search by room or by color scheme if you'd like. So if you're jonesing for blue rooms or only want to browse kitchens, you can indicate that on the main page or the sidebar to hone in on what you want. Oh and to find out more about each room and see a close up, just click on the thumbnail. As always, it's nothing fancy since our coding philosophy is just like our home improvement one (learn as you go). So please pardon any glitches or less than perfect searching capabilities and let us know if you find any broken links or typos.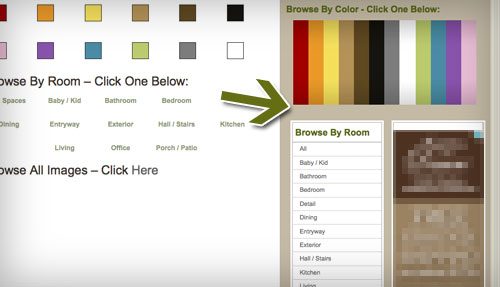 We've also added a fun little rating feature. So if you've got the warm fuzzies for a particular pic, show it some love by clicking the heart icon below it on the photo detail page. It won't put that room into a "favorites folder" or anything (in order to code that people would have to sign in, which is beyond our skill level and not everyone likes logging in anyway) but the rooms getting the most love will show up on the sidebar under the "Most Loved Rooms" title – which means everyone will have quick access to whichever rooms the crowd is finding to be the most inspirational. And they'll constantly change as people continue to explore and weigh in, so that should be kinda fun.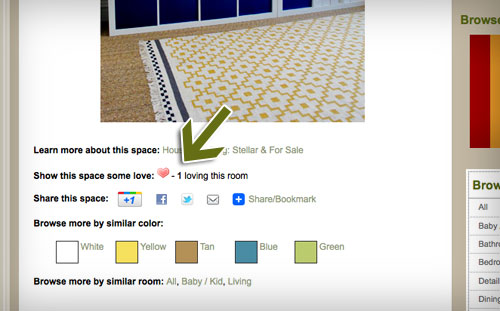 So feel free to poke around and make yourself at home in our new digs (which will just keep growing as we continue to add photos). It's definitely somewhere I expect to find Sherry all the time (we don't get out of the house much). Can't wait to see which rooms pop up as favorites.