Gail's den is a long & skinny decorating challenge (one of our toughest yet- especially because it has to do so many things). Here's her letter:
I'm so glad our den is in your talented hands! It's where we watch TV, where our two kids play, and it's also our office. If we had a place where the kids could also do their crafts that would be the icing on the cake. We're really looking forward to getting our family pictures and some of our books into this room. I'm struggling with how to join the various "sections" of this long, skinny space (it's 9 feet wide by 23′ long with a bump-out which accommodates a fireplace in the next room). The only thing that must stay is the TV, everything else can go. We love the new wall color (BM Hancock Green) and off-white window trim, so that stays. Oh and we're desperate for toy & game storage. I love the large bay window and it would be nice to have some kind of seating over there (it's a bit drafty and lacks privacy so we'd love to deal with those issues as well). My style is traditional and cozy with a hint of pattern and boldness (I love your makeover for Stacie). Patterns and durable easy-to-clean fabrics are our friends! One small plea regarding pillows: not too many. I'm always picking them up from the floor. Thanks and congrats on your excellent news! – Gail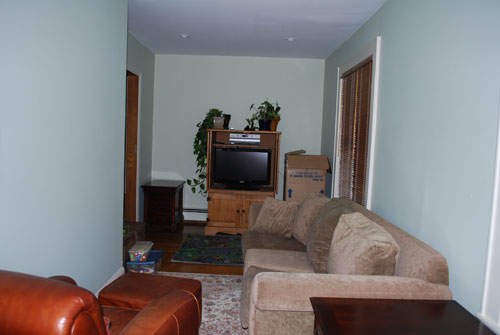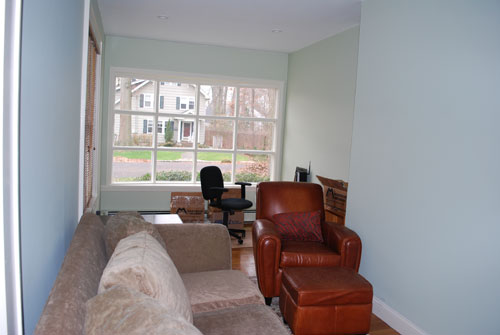 Here's the plan: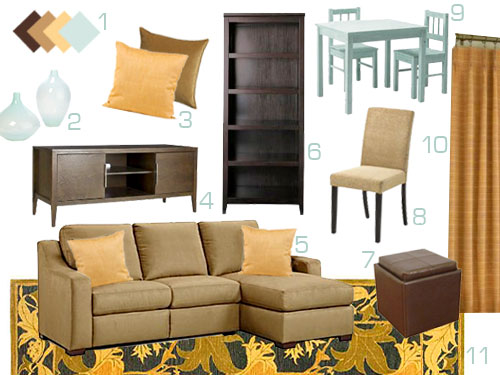 And in honor of this room posing the biggest design challenge we've encountered to date (it's 9′ wide by 23′ long and has to serve three purposes!) we actually whipped up a floor plan to show Gail how the new layout will work: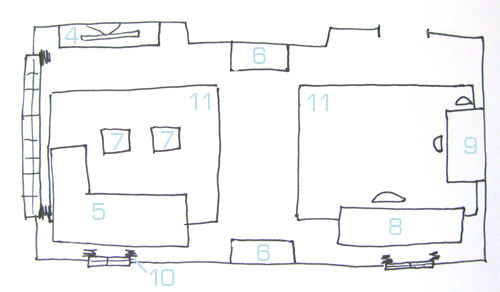 And now for the mood board breakdown.

1. Our color palette will be built around rich neutrals (chocolate, wheaty-tan, gold) with pops of serene greeny-blue to work with the ethereal wall color (BM Hancock Green) which will stay. And of course we'll layer in some kid-friendly textures and patterns (since textiles with movement do such a great job at hiding dirt along with wear and tear).
2. Gorgeous accessories like these pretty glass vases (each under $20!) will bring smaller hits of the wall color around the rest of the room for a cohesive effect. These could live on top of the wall-anchored bookcases that we'll be bringing in or even just be used as inspiration for less breakable accessories that can be introduced to keep things feeling fresh and more polished than the average office-meets-playroom-meets-tv-room.
3. Here are more of those wheaty-tan and golden accent colors that we'll be layering in with a new small-scale sectional to finally make it comfortable to view the TV and make sense of the rest of the floor plan. We'd love to see two of these and one of these tossed casually on the sectional to break things up and add cozy ambiance without contributing to pillow overload (which can be a bit much in a narrow space like this).
4. This clean-lined media cabinet (on sale!) will provide ample storage space for gaming consoles, cable boxes and other media related paraphernalia thanks to a few concealed and open cubbies. The great news is that it still has a modest footprint so it can easily slide into the alcove to the right of the bay window. This way the sectional can be placed on the opposite wall to face it for easy-viewing and the TV won't be the first thing you see when you enter the room (which is always a plus).
5. Here's the sectional (on clearance for just $699!) that we mentioned we'd love to see on the wall to the left of the bay window (facing the media stand on the other side of the room). Since it's a modestly sized L-shaped sofa, the chaise part of the piece will tuck right under the window to create a nice cozy zone for anyone watching TV, playing video games, and even enjoying the view out that window. And of course since we dug up some nice lined curtains for the room, the sectional should be pulled out about 10″ from the corner so it's not awkwardly squishing the panels on either window. Oh and one bonus about the new sectional: it has a built in recliner for Gail's recliner-loving hubby.
6. Because Gail mentioned that they were looking forward to bringing family photos and books into the room we thought two clean-lined bookcases would add tons of storage space along with nice display space to boot. They can even provide concealed storage if baskets or lacquered boxes are slid onto a few of the shelves so the possibilities are pretty endless. We'd love to see one placed in the middle of the room between the two taller windows and the other placed directly across from it on the opposite wall (which bumps out a bit due to a fireplace behind it). These bookcases will not only add symmetry and function to the room, they'll also help to create two different zones on each side of the space (which will further be defined by coordinating rugs placed in each zone). Oh and remember to wall-anchor those bookcases so they don't topple down on the kids. Safety first!
7. Two of these great padded leather-looking ottomans (totally easy care!) will look fantastic in front of the sectional as a more casual "coffee table" in the TV-watching zone. They provide tons of room to stash toys, remotes, etc and also have tops that can be flipped over to create trays for placing drinks and other items when the need arises. Best of all, they provide extra seating and are easily moved (so kids who want to sit on the floor and play video games can quickly slide them aside). And for all that function and form, the price can't be beat.
8. This comfy chair is part of a new office area that we dug up for Gail. We'd love to see it paired with this desk (which has some great filing storage and functional drawer space built right in). As for placement, the desk and chair combo can be put on the same wall as the sectional (under the other tall window in the room) where we'll create a second zone for working adults and crafting kids alike.
9. Gail actually mentioned she already had this kid's table and chair set from Ikea and it was just waiting for a coat of paint. We'd love to see it painted the same color as the walls (BM Hancock Green) and then protected with a few thin and even coats of water-based poly to keep it totally kid-proof (here's a handy furniture-painting tutorial complete with a specific poly recommendation). This little work/play zone can be placed where the TV currently lives in the before photos (along with a few dark wood storage chests or more of these ottomans) on either side – for even more places to stash things when the kids aren't using them. Best of all, we'll be bringing in a rug to define the TV-viewing area and another one to tie the adult office and kid's table together and create a second zone in the room for playful projects and paying bills. Plus hanging a few of these affordable wood shelves on the back wall above the kids' table (also painted to match it) will create even more places to stash bins and baskets full of crayons and toys.
10. Here are the curtains (in camel) that we dug up for all the windows in the room (we'd love to see them hung just a few inches below the ceiling and around 18″ wide on either side of the tall windows (so the panels don't block any light and create the illusion that those windows are wider and more expansive). Of course they can't be cheated that wide on the bay window wall, but going as wide as possible there will also keep things feeling open and balanced, and they can be drawn for privacy or kept open to let the light stream in. Plus they're thermal-lined which means they'll help with the draft that Gail mentioned was bothering her when it came to that large and lovely window.
11. Here's the aforementioned stunner of a rug that we love for the bold pattern, rich color, and overall function that it'll bring to each side of the space. By purchasing two of these 5 x 8 beauties, and placing them longways on each side of the room, they'll really make sense of the super lengthy layout by creating two zones instead of one seemingly endless runway of a room. And of course the pattern and durable 100% wool construction make them great choices for any room with kids. Because the rug has hints of navy and sage in it, bringing those colors in with accessories for the bookcases, the desk, the media cabinet, etc will further tie it in with the rest of the room for a layered, cozy, and gorgeously transformative effect.
So there you have it. A den full of cozy and inviting style. We can't wait to see what you guys think!
Update: We sadly can no longer find the time to take on client commissioned mood boards (we now whip up general inspiration boards instead) but if we ever reinstate them we'll make a big announcement!