***This giveaway is no longer accepting entries – see who won below!***
Random.org's done it again and randomly selected our two winners. This week they are… Holly (who's looking forward to wonderful fall sleeping weather) and Ida (who's ready for anything pumpkin or butternut squash). Congrats ladies!
With the pooch and the bean running around, we try to avoid chemicals, so this week's prize is right up our alley. With only a bit of water and some fast-acting heat, the Black & Decker Steam-Mop is ready to clean and de-germify your floors, whether they be wood, tile, stone, or laminate. Plus it has some pretty handy features, like a lighted tank that turns colors when its ready to go and lots of swivel action to get into all of your nooks and crannies. Well, not yours – your floor's. You know what I mean.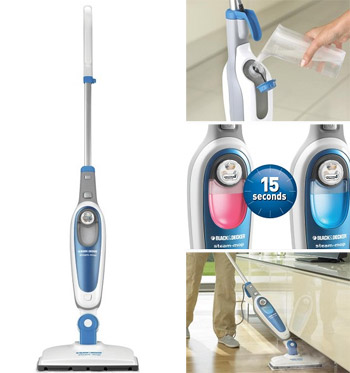 PRIZE: A Black & Decker Steam-Mop (an $80 value)
TO ENTER: Comment on this post with the words "STEAM ME UP" and…
BONUS QUESTION: … since it seems like most of the hot and steamy weather is behind us, why not tell us what you're most looking forward to about autumn. The colors? The crisp air? The cool-weather clothes? My 30th birthday?
GIVEAWAY CLOSES: Wednesday, September 7th at 8pm EST
NUMBER OF WINNERS: Two
PRIZE SHIPS: The 48 contiguous United States (although we do try to wrangle as many international giveaways as possible)
USUAL STUFF: One entry per e-mail address is permitted. The winners will be selected using random.org and announced on Thursday as an update to this post. That's right, come right back here on Thursday for the announcement of our winner. Good luck…
Note: We weren't paid or perked for hosting this giveaway, we just do 'em to thank you awesome folks for stopping in. See our Giveaway FAQs page for more info. Pics courtesy of Black & Decker.