***This giveaway is no longer accepting entries – see who won below!***
Sorry for the delay in crowning this week's winner, folks. But the deed is done and our lucky chef-in-the-making is… Ali (whose biggest suppertime challenge is getting her kids to expand their palates). Congrats!
Every year I resolve to cook more and eat out less. Every year I do okay… for a while. Then, like most resolutions, my willpower kind of wears off. So in that spirit, we thought we'd lend a hand to anyone in a similar predicament. The married duo behind Couple Supper is donating a 1 year subscription to their weekly meal planning service (an $120 value), which is especially designed for twosomes. And beyond solving questions like "what's for dinner?" and "where's my grocery list?" they're also giving the winner an 11-piece Cuisinart Anodized cookware set from Macy's (valued at $520) to help put you on the road to dinner success. Oh, and if you're not lucky enough to win this week, you can still take the free two week trial of their service to see if it helps you stick to you resolution.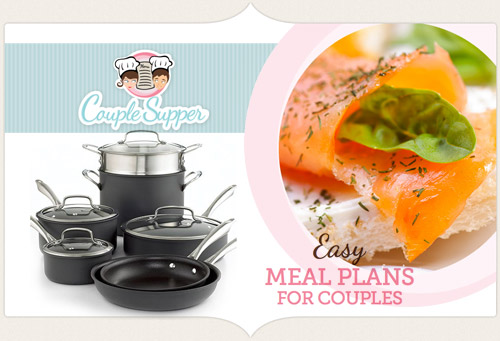 PRIZE: A one year subscription to Couple Supper and an 11-piece Cuisinart Anodized cookware set (totaling $640 in value)
TO ENTER: Comment on this post with the words "SUPPER ME!" and tell us…
BONUS QUESTION: …your biggest challenge when it comes to mealtime. Do you have trouble figuring out what to cook? Do you never seem to have the right ingredients on hand? Are you short on time? Or are you just plain terrible when it comes to cooking anything at all?
GIVEAWAY CLOSES: Wednesday, January 9th at 10pm EST or at 10,000 entries (whichever comes first)
NUMBER OF WINNERS: One
PRIZE SHIPS: We always beg every vendor to ship internationally but some companies are not legally able to vend things beyond specific areas – more on that here. This giveaway is open to the United States and Canada.
USUAL STUFF: One entry per e-mail address is permitted. The winner will be selected using random.org and announced on Thursday as an update to this post. That's right, come right back here on Thursday for the announcement of our winner. Good luck…
***COMMENT ISSUES? If you're trying to enter but keep getting a "duplicate comment" warning, click here to see how to solve it!
Note: We aren't paid or perked for hosting these giveaways, we just do 'em to thank you awesome folks for stopping in. See our Giveaway FAQ page for more info. Pics courtesy of Couple Supper.