***This giveaway is closed – see who won below!***
Thanks for all of the anniversary wishes everyone! Random.org has helped us select a winner of this giveaway and it is… Tracy H (who says since she's from Baltimore, she calls everyone "Hon"). Congrats Hon, er, Tracy!
In honor of our five-year anniversary on Saturday, we're pulling inspiration from the bees that adorned our wedding invites (more on that here) for this week's giveaway. And no, you won't need a beekeeper's suit for any of the prizes that we've assembled for this bee-tastic freebie. Here's what you'll score: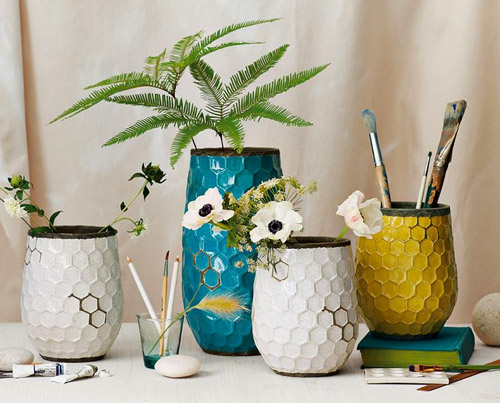 $200 towards paintings by Roz at Drunken Cows. Sherry got me one of Roz's original bee oil paintings for my birthday a couple of years ago, and now you'll get a couple hundred bucks to put towards one (or two or three!) of your own. And if buzzing insects aren't your thing, Roz paints lots of other whimsical subjects too.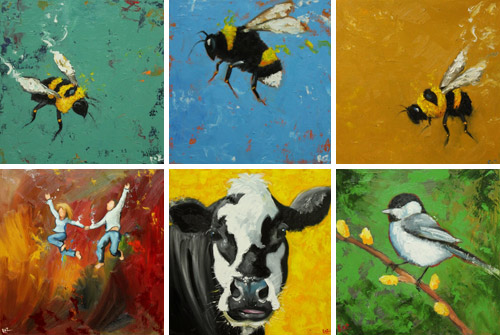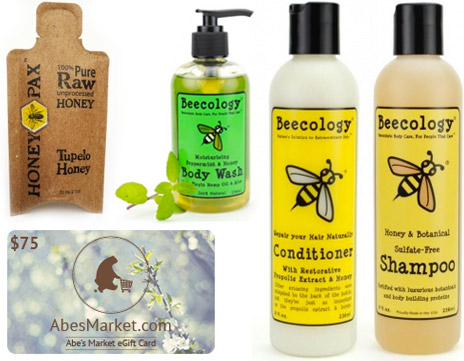 Artisan body luxuries from The Bumblebee Studio. To make sure us fellas are represented in this prize set, The Bumblebee Studio is giving away their gentlemanly "Bee A Man" grooming kit as well as their popular lavender Bee Balm.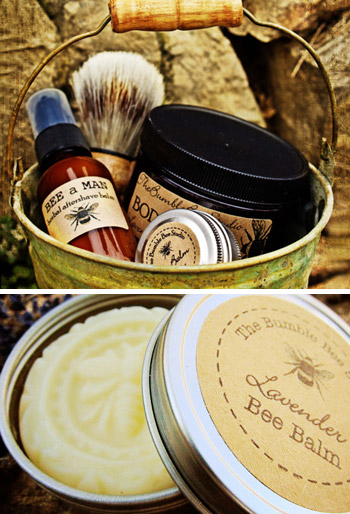 PRIZE: All of the bee-themed prizes described above (nearly a $500 value!)
TO ENTER: Comment on this post with the words "HONEY ME!" and tell us…
BONUS QUESTION: … what kinds of pet names or terms of endearment you use in your family. Do you call your spouse something like "honey" or "babe" or "my squishy little love muffin?" Or do you just break out the cute nicknames for your kids and pets? Maybe you don't use lovey-dovey monikers yourself, but your significant other has one for you?
GIVEAWAY CLOSES: Wednesday, July 11th at 8pm EST or at 10,000 entries (whichever comes first)
NUMBER OF WINNERS: One
DISCOUNT: Use code "YOUNGHOUSE" to get 25% off The Bumblebee Studio (thru Aug 9th), 15% off Drunken Cows (thru Aug 9th) and 10% off Abe's Market (thru July 16th)
PRIZE SHIPS: The United States (although we try to wrangle as many international giveaways as possible)
USUAL STUFF: One entry per e-mail address is permitted. The winner will be selected using random.org and announced on Thursday as an update to this post. That's right, come right back here on Thursday for the announcement of our winner. Good luck…
Note: We aren't paid or perked for hosting these giveaways, we just do 'em to thank you awesome folks for stopping in. See our Giveaway FAQ page for more info. Pics courtesy of West Elm, Drunken Cows, Abe's Market and The Bumblebee Studio.