***This giveaway is no longer accepting entries – get a discount and see who won below!***
Everyone can score 10% off a purchase from Initial Presents with code YHL10 through March. And our two random winners of $75 gift credits are…Angela (who's ARS initials sound like a pirate talking 'bout its booty) and Cecilia (who's CRS initials are pretty run of the mill).

You probably know by now that we've pretty much never met a monogram that we didn't like (I know that's a weird thing for a dude to say, but I like letters and typefaces, sue me). So if you dig that particular brand of classic personalization as much as we do, then you'll have no trouble burning through the $75 you could win from Initial Presents this week. They're all about letting you customize their products – from cutting boards and wine glasses to clothing and jewelry. And two of you are gonna win the chance to put your mark on some of 'em.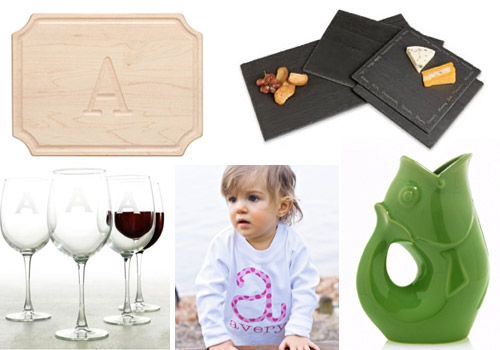 PRIZE: A $75 gift credit to Initial Presents
TO ENTER: Comment on this post with the words "MY INITIALS ARE [insert your initials]!" and…
BONUS QUESTION: … tell us what you love (or loathe) about your initials. Do they spell something cool (or maybe something embarrassing)? Do they make for a great nickname (kids in high school used to call me JP, for instance)? Are you kinda indifferent about them? Or do you wish you could change them to something more interesting?
GIVEAWAY CLOSES: Wednesday, March 16th at 8pm EST
NUMBER OF WINNERS: Two
PRIZE SHIPS: The lower 48 United States
USUAL STUFF: One entry per e-mail address is permitted. The winners will be selected using random.org and announced on Thursday as an update to this post. That's right, come right back here on Thursday morning for the announcement of our winners. Good luck…
Note: We weren't paid or perk'd for hosting this giveaway, we just like rewarding our lovely readers! See our Giveaway FAQs page for more info. Pics from Initial Presents.