***This giveaway is no longer accepting entries***
You know that feeling when you come across something at a thrift store that hasn't been loved in a while but you've got the perfect use for it? Or better yet, when the same thing happens while you're sorting through your own closet or desk drawer? It's not just exciting because you're saving money instead of buying something new – but also because you're giving something a new life that might otherwise wind up in the trash. Well, that's the spirit behind this week's giveaway from Kathie's Finds.
Kathie Armstrong's vintage shop in Maple Plain, Minnesota is filled entirely with items – furniture, art, accessories, jewelry and more – that she has rescued, resuscitated and made ready for a new home. Heck, even the building is a historic creamery where she and her husband now both live and work. And even though we haven't had the pleasure of checking it out in person, we're thrilled to bring a piece of Kathie's philosophy to you guys as this week's prize.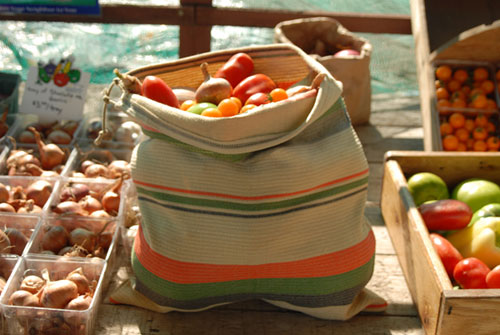 Yup, we're talking about reusable bags. One of our favorite little ways to keep plastic out of landfills is by bringing reusable bags to the grocery store (and beyond). Plus Kathie's bags actually do double-green-duty by being made out of repurposed things like old blankets (and they're all hand-sewn by local women). So whether you're filling them with produce or anything else you've picked up at the store they'll really come in handy and look good doing it. And this week TWO lucky readers are going to score a foursome of 'em to upgrade their next grocery shopping trip (and the rest of you will score a nice little Kathie's Finds discount so stay tuned for that).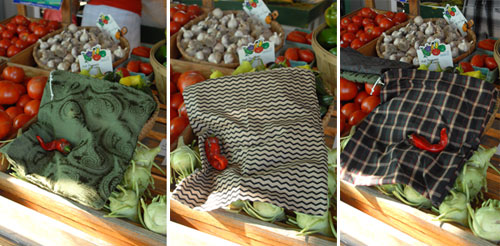 Here's how to enter:
PRIZE: A four-pack of reusable produce bags from Kathie's Finds in an assortment of the designs shown above.
TO ENTER: Comment on this post with the words "BAG ME!" and…
BONUS QUESTION: … share a story about something you've repurposed, rescued from the trash or somehow found new life for (whether it was for your home, your wardrobe or something else).
GIVEAWAY CLOSES: Wednesday, January 20th at 8pm EST
NUMBER OF WINNERS: Two
PRIZE SHIPS: The US of A and Canada
USUAL STUFF: One entry per e-mail address is permitted. The winners will be selected using random.org and announced on Thursday. Good luck!
Get more info about our freebies on our Giveaway FAQs page. Pics courtesy of Kathie's Finds.