In the interest of full disclosure, I might have a minor to moderate lighting obsession. So I couldn't wait to show you my latest lighting purchase. She's a sleek seeded glass pendant lamp- perfect for over the sink. The rest of the overhead lights are going to be recessed, but she'll be a nice little accent fixture to shed light on our gorgeous new faucet, eh?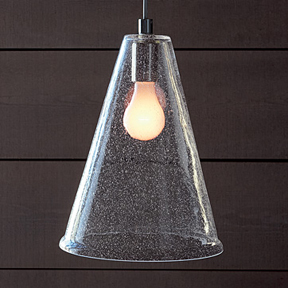 We got her at West Elm for 99 beans (actually less cause we had a gift card- thanks Emily!) and couldn't be happier with our choice. She's not too out there (we thought a big chrome lamp might be too loud in front of the window above the sink, so we were looking for something more subtle) and the seeded glass ads a bit of texture and interest.
The funny thing is that I sent a photo of this fixture to John a couple weeks ago thinking he'd love it and he thought it was "weird." But when he saw it in the store he saddled up to it and said "what about something like this for over the sink?" After gently reminding him that I'd sent him a photo of it earlier and he had dismissed it, he mumbled something about it looking different in person and then quickly got in line to snag one of the last ones in the store.
Now she's just sitting in her box on the floor of our kitchen (along with the other pendant lamp we got for over the dining table) until I can get an electrician to come out and get everything hooked up. A renovator's work is never done.
Image courtesy of West Elm