Emily wrote to us in search of a sophisticated coastal look for her open living and dining room. Here's her letter:
What a great idea to provide this service! I'm looking to makeover my living/dining room and I'd like a traditional look that's not too matchy-matchy. We also live near the ocean so that would be a great element to bring in. With a child and a dog, we're big on balance between casual and sophisticated and I really love the look of William's Sonoma Home and Pottery Barn if that helps. As for what must stay, the couch and the dining room table and chairs are keepers as well as the tv (but not the stand). When it comes to the wall color, I like the current neutral color in the living room but am open to a new color in the dining room. Please excuse the ridiculous mess- we have a 19 month old and my husband didn't realize he should tidy up before taking pictures. I look forward to seeing your ideas. – Emily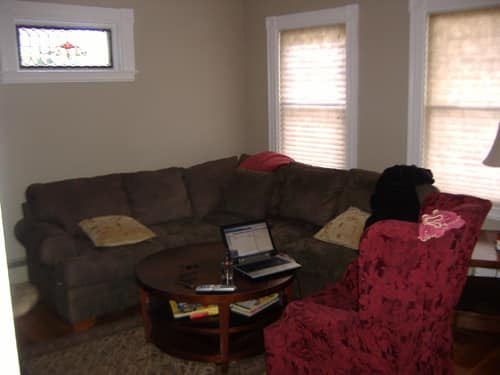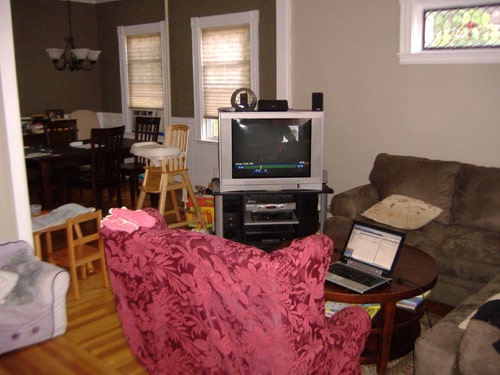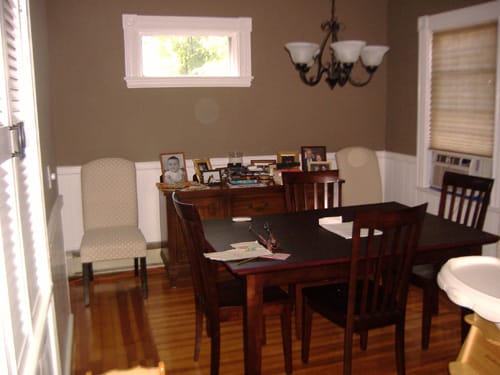 Well, Emily's 1880's house definitely has some fantastic features (those windows! those original pine floors!) along with its fair share of design challenges (the layout and the modest sized rooms) but we think her place is positively bursting with potential. Without further ado, our mood board:
Here's the mood board breakdown.
1. We love Emily's current wall colors, but thought that the space would feel more open and airy with a paler color on those dining room walls above the wainscoting. A soft, beachy gray-blue (like Glidden's Gentle Tide) would make everything feel bigger and lighter, and would work seamlessly with the current neutral tan in the living room. The rest of our color palette above reflects the dark wood furnishings that will add sophistication and elegance to the space, while the darker gray-blue is an accent color that we'll introduce sparingly for depth, dimension, and to keep everything from looking too matchy-matchy.
2. This new 5×8 rug will help to swank up the living room and define the seating area while hammering home our new coastal color scheme. Even the woven, natural texture is reminiscent of the beach, and the subtle pattern will keep things sophisticated. The bigger size will also allow the front legs of the sectional to rest on the rug (along with the chair) to tie the conversation area together and make the whole seating area appear bigger.
3. Emily's current side table seems to be working for her, so instead of switching it out for a similar piece, we thought we'd suggest a chic (& cheap) table lamp to dress it up and inject some sophisticated brushed nickel into the space. Similar lights from Restoration Hardware and William's Sonoma Home are about five times the price. Such a deal.
4. We couldn't help but envision a capiz shell chandelier in the dining room as soon as Emily mentioned the word coastal. The shiny circular shells will instantly create an elegant ambiance and inject a calm sense of the sea- and they even sound like a restful wind chime when they catch a breeze. Plus, you just can't beat the price for this elegant stunner.
5. We actually love Emily's current coffee table (its circular shape works really well with the layout), but we worry that it looks heavy paired with the large brown sectional. So we found this pretty affordable substitute with a round of glass in the middle to open things up and keep light bouncing around the room. If such a similar replacement seems silly, Emily could simply put a large white bowl full of shells (or even nautical balls of twine) in the center of her current coffee table to cut all the wood and visually open up the center of the table just as a round of glass would do. A round mirror or a circular silver platter would also do the same thing. Oh the possibilities…
6. Pillows can make all the difference, and we think a bunch of pale blue ones along with some tan and blue striped ones will add sophistication and further establish our new color scheme. Adding two more of the striped pillows to the chairs flanking the hutch in the newly painted dining area will also tie our whole scheme together and visually link the living room and the dining room for a true sense of cohesion and balance.
7. A super easy trick to break up all the wood in Emily's dining area is to add a light stripe of fabric in the form of a runner. I takes about a second and the difference is pretty dramatic. All of a sudden the space feels less heavy and more "designed". And we think this tan runner from Target (for only $12.99!) would nicely introduce the living room wall color into the dining space while the pattern keeps things looking fresh. For a more traditional look, Emily could also go with a simple tan colored linen runner as well.
8. Sure, some shells and the color blue can evoke a coastal feeling, but another aspect of coastal design is all the rich natural texture. Which is why we thought these woven roman shades would allow all sorts of light into the room while adding the perfect dash of textured sophistication. Oh and they're on sale- gotta love that.
9. We also think another object that will dramatically change the look of this space is this sophisticated new tv stand. It wasn't easy to find something narrow enough for the room without sacrificing serious style, but this handsome piece looks like it could totally hail from William's Sonoma Home (at about one tenth of the price). Of course we brainstormed a new layout to prevent the tv from protruding into the pass-through, but with such small rooms and such a big sectional, the current furniture layout makes the most sense. But replacing that old tv stand with something more elegant should really make things look a lot more intentional and cohesive.
10. And now for our piece de resistance. This amazing Pottery Barn chair (that just happens to be on sale) would serve as the perfect substitute for the old red armchair in the living room. The great thing about the chair is that it looks just as good from the back (which is important since the home's entryway is right behind it). It's also much lighter looking than the existing armchair, and will open up the space immensely the second she swaps it out. Now Pottery Barn no longer has this chair in this gorgeous blue color, but they still have them in black and red, and we think a can of spray primer and gray-blue spray paint should do the trick (aim for a color that's similar to Spruce Tint by Glidden).
So there you have Emily's sophisticated coastal living & dining room makeover. What do you guys think? Is that Pottery Barn chair not to die for? I love the idea of using it in a living space (in such a chic, unexpected color).
Update: We sadly can no longer find the time to take on client commissioned mood boards (we now whip up general inspiration boards instead) but if we ever reinstate them we'll make a big announcement!