Diane's living/dining room is bursting with boundless potential. Here's her letter:
I came across your website last year and just got around to signing up for some design help. What convinced me is reading that you both lived in NYC – so you know what it's like to live in a small apartment! So here's my living room. Did I mention that it is also my dining room? The hard part is that although it's a good size, it's been hard for me to figure out the perfect layout since there is a lot of unusable space — 2 doors into the room (from foyer and also french doors into kitchen/dining alcove), a wall with windows and a heater in front of them and then the wall with with fireplace and built-in bookcases. My style is traditional with a modern flair – I really like the things you've done in your house. I should mention that I'm in my early 40's, so I don't want anything too young looking and I don't mind spending a bit more money to get some quality pieces. I just bought the couch, the mirror and the pictures (although the mirror and pictures can be used elsewhere and the lamp will be going in my bedroom). I love geometric shapes. I'm open to color/paint suggestions, but would like to keep it somewhat muted vs. bright. Also, please excuse the mess – wow, in person I never realized what a storage facility this place is. I'm cleaning up, RIGHT NOW. Thanks and have a great weekend. -Diane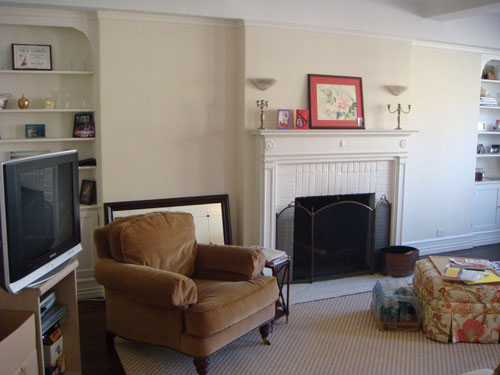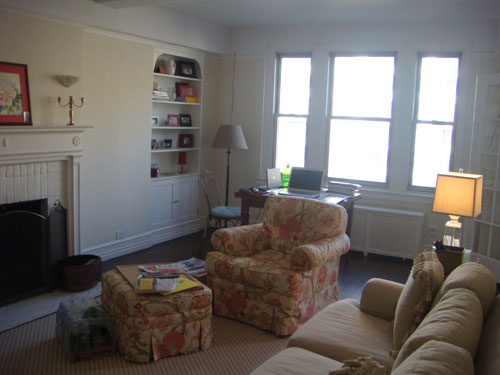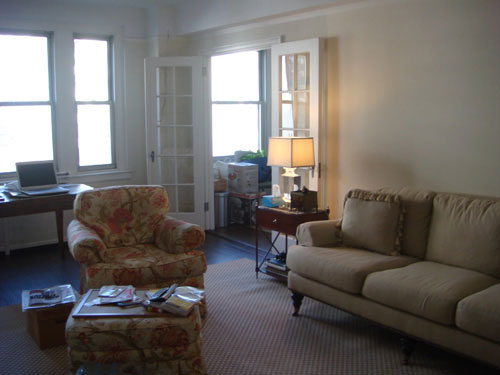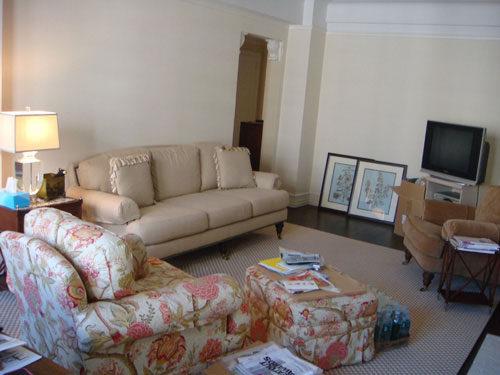 This multitasking space is primed for a major makeover. Here's the plan:
And now for the mood board breakdown.
1. Our color palette was inspired by the new cream sofa and the blue botanicals on the floor in the last photo, so we instantly knew a soft blue, cream, tan and chocolate brown scheme with crisp pops of white would enliven the entire space. Bringing in just a dab of celadon green will inject even more of that fresh yet oh so soothing vibe for a room that will totally work overtime for Diane. We also love the soft cream tone already on the walls, so we'd actually suggest sticking with that wall color and adding accents and furnishings to build on that gorgeous foundation.
As for the floor plan, we'd love to see two smaller matching accent chairs flanking the fireplace and facing the sofa to create a nice balanced seating area in the "living" part of the room. Then we' suggest a larger dining table floating in front of the window (so that when you walk in from those french doors, a proper dining area is right there to greet you). This floating dining table can also serve as a workspace, and bringing in a smaller rug in the living area will give the dining space a bit more visual room.
Then on the wall to the right of the sofa (as you face it) a handsome media stand will balance the dark wood table on the other side of the space and add some functional concealed storage to the room. The TV will still be easily viewed from the sofa and even from the two chairs flanking the fireplace, but it will also be visible from the dining table just in case Diane is using it as a work surface and wants to watch her favorite show while she toils away.
2. Not only were we inspired by Diane's cream sofa and her blue botanicals. We also noticed that she mentioned loving geometric shapes, and we immediately wanted to bring in a slew of interesting lines with two of these gorgeous octagonal floor mirrors. One on each side of the fireplace behind each of the matching chairs will appear to expand the space while adding balance and a ton of geometric style- and we must admit that we're crazy about these gorgeous accessories!
3. With mirrors on either side of the fireplace, we thought both of Diane's existing botanicals would look amazing above the mantel- so we'd love to see them leaning up there for a chic yet casual vibe. To complete the fresh new fireplace look, we'd love to see these sconces (on sale!) switched in for the existing ones. The subtle crystal detail and sleek metal surround will instantly update the entire room. We also needed something for above the sofa, so we looked high and low for a piece that would complement the blue botanicals without feeling too matchy-matchy. Enter this amazing soft blue canvas (on sale!) stage left. With delicate birds on a branch, it will perfectly complement the existing botanicals that will hang across the room. Delicious. Oh and being certain not to hang it too high will keep everything looking approachable and inviting (the base of the canvas should only be about a foot above the top of the sofa).
4. With an accent chair on either side of the fireplace (angled in a bit towards the center of the room), a coffee table will really connect the seating area and add function to the entire space. We adored this cream colored beauty (on sale!) because it not only works seamlessly with our palate but it introduces another great geometric element (a circle pattern) to the space for texture and interest to spare.
5. Rich creamy curtains hung high and wide above the dining room window will add instant polish and welcoming style, and we loved the subtle diamond detail (more shapes!) in these gorgeous cream taffeta panels from Overstock.
6. Here are the chairs that we'd love to see on either side of the fireplace to add a bit of sophisticated celedon to our palette. Their small footprint makes them perfect for a multifunctional room, and they're still plush and comfortable even though they don't take up much visual space.
7. Here's the lovely leggy dining table that will float in front of the window to create a proper dining space that feels airy and open since it won't be pressed up against the wall. Thanks to a smaller living room rug (and eliminating the pink armchair), there will be plenty of room to move around and it will feel more spacious in there in no time.
8. For an abundance of bookcase decorating ideas, Diane can check out this old post of ours, but we'd also suggest keeping the color palette of the items on those built-ins pretty refined (so the room feels airy and serene). Some pops of crisp white will look lovely, and we thought these clever faux books would be a great place to store anything from remote controls to DVDs and other objects that always look better when they're tucked away. A few hits of soft blue or green (vases, candlesticks, hardcover books) would also look fabulous against the soft cream backdrop.
9. Here's the gorgeous wool rug (for just $179) that will really make the room. It'll work beautifully with the existing sofa as well as the new celedon chairs by the fire and even the cream coffee table. The soft stripes and plush texture will also add a lot of welcoming warmth, and by intentionally selecting a 5 x 8 rug, the front legs of the sofa can rest on the rug (as well as the coffee table, which will really connect the seating area) while the dining space suddenly feels a lot more spacious.
10. These pretty woven rattan chairs will add texture and style to the dining area and work gorgeously with the leggy and elegant table that we selected for that corner of the room. There are also optional cream cushions for added comfort so Diane really can have it all in her multifunctional space. The dark color is luxe and rich, and of course it ties in with the dining table but it will also be reflected across the room in this classic and clean media cabinet that we'd love to see to the right of the sofa as you face it. This will add some much needed concealed storage as well as a hit of deep toned wood on the other side of the room for a balanced and cohesive effect.
11. Speaking of cohesive, we found another decorative white object that would look lovely on those built-in bookcases on either side of the fireplace. This piece also has a removable lid so it can offer even more clever storage while adding a bit of visual interest. Oh and speaking of the fireplace, we also dug up this great fireplace screen that will work really well with our light and fresh scheme (thanks to the brushed nickel material and some nice clean lines).
12. We searched far and wide for a pillow that would do our art and our palette justice when placed on the existing cream sofa… and we immediately swooned when we saw this lovely pillow with the perfect colors and design to add even more to this makeover. One on either side of the sofa will really tie everything together in a major way. And we love that the leafy branches and flower pattern subtly tie into both the botanicals and the canvas art that we dug up.
13. Last but not least, although we'd love to see Diane's two blue botanicals leaning next to each other on the mantel, we also like a bit of asymmetry and a dash of sparkle, and these three candlesticks are just the thing. Two on one side while one remains on the other will create a nice asymmetrical yet totally stylish focal point in the room (and complement the gleaming new sconces), especially with those amazing octagonal mirrors on either side of the mantel.
Oh and speaking of sparkle, we love the existing table lamp (that Diane mentioned might move into the bedroom), so we think leaving it on the side table will really add a lot to the room once the art is hung and the mirrors are up and everything starts feeling more polished and streamlined. Diane will be amazed at how much balance will be added to the space, so a single table lamp will really work without looking out of place at all!
So there you have it. A living/dining room full of soft and inviting style. We can't wait to see what you guys think- especially you Diane!
Update: We sadly can no longer find the time to take on client commissioned mood boards (we now whip up general inspiration boards instead) but if we ever reinstate them we'll make a big announcement!