When this single dad came looking to us for some help with his new condo, Sherry figured I'd be just the man for this man's design dilemma (although admittedly all of our mood boards are a team effort). Here's Davis' letter:
I recently purchased this two-bedroom condo that I share with my daughter. My design challenge is the living room and dining room combo. Because of the layout and placement of the fireplace, I just don't know how to furnish it or arrange the room. The fireplace is the focal point because of the TV, but because of the fireplace's position in the living room I realize that my sectional sofa just doesn't work for the room. Casual contemporary style most appeals to me since a lot of time will be spent in the living room whether entertaining or relaxing. The high dining room table (I'm 6'5) and TV stays, everything else can go. I'm also looking for a new wall color. I really don't know what patterns I like and I'm open to suggestions. I do like solids and the colors black and brown. I am ready to be swankified! – Davis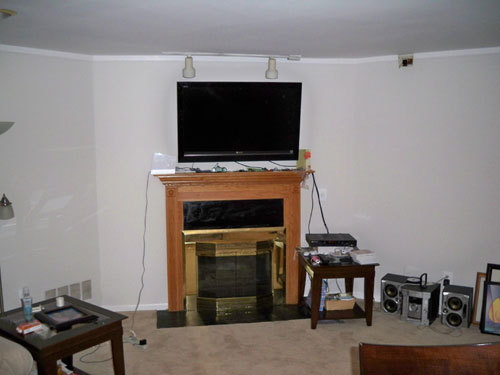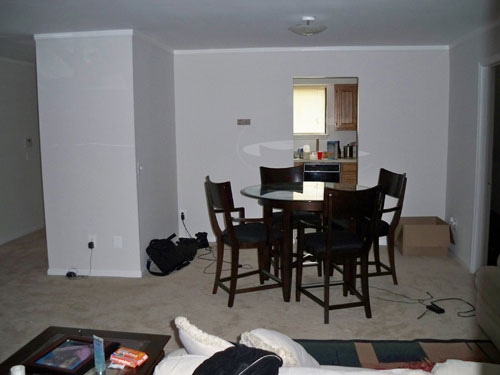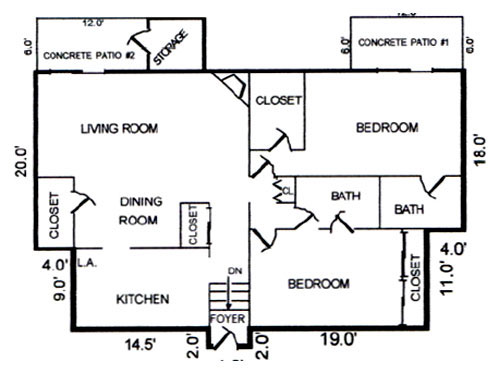 Some furniture recommendations and room layout suggestions to help Davis and his daughter better use this space are coming right up.  And in the process we'll try to nudge him towards a slightly more colorful and patternful world than his go-to brown and black. So without further ado, our masculine and comfortable mood board:
Here's the mood board breakdown.
1.  For this room's color palette we're not going to push Davis too far out of his brown/black comfort zone.  We'll anchor the space with a collection of dark wood furniture to match his existing dining set, and would also suggest staining or painting the honey-colored wood fireplace surround a much deeper tone to work with all of the new pieces (and add serious value to his place). But to keep the light starved space from getting too dark, we'll balance things with some sandy neutral tones and bring in a cool and masculine blue palette, starting with a bluish-powder gray on the walls (try Satin Sheets by Glidden) along with a slightly darker accent color for the fireplace wall (like Glidden's Limoges Blue). An easy way to show you're not afraid of color (even if you are a little bit afraid of color).
2.  This 8 x 10 foot gradient rug from West Elm both breaks up the beige carpet while anchoring the new seating area that we're going to create in front of Davis' fireplace/TV.  This not only brings in some dramatic color, but does so in a way that makes building on the color palette very easy for Davis as he grows his collection of accessories.  With so many blue tones in one piece, it'll be hard for him to pick a shade of blue that doesn't match the room. Gotta love a fail-safe area rug.
3.  Since Davis' existing sectional sofa doesn't work in the space, we recommend that he replace it with a more manageable couch + chair seating arrangement (which will open up the room yet still feel grounded and defined thanks to the area rug). This sofa from JCPenney is not only great because it's on sale, but also because it incorporates the crisp lines and comfy pillowbacks that fit Davis' contemporary casual style.  It should sit in the middle of the living room, perpendicular to the wall with the patio door (facing the fireplace/TV area, but not on an angle).
4.  Across from the couch, on the wall to the right of the fireplace, we'd suggest adding this media console from Target. While we'd also recommend taking the TV off the wall and placing it on the console (which would eliminate the wires around the fireplace) I have to give the man credit for successfully hanging such a beautiful piece of electronic art.  So while moving it might clean up the space and allow for a simpler layout, we can understand if it has to stay. Either way, this console is the perfect place to house all the media components (as opposed to on that tiny table to the right of the fireplace) and it will also give Davis some closed storage, get the stereo off the floor and hopefully give him the motivation to tame all those wires and run them neatly down the edge of the fireplace over to the console.  And if the TV stays on the wall, the top of the console can house a stylish collection of leaned frames, which could serve as a family art gallery of sorts to greet everyone who enters.
5. To complete our seating area, Davis can add a stylish armchair like this 50% off steal from JC Penney.  Assuming this gentlemanly pattern isn't making Davis sweat (if it is, he could try something like this instead) we think it will add a ton of contemporary texture to the room and we'd place it on the left side of the fireplace angled towards the rug (which should still allow for easy TV viewing and make this chair one of the first things people see when they enter the space).
6. To further ground the seating area we'd suggest keeping things comfy and casual with a classic, leather ottoman that will act as both a coffee table and a place for tired feet.  And heck, it can even act as addition seating in a pinch. And because it's raised slightly thanks to some handsome wooden legs, it will look a whole lot lighter (and keep the space feeling more open) than a big chunky ottoman that rests on the floor.
7. That track lighting simply isn't doing the trick for this family of two- Davis can't have it on when he's watching TV, and he mentioned that the room is pretty dark already. So we'll warm things up and add some more color and style with two of these blue, gum drop table lamps from Walmart.  They'd go nicely on Davis existing side tables once we relieved them from media console duty and put them on either side of the couch, and the symmetrical use of the two lamps flanking the couch will provide easy access for reading.  And Davis can also fill in other dark areas of the room with these sleek and highly-rated floor lamps also from Walmart.
8. To finish off our new clean and casual living area, Davis just needs a few throw pillows like these multi-colored ones from Crate + Barrell. And adding others in blue, brown or (for some extra flavor) their complements like orange or yellow will further complete the space with style to spare.
9.  And to spruce up the dining area a bit, an easy light fixture switcheroo will make the area feel more like a true dining space.  Going with a pendant (hung 30 inches above the table top) rather than a flush mount fixture will add ambiance while looking super current – so try a classic shape like this one from CB2.
10.  Lastly, to fill Davis' walls, our color palette lends itself well to any family photos printed in black and white for an especially personal touch.  And for some extra flair he can bring in some great original art from Etsy, like this Urban Flock 8 by 10 inch print, which can be requested in an even larger size to fill a bigger frame for a truly amazing piece of art for the space.
Not Pictured: Now that we've created a cozy area for relaxing or entertaining near the fireplace/TV, in doing so we've opened up the other side of the living room to a world of possibilities – while also creating an unobstructed path from the dining room out to the patio (BBQ anyone?). For the sliding glass doors that lead outside, we'd suggest some crisp white floor length curtain panels hung wide and high to frame the glass doors and soften the sharp rectangular shape. We'd finish off the space by placing a narrow console like this behind the couch to dress up its empty backside. Across from that, the empty wall next to the patio door is the perfect place for some functional storage, shelving or even a desk space for a little home office (IKEA's Expedit system gives you the flexibility to accomplish all three).
Well there we have it – a casual and contemporary condo re-do for Davis and his daughter. You guys likey? Let us know what you think!
Update: We sadly can no longer find the time to take on client commissioned mood boards (we now whip up general inspiration boards instead) but if we ever reinstate them we'll make a big announcement!