Corrie and Don are ready to transform their bedroom into something cozy and romantic. Here's their letter:
We're pretty open to anything you want to do. As you can see by the room, anything will be better than what we have! We'd really enjoy a romantic, cozy, and comfortable feel in the room. The only thing that must stay is the bedding (which photographed much shinier/brighter than it is) and the weenie's dog room (aka: the crate). Everything else can go. I think that I'd like to try a DIY headboard, so I need a fabric suggestion. However, I might staple myself to the headboard, so I'd love your thoughts on a "pre-made" one as well. In honor of our two weenie dogs, we'd love if you could incorporate the dachshund print that you sell in your shop. We definitely want a new wall color (I love how you make everything light and airy)! Our favorite colors are brown, blue, green, & silver. My hubby's only request is that we have a ceiling fan (we need a new one- brass isn't as cool as it used to be!). What are your thoughts on a full size mirror like the one you have in your bedroom? We'd love to work one of those in. I love what you've done with the other bedrooms you design! Thanks in advance- we really appreciate it! – Corrie & Don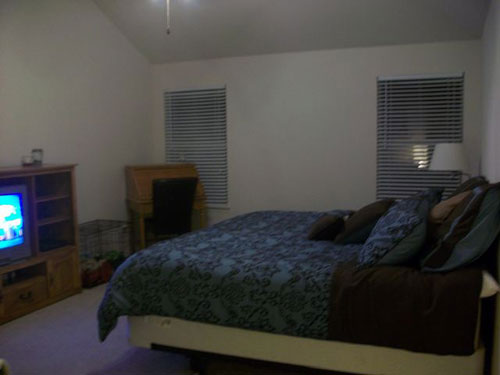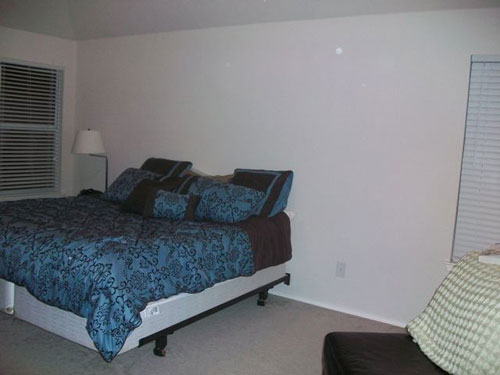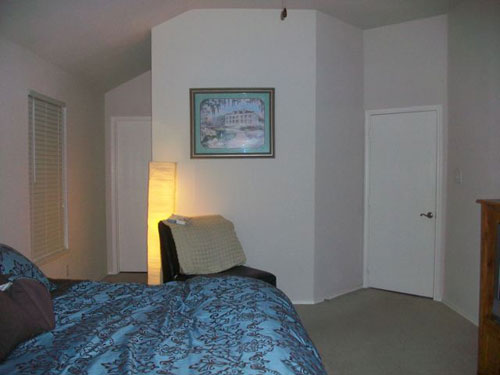 Here's the plan: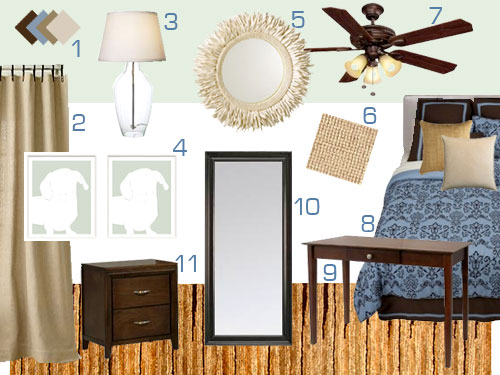 And here's the new layout suggestion: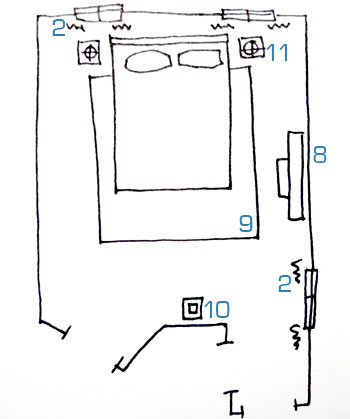 Now for the mood board breakdown.

1. The color scheme for this room is based around the existing bedding that Corrie and Don love (which is actually a nice powder blue and chocolate hue- it just photographed shinier and brighter for some reason). To accent the brown and blue bedding we'd love to see some handsome dark wood pieces mixed in with some light and airy tan and cream tones to keep things from feeling too heavy. Then to keep things interesting and a bit layered, we think a soft gray-green on the walls (as seen in the strip of color along the top of the mood board) will actually complement everything from the bedding to the other more neutral tones that we'll be bringing in. Benjamin Moore's Fresh Dew 435 should be the perfect pick, and we'd love to see it carried up onto those peaked ceilings to unify the room for an expansive and unbroken effect.
2. These gorgeous linen curtains have leather tabs at the top to add more of the luxe chocolate color that we'll be introducing in some of the furnishings (to work with the existing bedding). But since the majority of the curtains are sandy and soft, they won't feel too heavy and overwhelming in the space- especially when they're hung high and wide on each window to make it appear larger and taller for a spacious and airy feel.
3. One of these stunning (and amazingly priced) glass lamps from Ikea will look great on either side of the bed on matching side tables that we'll be elaborating on more in a minute. They'll add some nice balance to the new focal wall, as well as function (since everyone loves clicking off the light from bed instead of getting up to turn off the wall switch).
4. We were flattered that Corrie and Don requested to work our very own dachshund prints into their room since they have two of them that they adore. We actually thought two prints (one for each pup) would look cute framed next to each other and hung above the console table that we'll be chatting about in a moment. And of course the soft cucumber color will complement the light celery walls beautifully.
5. Although the curtains will be hung wide on the windows behind the bed, there will still be a bit of a gap between them, and we think this graphic and gorgeous round mirror is just the thing to fill that space with style to spare. It really is a room-making piece if we've ever seen one.
6. Corrie mentioned that she'd love to attempt to upholster her own headboard (with the help of our tutorial) so we thought this lovely fabric (on sale!) would be perfect for that project. And if it gets too complicated for her, we also picked out this ready-made headboard option as she requested. We also think Corrie should order a few extra yards of the very same fabric to create a pooch-friendly slipcover for the dog crate that must stay in the room. We recommend slipping the crate under a console table (more on that later). And if the top, back and sides of the crate are covered with fabric (sort of like an open-front ottoman) there will still be plenty of air circulation but it'll look a lot less cage-ish from all angles. We actually cover Burger's crate with a blanket on all sides but the front and he loves the cozy feeling (dogs are den animals so they usually like to snuggle into their spaces).
7. Here's the new ceiling fan that Don requested. The classic oil-rubbed bronze finish will complement the dark wood furnishings beautifully and even the glowing warm-toned glass bulb covers will tie in with all the other tans and creams that will soon be layered into the space.
8. Here's the bedding that Corrie and Don already have and love. Since the colors read more accurately in the board than they do in the photos, we wanted to include the image to demonstrate how everything will come together. You'll notice that we added a tan and ivory pillow to the bed to break up all the blue & brown while injecting some light and airy tones that will grace the rest of the room. Oh we'd also recommend that Corrie and Don grab the matching bedskirt (or another chocolate or tan option) for an even more finished look (it really will make all the difference!).
This number also represents the console table that we mentioned when we talked about covering the crate with an open-front fabric slipcover. As we already began to explain, we'd love to see the console table placed on the wall to the right of the bed (so the crate will be partially obscured by the side of the bed when placed underneath). With the little doggie hotel slipped right under it with some coordinating fabric covering the top and sides of the wire pooch palace, the entire setup will create a more polished and integrated look. And topping the console table with a few stacks of large hardcover books (bonus points if they're brown, tan, cream, blue or gray-green) with these charming oversized white artichokes atop each pile will add even more to the arrangement.
9. Here's the elegant sand and chocolate rug with a bit of interesting linear style (but nothing too crazy that would compete too strongly with the patterned bedding). We definitely think that one of the easiest ways to define a focal wall and add a ton of cozy style to a bedroom is to bring in an area rug around the bed. Even with wall to wall carpeting the effect is always layered and lovely.
10. We think the slice of wall across from the bed is perfect for this affordably priced leaning mirror that Corrie and Don requested (a similar version from West Elm is around 4x more expensive!). It'll give them ample room to glance at their clothes before they head out the door, and it'll also reflect a ton of light from the windows across the room to make the space feel even more breezy and open.
11. Here's the nightstand that we'd love to see on each side of the bed with matching glass-based Ikea lamps on 'em for effortless balance and a nice polished effect.
So there you have it. A cozy bedroom full of soft and inviting style. We can't wait to see what you guys think!
Update: We sadly can no longer find the time to take on client commissioned mood boards (and just whip up general inspiration boards instead) but if we ever reinstate them we'll make a big announcement on the blog!