Corinne's office is bursting with posh potential. Here's her letter:
As you know from our den mood board (still in progress), we definitely like modern but comfortable. The office will be the work hub of the house and we like things with classic modern lines and zero clutter. As for what stays and goes, EVERYTHING GOES! We'd love a new wall color but it should flow with the rest of the house (although we need some energy in the room to inspire us). This is the room that will be used the most so it needs to be super functional and flexible for me, my husband and my son Elliot. We need to have 3 chairs and at least 2 computer stations. Elliot should have a workspace so that we can do school projects in the future. We will all share 1 printer and need individual file storage and junk storage to keep the room looking neat. We love to travel and we have a large collection of stamps and currency from around the world so we'd like to display it (not sure how). We also need to change the lighting since the 3 circa 1980's recessed lights are not enough to light up the room. We would consider semi-custom cabinetry/countertops and have set aside a good amount of money to make this room work for us. We've given it a lot of thought but can't make it come together on our own, so your help is greatly appreciated! – Corinne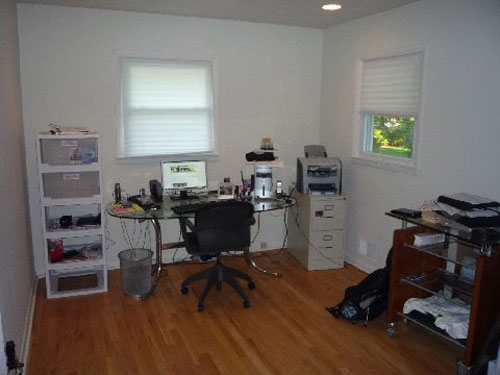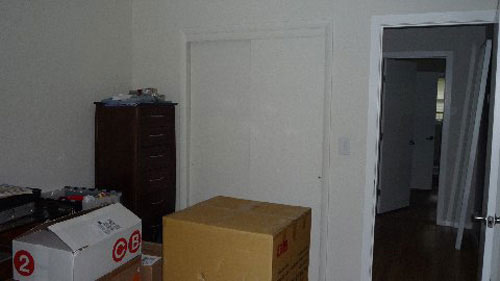 This space is primed for a major makeover. Here's the plan:
And now for the mood board breakdown.
1. For the new wall color we'd love to see a nice fennel green (Benjamin Moore's Spring Meadow 486). It's clean and vibrant while still being warm thanks to the greeny-gold undertones. With some crisp white trim the room will already start to look fresher and more crisp, and then we'll add lots more white in the furnishings along with some sandy tan hues to bring out the warm undertones in the wall color. Then a plethora of shiny silver accents and a few pops of green will add even more dazzle to our cozy modern scheme.
As for the furniture arrangement, we think Corinne's idea to get a custom desk made to snugly fit her space and maximize her work area is definitely the way to go since she's saved her pennies and has the budget for it. We love the idea of using table height filing cabinets as desk "legs" to create an L shaped work space with more than enough room for three work stations (two on the back wall and one on the right wall). And if Corinne uses sleek ready-made filing cabinets as legs, then she can just get a handyman to create a custom L-shaped tabletop out of wood (which would then get a coat of white paint and some water-based polyurethane for protection). With our L-shaped desk in the right corner of the room (and along the entire back wall) there will still be some space in the area to the left of the door as you face it, so we'd like to create a cozy little seating area to keep the room feeling inviting and warm (since Corinne will score so much storage space in the "legs" of her L-shaped desk, which saves us from using the space to house a giant double filing cabinet).
2. Here are those silver filing cabinets that we definitely think Corinne could use as "legs" to her desk. Three of them along the back wall (which leaves room for two chairs to be slid in between them) and two of them on the side wall (which leaves room for one more chair to slide in between 'em) will create the base for a custom L-shaped wood tabletop that can easily be made by a local handyman (and then painted white and polyurethaned for durability). Sure the two cabinets in the corner won't be as easily accessible as the others, but the balance and function that this layout will bring to the space is unparalleled- and it's gonna look gorgeously sleek and modern to boot.
3. These office chairs are hot hot hot. They'll add a hefty dose of modern form along with tons of function when three of them are added to our custom L-shaped desk.
4. Along with our other silver items, these steel accented Ikea shelves will look utalitarian-chic when they're mounted on top of each other on either side of the back wall (plus they'll create a even more storage and display space). We'd love to see three of them on top of each other about a foot apart on either side of the window, and if there's not enough room to the left of the window, Ikea sells the brackets alone, so the handyman can whip up some simple shelves and use the brackets to make them look identical to the stock ones that are installed to the right of the window.
5. Since the existing lighting isn't cutting it in this space, we'd love to bring in a few table lamps for the L-shaped desk as well as a floor lamp for the small seating area in the corner near the closet- and even a new overhead pendant. These desk lamps are classic and clean, and they add more of that silver gleam to the entire room. We'd love to see at least three of them on the desk- one at each person's station for maximum function and uniform style.
6. Here's the aforementioned pendant light that we'd love to see centered in the room. It's extremely oversized, yet it's still pretty shallow, so it can be installed to hang about three inches from the ceiling for a totally stunning look that won't get in anyone's way. Talk about a statement maker!
7. Thanks to this amazing organization system, the left wall of the room can be used as a huge command center for Corinne's entire family. They can customize their system (which happens to be on sale!) to have a calendar, a blackboard, and anything else they may need to keep everyone organized and ready for anything. Plus the white and chrome scheme really works with our entire room. Gotta love when form and function come together like that!
8. This amazing floor lamp will really make the other side of the room. It'll add some much needed height to mimic the shelves on the opposite wall and it'll bring even more of that modern streamlined feeling to the space (while shedding even more light on the room). We'd love to see it in the back corner where the tall wooden chest currently resides in the second picture. Then we'll bring in a cozy chair to the left of it and even add an end table to round out our small yet oh so cozy sitting area that really makes the office feel inviting and comfortable.
9. Because the L-shaped desk will only take up about half of the right wall, we'd love to see a giant pinboard where Corinne's family can showcase their travel memorabilia in style. But a pinboard is a bit less modern than we'd like, and we're sure Corinne doesn't want to put holes in her travel treasures. Enter these super cool galvanized metal wall tiles stage right, which can be grouped to create a large display space (around 4′ x 4′) on the right wall beyond the corner of the desk near our sitting area. Magnets are a much better way to display international stamps, and the entire installation will feel oh so modern and sleek thanks to the industrial galvanized metal backdrop. This is also another way that Corinne can add more color to the room (along with a punchy fennel pillow on her chair in the corner and some colorful green boxes and accents on her Ikea shelves across the room).
10. Here's the cozy yet not-too-monstrous chair (in linen) that we dug up for Corinne to tuck next to her new floor lamp in the corner of the room near the closet. It's big enough to feel comfortable and welcoming- and it'll fit right in thanks to the lack of overstuffed arms. We also love how the fabric mimics the warm tones in the blinds and the pendant light so the room won't feel stark, even with all that white going on.
11. Adding this little side table to the left of the chair will really round out the seating area without taking up much floor space (we also love the bronze metal legs & the white lacquered top with all the other silvery metallic tones that we'll be layering into the space).
12. Here are our simple and clean roman blinds (in flax). The sandy tone will soften all the sleek white for a room that's still cozy and inviting even though it's modern to the max. And we'd love to see them hung three inches from the ceiling above each window to add height without blocking too much light.
So there you have it. A functional and fabulous office that gets the job done. We can't wait to see what you guys think- especially you Corinne!
Update: We sadly can no longer find the time to take on client commissioned mood boards (we now whip up general inspiration boards instead) but if we ever reinstate them we'll make a big announcement!