Yep, we're back with another room redecoration, this time it's a space that has to perform double duty as both a part-time bedroom and a full-time den. Here's the gist:
Your blog is such a fun read and I admire all that you've done with your house! I need help with a den/part-time bedroom for my fiance's twelve year old son named Cullen. I'd like to make it a cool media room as well as a bedroom for Cullen when he visits. We have another tv, stereos, speakers, books, and CDs/DVDs to put in here, but it has to mesh with Cullen's toys (although he's outgrowing them quickly). I look forward to any advice you have and promise to send you pictures of the updated rooms! – Colleen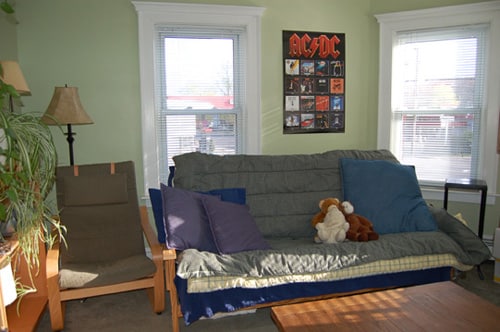 Well, we're definitely fans of a space that can multi-task, and there are plenty of things Colleen can bring into the space that will serve multiple functions around the clock while looking fabulous 24/7. As demonstrated by our mood board below:
Here's the mood board breakdown.
1. This media-cabinet-meets-armoire is the perfect piece to bridge the gap between den and bedroom. It will easily house the tv, Cullen's video game consoles, speakers, stereos, and a DVD player while the closed storage can conceal a plethora of DVDs, books and board games. Oh yeah and it's about $1000 cheaper than other versions I've seen.
2. Here's the room's proposed color palette. Dark wood and leather pieces will look amazing against the sage green wall color, while brighter pops of green apple will add some fun to the space for Cullen. We'd also bring in a bit of an unexpected metallic in the form of a champagne colored metal daybed.
3. This patterned green bedding from CB2 will add some movement and interest to the space (and work perfectly with those walls) while keeping things serene enough for a laid back movie night for the whole family.
4. This handsome (and deeply discounted) storage ottoman would serve as the perfect coffee table. It's cushy enough for tired feet, and the lid comes off to reveal oodles of storage space inside (perfect for more of Cullen's games and toys).
5. Two of these punchy storage baskets in apple green from Target will introduce a bolder pop of color to keep Cullen happy (and keep his stuff contained), and lucky for Colleen they can slip right under two side tables from Ikea.
6. These clean-lined side tables have to be the most affordable options on the planet, and we think one on either side of the daybed would look balanced and handsomely house two green baskets full of Cullen's stuff.
7. And speaking of the aforementioned daybed– always a perfect upgrade from a futon- here it is in all its glory. This amazing example of design (love those sleek circles and the unusual champagne color) will sleep Cullen in comfort, as well as provide a place for the whole family to gather while watching movies. Note: If you're not convinced such a sleek daybed can be comfortable, fret not. We relax on our über linear sunroom daybed all the time thanks to lots of plush pillows for back support and snuggle-factor).
8. As for what plush pillows to go for, we think these bright green printed babies are the bee's knees. And because they'll be on a patterned comforter in similar tones and shades, they'll look less insane and more coordinated than you'd expect.
Oh and we have one more suggestion that didn't make the mood board, these functional under bed storage bins from Ikea which could be housed underneath the daybed while no ones the wiser (no one except for Cullen and Colleen).
So what's the verdict? Kid-ish enough? Media-ish enough? Sound off at the beep. Beeeeeep!
Update: We sadly can no longer find the time to take on client commissioned mood boards (we now whip up general inspiration boards instead) but if we ever reinstate them we'll make a big announcement!