When we heard that Christine wanted our help with yet another space in her home, we jumped at the chance to give her something fresh, hip, young, and worthy of Domino magazine. Here's her letter:
You guys did such a great job getting my living room together (still in progress) that I thought I'd send you another dilemma in the meantime. I have the most uninspiring studio ever! It's a tiny 10 x 9 room right off my foyer and is poorly lit with only one window. It also tends to be a "catch-all" for items coming in/going out. I'd like to keep the Ikea shelving unit, the easel and the chair (purchased for $10 at a garage sale). The chair, of course, needs new fabric. I'd also like to paint the room white. One thing I really like about you two — besides the great decor ideas — are your organizational skills. I'm totally lacking in that department. I'd love to figure out how to organize my books, magazines, paint, brushes, etc. etc., in a visually appealing way. As you know, I like tradition with a twist…a little beachy, a little Domino-esque. The ultimate goal is to get the room looking so fantastic that we can replace the heavy door with a french door, allowing light into the foyer — but to do that the room has got to be super neat! Can't wait to see what you come up with! – Christine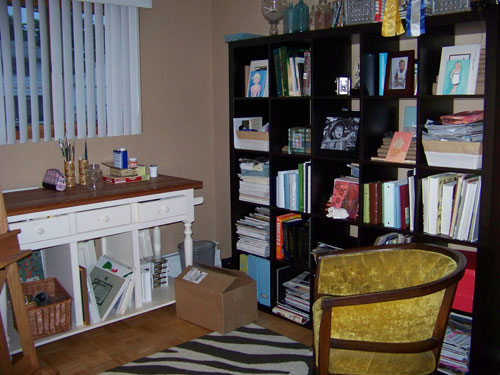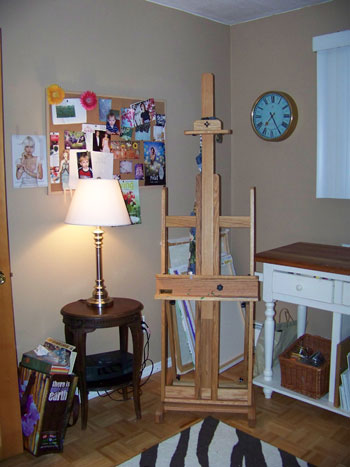 Christine's aesthetic is beachy and playful, so we put our heads together to whip up a mood board chock full of organizational ideas with functional and fabulous studio style to spare:
Here's the mood board breakdown.
1. Our color palette is hip and beachy with turquoise and punchy red accents to keep things interesting in Christine's small space. Pops of color will look great against the soon-to-be crisp white walls, and a few shots of some beachy tan tones will keep things feeling light, airy, and natural.
2. Possibly one of our favorite pieces, this lamp from Target looks like something right from the pages of Domino. The fun aqua color is reminiscent of the beach, and the unexpectedly classic shape is what will make it such a showstopper in the space. One would be fabulous, but we've actually been picturing two of 'em placed symmetrically on either end of the new storage console that we'll be bringing in, for a bit of formal balance to keep things looking super chic.
3. And speaking of the new storage console, we think this glass doored storage cabinet from Ikea (with steel legs that you can add for a finished look) will create even more room for Christine's supplies while keeping them dust free. At $129, it's perfectly priced, and the clean lines will work perfectly with everything from the zebra rug to our playful new chair fabric.
4. And why stop there when it comes to adding function and storage (two things no one can ever have enough of)? We though this sleek white rolling drawer unit (for just $39.99) will look great in place of the old side table to the left of the easel, and it will easily house many of Christine's paints and paint brushes out of sight in perfect order.
5. Along with all the sleek white and modern red and turquoise pops of color, we wanted to bring in some natural woven textures to keep things airy and beachy. And two or three of these woven bowls (for just $12.99 a pop) lined up between our turquoise lamps on the top of the console can serve as catch-alls for everything from notebooks and pens to paintbrushes and rolls of tape.
6. Another touch of our woven texture comes in the form of these fabulous open weave silk window panels from West Elm (in "natural"), which we think will look fabulous flanking the window above Christine's new console.
7. Christine's existing bright blue bottles atop her Ikea bookcase were a major source of inspiration for our entire color palette, and now that we're introducing other pops of blue around the room, they'll fit in perfectly whether they move to the console, stay on top of the bookcase, or even get featured in a few of the bookcase openings among other decorative items and concealed storage.
8. These black hanging wire baskets will bring in more of the color of Christine's existing bookcase and that fabulous zebra rug, so we thought adding a few of them stacked on either side of the window will keep things looking even more organized and interesting.
9. This rug represents the fabulous zebra masterpiece that currently resides in Christine's studio and we think it perfectly complements our turquoise, tan and red color scheme- so it's a definite keeper.
10. Possibly the most functional storage solutions that we'll be introducing to the space are a variety of baskets that are specifically made to fit Christine's current Expedit bookcase from Ikea. The white and red storage drawers will slip into the open squares in the bookcase and conceal anything less than swoonworthy and the woven baskets will also hide clutter while adding a dash of our woven accent material. We thought Christine could play around with the arrangement of the baskets, doing rows of red and white or even making a big red X in the bookcase by using 9 boxes to create the shape. Random pops of red, white and natural could look even cooler than an obvious pattern so it will really be up to Christine to experiment with things until they look just quirky enough while providing precious storage space to spare.
11. And here's our oh-so-fabulous fabric for that oh-so-fabulous garage sale chair. We think Christine can either paint the chair a glossy white before getting it reupholstered or even keep the deep brown tone which will also work with the fresh and fun fabric while adding more of a traditional vibe to the space. And at only $7.99 a yard, Christine can afford to snap up an extra yard or two for a functional DIY pinboard to replace the tried and true version above her easel on the left wall. All Christine needs to do is snag a bunch of cork squares from Office Depot, Michael's or Target and cover them with her extra fabric to create a punchy oversized pinboard for pictures, cards, and other inspirational images.
And that about sums up our fresh and functional studio makeover. We can't wait to hear what you guys think!
Update: We sadly can no longer find the time to take on client commissioned mood boards (we now whip up general inspiration boards instead) but if we ever reinstate them we'll make a big announcement!