Our latest family room redesign calls for a Domino makeover on a shoestring budget. So we're ready to get super creative for a room that's eclectic and effortlessly chic. Here's Christine's letter:
Help!!!! We moved in 6 months ago and this room has me totally stuck. It's the only room that the kids don't use so I'd like to keep it "adult" (not a museum, but toy-free). I'm dying for a room worthy of Domino magazine- but on a serious budget. My style is a combination of traditional, beachy, and glamorous (if that's possible) and the stores that I love are ZGallerie and Williams Sonoma Home. The sofa has to stay as does the TV but I'm looking for a rug (sisal w/ zebra hide? a dhurrie? something else entirely?!?!). I'd also like to keep the wall color (a pale silvery-green color) but possibly paint the wood wall and ceiling (maybe white?) since it's currently much too rustic for me. -Christine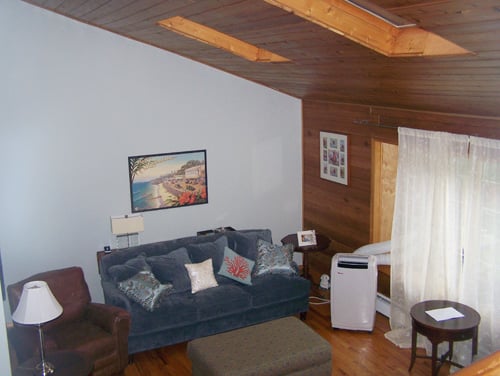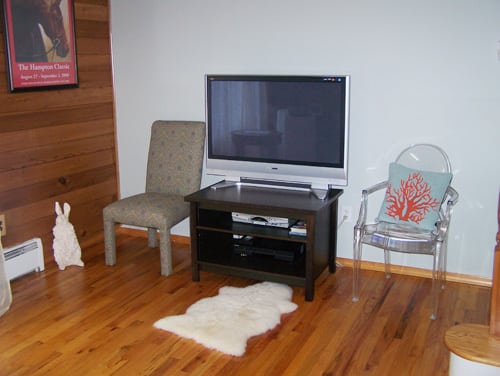 A room worthy of Domino is a little bit modern, a little but chic, and a little bit cheeky. And we can tell from Christine's ceramic bunny sculpture and acrylic ghost chair that she's open to something fresh and fun. So without further ado, we give you Christine's beachy glam family room makeover mood board:
Here's the mood board breakdown:
1. We love the idea of introducing this Ikea side table (for only $14.99!) in place of the antique looking table to the right of the sofa. Since combining a few styles (traditional, beachy, and glamorous) is all about balance, we think the sofa can serve as our traditional piece while the clean white side table (that's seriously as close to free as they get) can add a dose of hotel-chic swankiness to the space.
2. Here's our color palette, and it's a truly stand-out scheme. Christine's silvery-green walls will stay and we absolutely agree that painting all that knotty wood a crisp white will cut the country look for a fresh and current room in a flash. And Christine shouldn't feel guilty about wielding a paint roller since real estate experts agree that paneling is considered dark and dated (and isn't a feature that most buyers are looking for these days). Painting the paneled wall and ceiling white will also allow the wood floors to shine without competition, and the room will immediately look richer, more current and more open. The blue-gray color in the palette represents the couch, which works really well with the wall but calls for a little more color to pull everything together. So we'd add some fun in the form of a reddish-rose poppy color with a lighter pink as a playful glam accent. Nothing overboard, just a little sizzle for the soon-to-be-stylish space.
3. Switching out her current bulky arm chair for this amazingly affordable version from Ikea (with a can't be beat price tag) would add some beachy-chic style to the space. And a sheepskin rug draped over the chair will soften the woven texture and really add some glam sophistication.
4. This super funky (and dirt cheap) pillow from Walmart will hammer home our accent colors and even features whimsical birds woven subtly into the print. And it's five dollars people. Five dollars!
5. These nailhead framed linen curtains will mirror the woven texture in the arm chair and add some more beachy sophistication to the doors to the right of the sofa. The linen is completely traditional, but the nailhead detail adds the perfect tough-girl touch to keep things feeling hip and super fresh.
6. This sleek and smooth TV cabinet in a finish that ties in with our amazing $14 side table will fade into the space and almost make the TV appear to be floating, keeping the room feeling light and airy. It will displace the two chairs on either side of the TV, but that's a good thing since we'd suggest slipcovering the fabric one in a clean white cover (and tossing a sheepskin rug over the ghost chair to warm it up) and placing them both in front of the new linen sheers where the round table currently resides. Don't worry about them looking like they're floating, bringing in a rug will totally ground the chairs and define the groovy new seating arrangement.
7. This punchy and glam table lamp with a red glass base is the perfect accent for the room. It'll play off those silvery-green walls while adding some sparkle and some luxury to the "toy-free zone." And we've never seen such a gorgeous glass based lamp at this price! Yay Target.
8. Since we've introduced a textured beachy feel in the curtains and the chair, it only makes sense to avoid sisal or jute for fear of woven overload in the room. Instead, we dug up our take on zebra print: a graphic black and white rug that will outlast the animal print trend and always look classic and Domino-chic.
9. And to keep things fresh and fabulous, we thought two round leather-looking ottomans could take the place of a coffee table when placed casually on the new rug for that mixed and matched I-just-threw-this-arrangement-together-without-trying-too-hard vibe. And at $69 each, they're a steal compared to most coffee table prices.
10. We also think a frame collage like this would look peachy keen above the sofa. Bringing in some of our accent colors along with some classic and crisp black and white (to echo the rug) will inject more of that hip Domino feel into the space while keeping costs down (since a few smaller frames are a heck of a lot cheaper than one jumbo piece of art).
So there you have it. Christine's major family room makeover. We think just painting the wood will crisp up the space to no end, and the addition of a few beachy, glam and colorful finds will have this room looking Domino ready in no time. What do you guys think? Let us know what you're diggin'.
Update: Christine sent us after photos of her room and it's been totally transformed! Check them out right here.
Update #2: We sadly can no longer find the time to take on client commissioned mood boards (we now whip up general inspiration boards instead) but if we ever reinstate them we'll make a big announcement!