Get this. Apparently someone thinks we're sexy. Well, technically they think we're "stodgy." But since they're filming a series of short video profiles entitled Stodgy is Sexy, we're gonna claim the sexy compliment as well… thanks to the transitive property of, um, compliments. Yeah, I just broke out "transitive property." Guess I can't stop the sexiness once it's unleashed.

Here's the scoop, back in January we were contacted by a documentary filmmaker out of NYC who was creating three minute video profiles of people who embodied a trend of folks returning to old school values like thrift and simplicity (aka, stodginess). They thought we fit the bill, so we accepted the invitation and soon we found them setting up shop in our future dining room for an afternoon. It didn't even feel real. And four hours later they were gone without leaving a trace of evidence they had ever arrived. We almost thought we made it up, except for a few pictures like this on our camera:
It felt especially surreal since our brains were still scrambled from the move. We'd only lived here about a month (hence no dining table yet) so we're sure the neighbors were wondering who the heck moved into their 'hood with things like this hanging out on our front porch. What a letdown it's gonna be for them when they meet us and we're nobody interesting.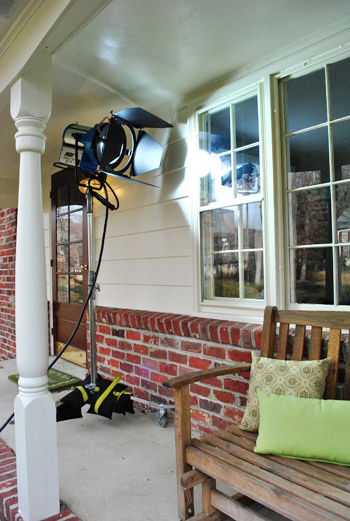 The crew was really nice and a good time was had by all. It was especially fun exposing Clara to some of the craziness that somehow finds its way into our house every once and a while. A window into her brain: Cameras and lights? Who cares. But blocks. Now those are exciting!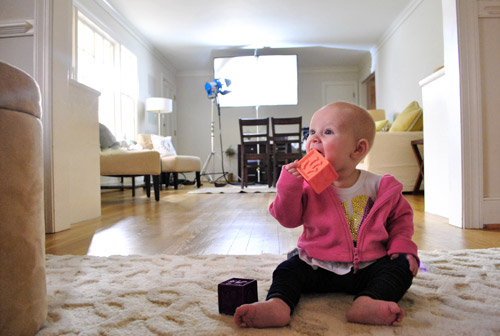 How do you answer questions on camera with a vocal baby singing in the background? We didn't really think that through until they "landed." Good thing the producer has a son about Clara's age, so she was great at keeping our little bean busy while we blabbed our faces off to the cameras. Cheerios helped too. And here's how they boiled down our afternoon into less than three minutes of stodginess sexiness:
You can also read more about the project as a whole and watch some of the other (under three minute) profiles by visiting their site. Or you can check out this teaser video about the whole project that they cobbled together with fellow Stodgies, like Chip Kidd, a book designer we've both admired for years (I even got his book from Sherry two birthdays ago). We're honored just to share a one minute clip with him and the other greats of the group.
And for those of you who have a little stodgy in you (if you've got it, flaunt it), here's how you could come to find a giant spotlight on your porch. The site is also welcoming entries to be part of their series, so if you think you fit the "stodgy" bill, join in on the fun. I mean who doesn't want to be on a site that says "We Are The Revolution. We Are Boring." in bold letters across the top? Amazing.
PS: Even though the Stodgy is Sexy project is sponsored, we're not affiliated with their sponsors and weren't compensated for our participation. We just did it to feel sexy.