This Saturday we set our alarms and sprung (well, stumbled) out of bed to take on the Forest Hill Neighborhood Yard Sale bright and early. With over 30 coordinated sales within walking distance, we certainly kept ourselves busy and came across lots of fabulous finds. And the neighborhood was so charming that we couldn't help but snap a few photos of the homes that caught our eye- even if our arms were full of yard sale goodies.
Here's a sweet red-doored house with two ladies selling their wares in the front yard. Not a bad way to spend a morning if you ask me. Especially if you live here…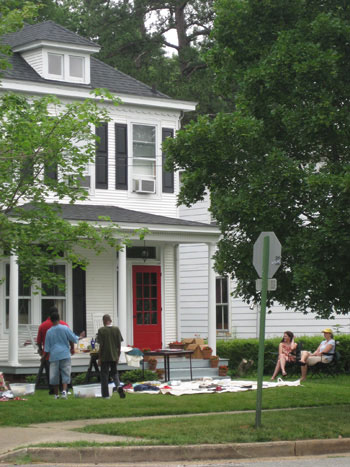 Here's a house with a gorgeous open porch (we love that it's low enough to have no railing), crisp craftsman columns and an amazing stacked stone wall out front.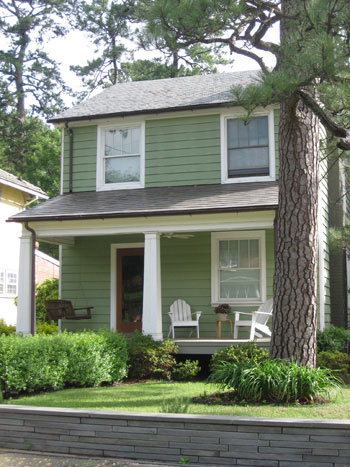 This is the house of our dreams. Literally- we stood in front of it for five minutes just taking it all in. The sweet little round window near the door and the wraparound porch wooed us to no end, plus the fact that it's still modest in size (and oh so ranchy) had us drooling.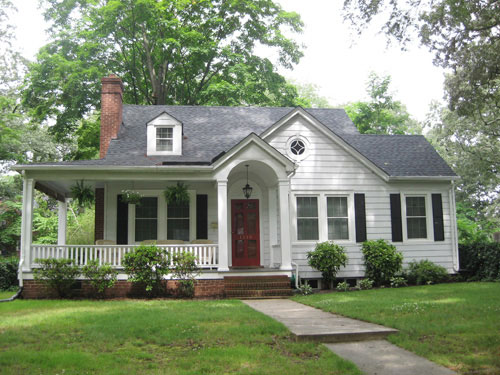 This grand home was also rocking a wraparound porch with large stately white columns, floor to ceiling windows and a gorgeous double door.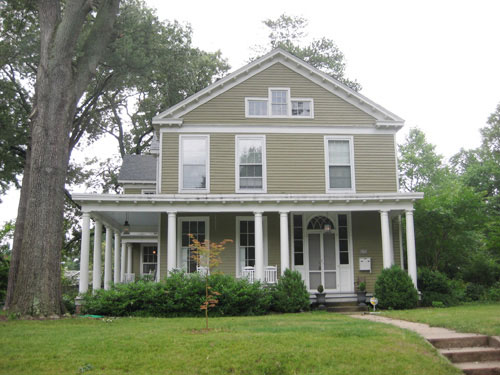 This house's craftsman door and sage & red accent colors really made it a stunner (and we loved the stenciled detail on the front of each step that really gave it a dash of extra style).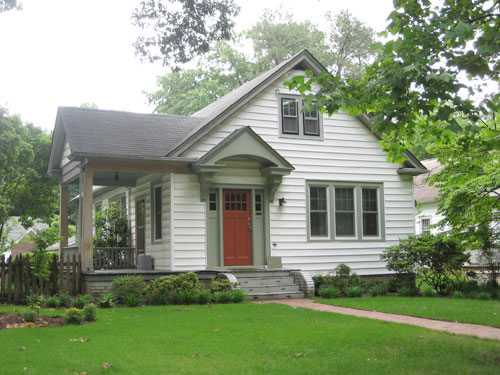 Can you imagine walking up to this dreamy door every day? We love the graphic house numbers and the lush grasses that line the path.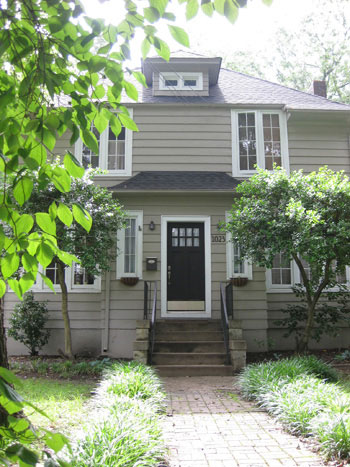 As if this neighborhood didn't adequately charm you thus far, how adorable is this vintage VW truck?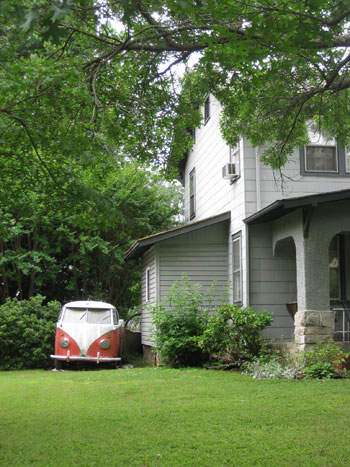 And isn't this woven fence with metal caps so interesting and sculptural?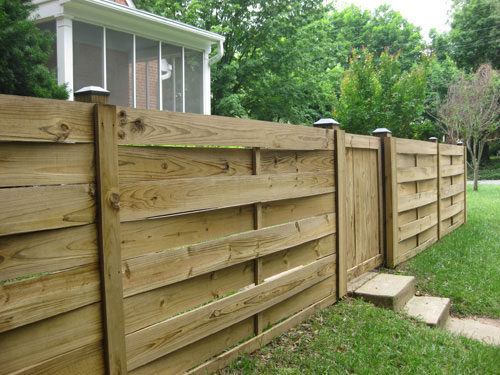 We had so much fun walking around and taking in the sights. And you know we didn't leave empty handed. But we didn't beak the bank either. We like to set a "budget" beforehand so we don't get carried away, and we entered this supersized yard sale thinking we'd like to spend about $20 or so. Well, for just $12 we left with all these goodies: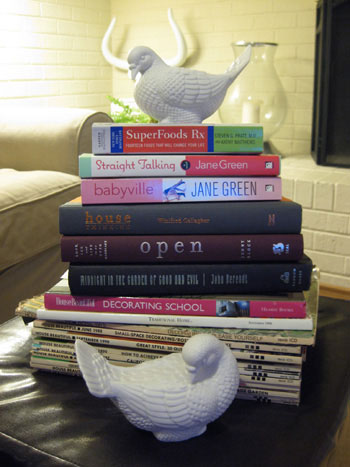 That's right, we snagged seven books, twelve magazines (eleven of which are vintage House Beautiful issues from the 70s and 80s!), and two ceramic animals (for just $1.50 each). You guys know I have a weakness for white ceramic "friends" for our home, so they were the first thing we grabbed. Then we stumbled upon one of the most amazing book sales and grabbed $127 worth of books (really, we did the math) for just… (drumroll please)… $8. It doesn't get much better than that.
But then it did. We came across a woman who was shutting down for the day and offered us any of her magazines for free (many of which were thirty to forty years old- so we happily snatched up some old House Beautiful issues and can't wait to dig through them for eye candy and what-goes-around-comes-around inspiration). But we said we spent $12 and that's only $11. Ok, ok, we also picked up two Krispy Kreme donuts for a dollar along the way (some very smart yard-salers offered up eats and we couldn't resist).
So from two ceramic birds and a slew of old glossies to a health food book and a classic novel to some chic lit and a few wild card reads, we came home with some pretty fun stuff (along with a bunch of house pics in remembrance of a morning well spent). Have you guys had any yard sale fun these days? Any favorite finds you wanna share? Any tales of hosting your own yard sale and making some nice pocket change? Do tell!
And speaking of hosting your own yard sale, here's an old post about our very own yard sale last spring with a few tips and tricks that we picked up along the way. Good times.