Bonnie's ready to give her living room a light and beachy look with a dose of glam worked in. Here's her letter:
I can't even tell you how excited I am to have your help. We're looking for a beach inspired space with touches of glam. I love crystal, mirror and silver. The only pieces I really want to stay are the two Pier 1 side chairs. The cream leather sofa can stay or go, as I believe I am drawn to slip-covered white sofas more (but if you can work in the sofa, that's fine). We need a new rug, and I like sisal and jute. We are open to anything really! We are having our wood floors sanded and varnished (not stained) so in a couple of months they'll be a much lighter color. We love blues and greens, and color combos like turquoise and teal. I would like a new neutral wall color that I can carry throughout the whole first floor. I am at a loss when it comes to curtains because we need privacy and I don't know what to do with those tiny windows by the fireplace. I like the mix of curtains & woven blinds like you have in your own living room. We will need a stand for a new flatscreen TV along with new lighting, end tables, and a coffee table. Maybe something with a little storage? We also like white furniture, and I'm open to mixing white with wood. All of the current art can be relocated, and I desperately need something pretty for over the fireplace. Thank you so much for your help! -Bonnie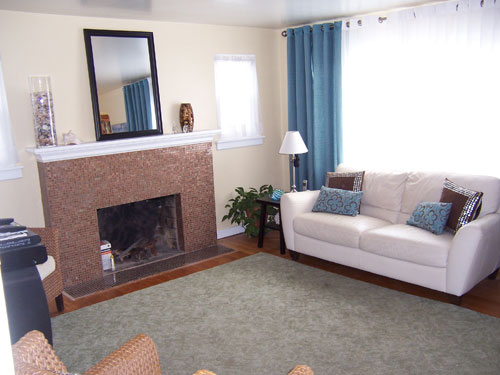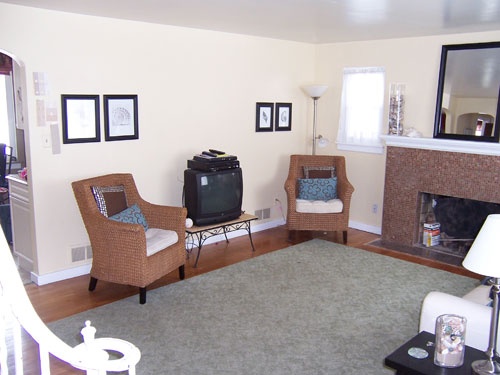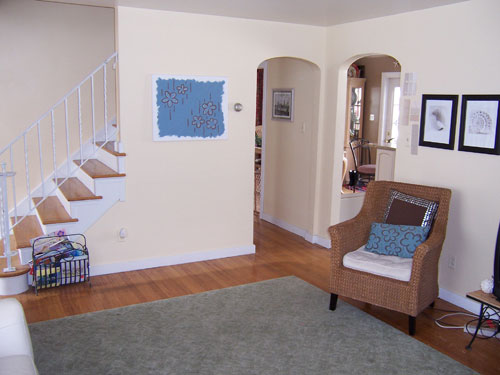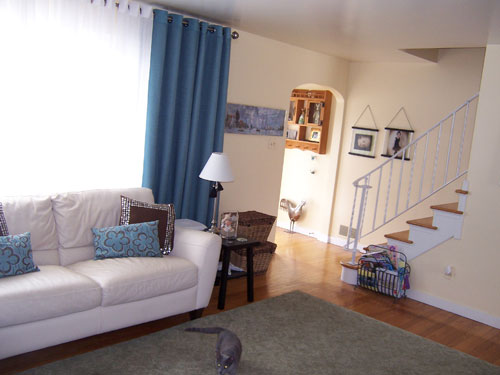 Here's the plan:
And here's the new layout suggestion: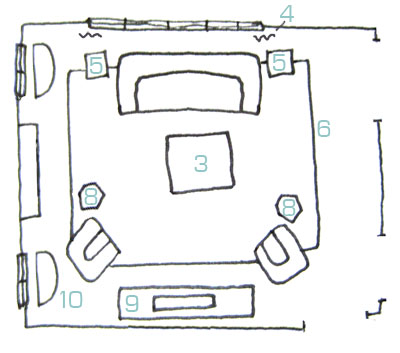 Now for the mood board breakdown.

1. Our color palette will be airy and light with all of the beachy glam hues that Bonnie loves. Chocolate furnishings will layer in with tans and creams and natural jute tones and then we'll pepper in some pops of turquoise, aqua, moody gray-blue and ample amounts of crisp clean white to keep things breezy and inviting. When it comes to the walls, Bonnie requested a soft neutral that she can carry through other areas of her house and we think that Benjamin Moore's Ashen Tan (996) is the perfect choice (with crisp white trim and doors of course).
2. We'd love to see this 24″ x 18″ print framed in a simple clean lined white frame leaning against the wall above the TV thanks to this sleek white Ikea shelf that will look nice and light above the wooden media stand and new flatscreen (Bonnie should hang it just about 6″ above the top of the TV so it doesn't look like it's riding too high). Adding two of these blue corals (the big one on one side of the print and the smaller one on the other side) will add more interest and dimension to the shelf while injecting more of that beachy and blue vibe that Bonnie loves.
3. This gorgeous velvet-esque storage ottoman will instantly add tons of stash space to Bonnie's room while grounding the sofa and connecting it to the armchairs across the room so there's no more big-empty-rug syndrome going on. We also love that the legs tie in with the finish on the armchairs, the media stand and the end tables that we'll be bringing in for a nice layered cohesion that feels related but not too matchy-matchy.
4. When it comes to the windows, we think long Vivan curtain panels from Ikea paired with bamboo blinds (we got ours from Walmart but have also seen them at Target, Home Depot and Lowe's) are the perfect combo for the large picture window in Bonnie's house. We actually have the same exact treatments on our living room window (which happens to be located behind a big cream sofa) and they add so much softness, texture and beachy elegance (all without breaking the bank). Bonnie mentioned that she needed privacy so she can raise and lower the bamboo blinds for that- and when it comes to the two smaller windows that flank the fireplace, just hanging the bamboo blinds (outside mounted as high as the curtains and blinds above the sofa) will add balance and more of that warm texture- skipping the panels on those windows makes the most sense because they might crowd the fireplace and Bonnie will have something nice and interesting under each window anyway- stay tuned for those details…
5. We'd love to see these gorgeous and sculptural side tables flanking the sofa (which have a nice little drawer for more concealed storage) along with these pretty blue glass lamps from Crate & Barrel to add more of that blue accent color that Bonnie loves (and a ton of balance and elegance to the wall with the sofa).
6. This 6 x 9′ hand woven braided jute rug is perfect for the room (and also a total steal for the size). It'll really help to ground the sofa and the ottoman along with those two armchairs to create a cozy seating area that floats in the middle of the room and beckons people to come in and relax after a long day. We actually have a similar braided jute rug in our den and we're happy to report that it has held up for four years (even while we potty trained our pup) so it's a great material when it comes to durability and stain-hiding ability). Plus it's the fastest way to inject that light and airy ambiance that Bonnie craves.
7. We love the idea of this mirror (on sale!) above the fireplace to reflect lots of light, and add endless texture and interest. It actually comes in a black finish but Bonnie can easily paint it a moody gray-blue (like Benjamin Moore's Beach Glass 1564). Here's a post all about how we recently painted a cutout mirror for reference. It's really going to be a showstopper.
8. Two of these mirrored side tables will look great when paired with Bonnie's woven armchairs to provide a dash of glam to those beachy textured seats. And an extra glamorous white faux fur or flokati pillow (like these 16 x 16″ versions) on each of those chairs is all they need to further tie into those gleaming side tables and really make their beach cottage texture work with the more modern and glam side tables. And tossing this faux fur throw (on clearance) on the sofa along with a two more of these fluffy white pillows (and two of these for pattern and color) will finish off the cream sofa perfectly with a nice balance of beachy and glam.
As for the twiggy white tray above the mirrored table in the mood board, we'd love to see that atop the ottoman with a few beachy accents in it. And we can already picture the two shell balls that are shown to the bottom right of the mirrored table placed on the left side of the mantel (without anything else on the mantel at all) for a nice casual asymmetrical arrangement that will still feel balanced thanks to the gorgeous mirror above it.
9. This handsome and clean-lined media stand will look great with the new flatscreen TV that Bonnie will be bringing in, especially when placed under the white floating shelf that will showcase that shell art and those two pieces of blue coral that we mentioned above.
10. As sort of extra credit (to add even more layered interest and tons of concealed storage space), Bonnie could introduce one of these gleaming demilune tables (on clearance!) to either side of her fireplace under each window to fill out that wall and bring even more textural detail and added architecture to the entire room. We'd love to see them each topped with a short stack of pretty hardcover books (perhaps even with turquoise, tan and chocolate spines) with a large shell popped on top of each pile for that effortless beachy vibe.
So there you have it. A living room full of chic ocean-inspired style with a splash of glam in there too.
Update: We sadly can no longer find the time to take on client commissioned mood boards (and just whip up general inspiration boards instead) but if we ever reinstate them we'll make a big announcement!