We were super excited when one of our favorite clients Blayne came back for another mood board with us (she should be your favorite too- she sent after pics for both of the rooms we already did for her: her bedroom and her living room). And this time she needs a nursery! Good thing we have babies on the brain these days. Here's her letter:
It's official… we need a GIRL nursery! My husband has pretty much said "whatever you want," so that makes my life easy. I'd like to see a room that's cute, modern, bold, and both kid and adult friendly. I don't want it to be super baby-ish or theme-y, and I don't want to see a ton of pink. Colors I would like to see are turquoise, lime green, and orange (pink is good too, just not too much!). I don't want to give you too much direction, because I really want to see what you come up with, but there are three bedding sets we like (this one, this one, and this one). They're all very different, and I'm open to other suggestions as well. We're leaning towards this crib (it comes in a number of finishes). Of course, we're on a budget, but we have some family helping us buy the furniture so we would like to get some good quality pieces that last. As for the items already in the room, anything can stay, and anything can go (except the carpet must stay). It's pretty much a blank slate! We have the Poang chair from Ikea that I was thinking about getting recovered. I can't wait to see what you come up with! – Blayne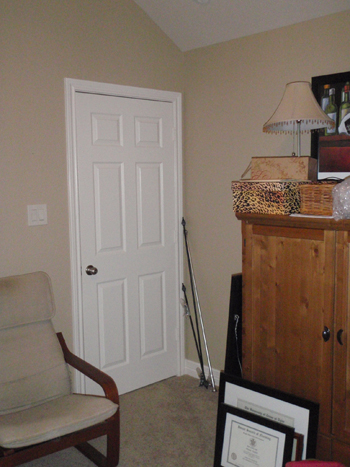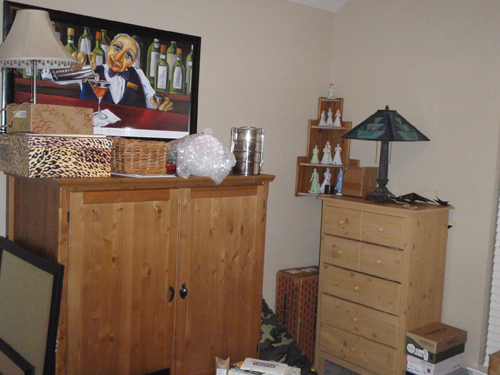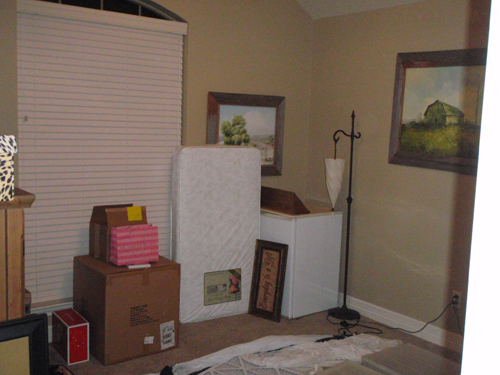 This space is primed for a major pop of vibrant and modern fun- in fact it'll be totally unrecognizable afterwards. Here's the plan:
And now for the mood board breakdown.

1. Our color palette was pulled from the bedding that Blayne loved, and the cheerful tangerine, turquoise, lime, soft aqua and white hues will come together to create a happy and exhilarating space fit for one lucky little girl. We'll also bring in interest with a patterned rug, a tone on tone wall stencil idea, fun mixed and matched drawer knobs, and even a painted chandelier to create a room that meets all of Blayne's requests: modern, inviting, functional, bold and stimulating.
As for the floor plan, we'd love to see the crib (any simple white one will do, just like this one that Blayne already had her eye on) centered along the window wall (pulled out a bit, around 18-24″, so it's not too close to the curtains she'll hang there just to be safe) while the dresser that will serve as a changing table is placed where the large wooden armoire currently resides. This will leave room for the painted and recovered Poang chair from Ikea to be placed on the wall across from the changing table (angled in a bit towards the crib with a small side table next to it). A graphic rug will tie everything together and add tons of interest. Voila, a nursery fit for a queen- er, princess?
2. Once Blayne places the dresser/changing table on the left wall (where the armoire currently resides) and the existing Poang chair (that we'll totally reinvent) on the right wall angled in towards the crib with a nice little side table- she'll need some art for the walls. We'd love to see these cool letters (on sale!) hanging above the changing table area with colorful cards and ribbons tucked inside of them while the totally functional and eye-pleasing book rack is hung behind the chair and the side table across the room to complete the little reading zone.
3. Probably our favorite dash of personality and fun in this space will begin with this boring chandelier that we found for just $60. The blah bronze finish will come to life with a few thin and even coats of no-VOC spray paint (or no-VOC latex paint) in a punchy turquoise color that's similar to the trim color in the bedding (for example, try Benjamin Moore's Natura Paint in Blue Marguerite).
4. Now we're back to that Poang chair that we've mentioned completely reinventing. We'd love to see it sanded a bit and painted sleek white to tie in with the crib and the changing table for a modern and crisp look. Then it would look great recovered in a durable baby-friendly lime green microsuede fabric like this (on sale!) for a fresh and current look in a room full of happy color.
5. This is a similar paint treatment depicted on a floor that we'd love to see on Blayne's nursery walls. The room will transform once the walls are painted with a no-VOC paint in a rich turquoise hue (for example, try Benjamin Moore's Natura Paint in Blue Marguerite) and then we'd love to see these stencils in lighter blue periodically applied (just like the white ones on this floor) for a textured and fun tone-on-tone effect (try Benjamin Moore's Natura Paint in Harbor Fog).
6. Here's the dresser that we dug up to serve as a great changing table (once you top it with a changing pad) and the best thing is that it'll grow with Blayne's child so she won't be stuck with a piece of furniture that's not as functional and adaptable as it could be. It's just a bit of a snore with those boring drawer pulls so we thought switching them out for a series of gorgeous knobs from Anthropoligie (in pink, orange, turquoise, etc) would really add childlike fun and interest for around $30 or so (not bad for such charming details that will make the piece). And we'd also love to see this little side table next to the reinvented Poang chair across the room (also with a new Anthropoligie knob for personality) to create a little nursing and reading corner under the book rack that will hang on that wall. And to complete that little zone, this pink floor lamp (on sale!) will slip right in without taking up any space.
7. Here's the bedding that Blane dug up which inspired our entire palette. We love all the punchy hues and patterns- especially because it's bold and vibrant while most bedding for girls is softer and more subdued. It instantly adds fun and personality to the entire space (and it really set the tone for this mood board). We also love how it pairs with this equally graphic and cheerful 4 x 6 rug from Dash & Albert, and we know it'll really help connect the three separate zones (changing area, nursing/reading area, crib area) so the entire room feels pulled together right under that fabulous blue chandelier.
8. And last but not least we'd love to see long breezy white curtains on that big picture window to let in lots of light and keep things feeling airy and sweet. You can't beat Vivan panels from Ikea when it comes to price, and the fact that they're available in extra long lengths is the icing on the cake. We love that although we're introducing a lot of punchy color and pattern, the white furnishings and long breezy curtains will really balance everything out so it's playful without feeling overwhelming and busy. Oh nurseries are so much fun. Sigh.
So there you have it. A space for a little girl that's full of punchy modern style. We can't wait to see what you guys think!
Update: We sadly can no longer find the time to take on client commissioned mood boards (we now whip up general inspiration boards instead) but if we ever reinstate them we'll make a big announcement!