Guess what today is? It's Sherry's BFF Katie Bower's son Will's 1st Birthday! Did you get all that? It's a lot of apostrophes.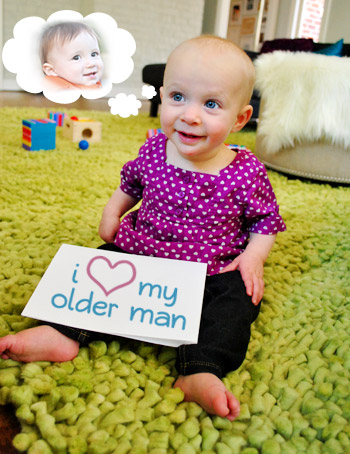 And Clara is doing her best to be a good baby girlfriend, so she sent her main squeeze a couple of items that she loves: tools and clothes. (PS- if your name is Katie Bower and you haven't had Will open his gifts yet, scroll no further – we don't want to ruin the surprise).
The first thing that we Clara bought for him was this wooden tool kit from Melissa & Doug (Clara has a few Melissa & Doug puzzles that she loves). We gotta get the babies to follow in their parents' footsteps early, right? This looks like just the thing for "helping" his mom and dad tackle a few projects.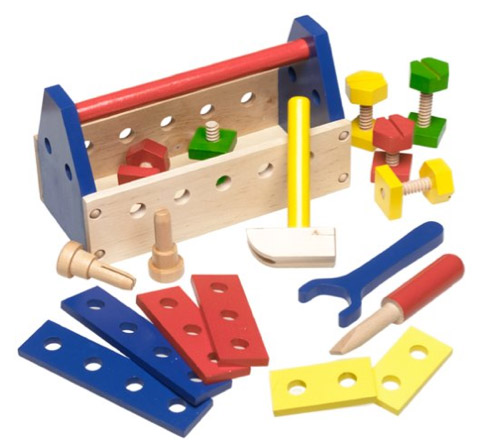 And since we heard from Will's mom that they were giving him something special and bike-related (also don't want to ruin that surprise), we figured it wouldn't hurt to throw in a t-shirt that he could sport when he gets his big You're-One b-day gift from the rents (don't tell Will, but it was on sale at Baby Gap for anyone else in need of one).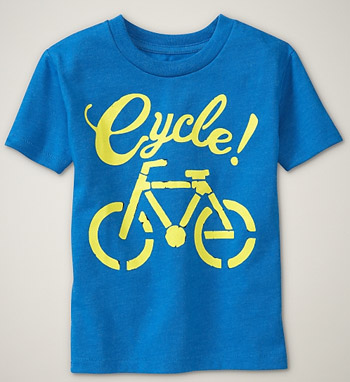 So a big congrats to Clara's beloved baby boyfriend for completing 12 whole months of baby-dom. And an even bigger congrats to Katie & Jeremy for surviving the first year of parenthood (and doing such an awesome job with their little man).
Speaking of hitting the Big O-N-E, our very own Clara is a mere 5 weeks away from her first birthday (craziness – where did the year go?). Which means that we're starting to slide into party planning mode. We've decided not to go crazy-over-the-top (don't expect to see us on an episode of Outrageous Kid Parties anytime soon) but we can't wait to host a fairly casual family gathering here at home (it seems like a fitting place for parents who DIYed their own backyard wedding).
We've had some people advise us against hosting a kid's party at home – suggesting instead that we go to a park or other venue where we don't have to worry about kids running amok and breaking things. But we figured that a one year old and her three under-two-year-old cousins can't do that much damage with 15 adults around. Those could be famous last words, but after a small family gathering at our house this past weekend we got a boost of confidence that it'll all work out.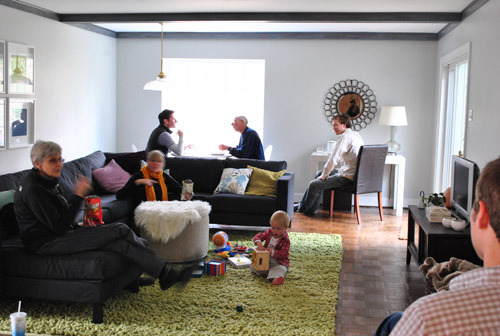 Last weekend was the Monument Avenue 10K here in Richmond and it has become a big old family event for Sherry and me along with my siblings and parents (one year over a dozen of us either ran or walked it) and this year there were ten of us in town to celebrate. So we volunteered our house to be the post-race lunch spot as part of our concerted effort to host more gatherings in this house (now that we've got the space for things like that- heck Karl the giant sectional was made for groups like this).
It was amazing how plopping down a pile of toys and books in one spot kept Clara and her 17-month old cousin Emanuel busy, which started to make an at-home birthday party seem a lot less daunting.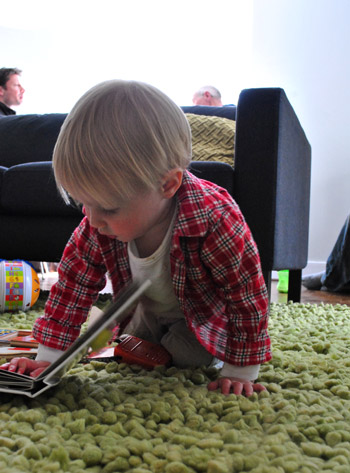 We even dragged Clara's highchair into the living room so she could have lunch with the rest of us (including Blurger, Burger's blurry alter ego). Clearly she was excited to have been included.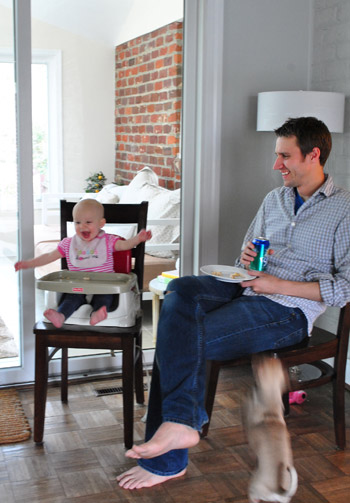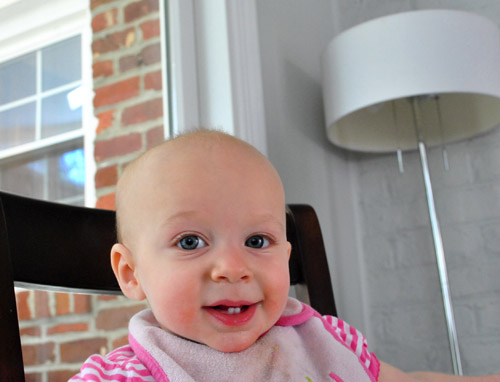 Besides "finalizing" the party location (looking each other in the eye, saying it would be at home, and nerdily shaking hands) and prepping the invites (more on that later) we haven't done too much else yet. Though we did take a spin through our local Party City to see if anything caught our eye – and of course things did. Our favorite of which were these "Fiesta" plates that were meant for Cinco De Mayo, but we thought would be fun for the beanette too (since the loose "theme" for her party is just the colorful fabric-filled weekly photos that we've snapped of her since she was born).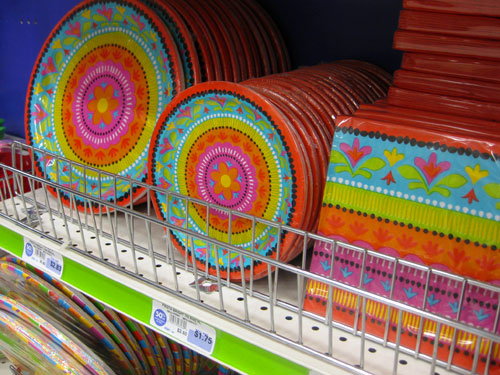 We were already planning to do something with blue, green, and pink (they've just always been "her colors") so these just take it a step further with a playful textile-ish print that resembles a few of the fabrics that we used for her weekly photo project. And it didn't hurt that they were 50% off.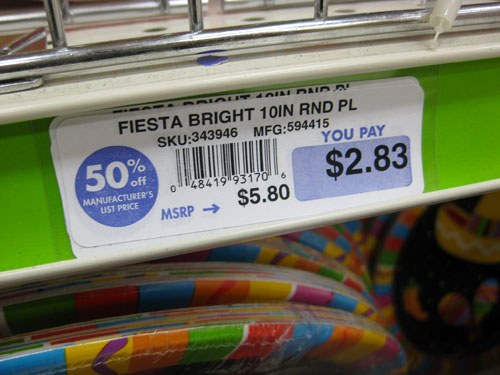 So that's all that's been happening on the party front for now. And as much as I'd like to end this post here, I promised Sherry that I'd include these pics she snapped during the 10K (she's very proud of having captured me passing by – even though I look terribly awkward in each shot). Here I am putting on the brakes as I reach the spot where she, Clara, and my other family members were cheering me on…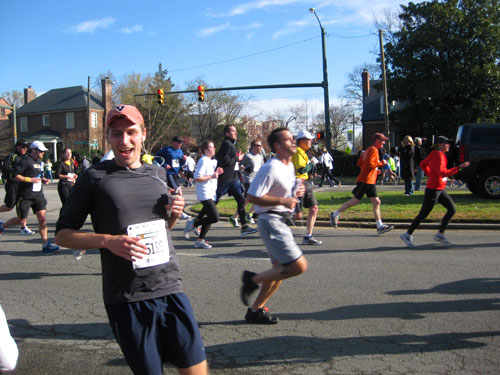 …and here I am going in to give Clara a kiss for good luck (which I'm pretty sure freaked her out – but you probably would be scared too if a man came out of nowhere and shoved his sweaty face into your stroller). For the record, I gave Sherry a kiss too. She was less freaked out. At least I hope she was.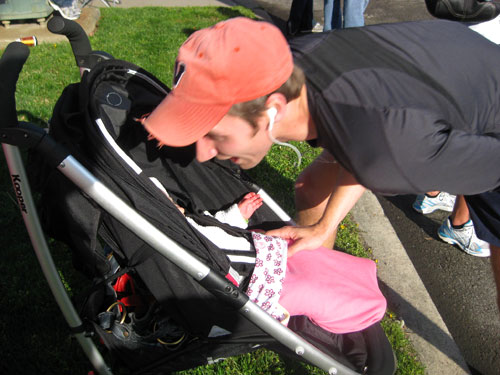 And lastly, here's me waving goodbye as I ran 2.5 more miles to the finish line.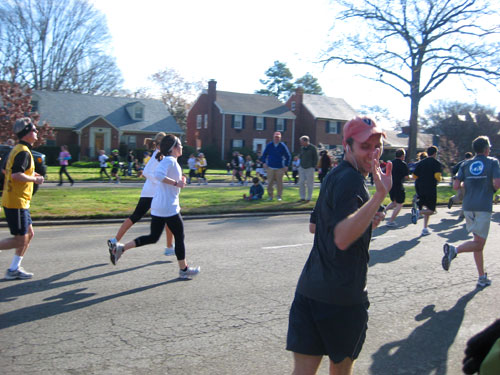 Even if Clara didn't really know what was going on, it was nice having her there to watch the race for the first time – after all, this is my 10th consecutive year of running it. And I got my second fastest time ever (47:21) – woo hoo! Now if only I could beat my 66-year-old father. You think I'm kidding. That man is FAST.
Psst- We announced this week's giveaway winners. Click here to see if you're one of them.