This room off of Bethany's kitchen and dining area is ready for a multifunctional makeover. Here's her letter:
My husband and I are so excited to finally get one of your coveted weekly spots! We'd LOVE to add this large, first-floor room (which is adjacent to our kitchen and dining area) to our existing entertaining space. The room is fairly large but we have no need for a library, and while the room appeared to be perfectly suited as a dining room (hence the garish faux gold and plastic chandelier) we have yet to actually use it for that. As I mentioned, the location and layout of the room make it great for entertaining, but we'd also like to be able to use the space on a day-to-day basis. I enjoy doing yoga & making crafty things, so I've wondered if there was a way to turn the room into a multi-purpose area, suited to crafty projects and yoga in a day-to-day sense, but still able to be transformed into extra entertaining space (think buffet table and bar) when needed. Difficult, I know – but I have faith in you! We like a cross between traditional and modern and the built-ins must stay but everything else in the room can go: the terrible wall color, the desk, and the wingback chair. We wouldn't mind using the wingback chair if it suits your plan for the room (I have another one and we could update them with new upholstery). We're willing to paint the built-ins as well. One color that I've been loving is gray (and deep navy blue as well)- the room gets lots of light so it can take some pretty dark colors. I also love, love, love patterns (especially big, graphic and bold ones)! Breathlessly awaiting your help in Washington, DC – Bethany (& Blake)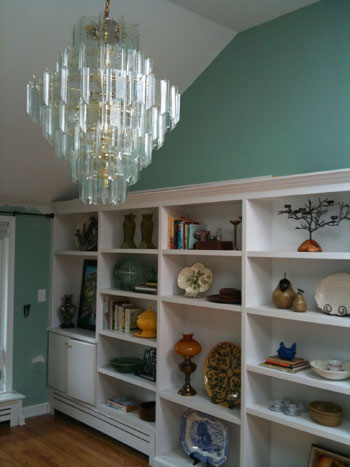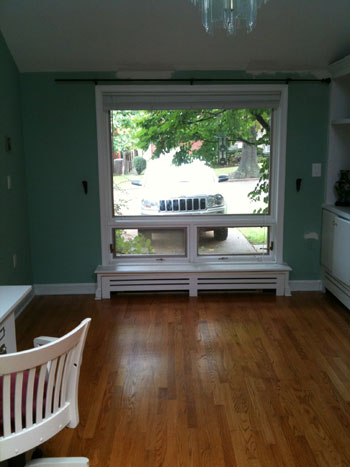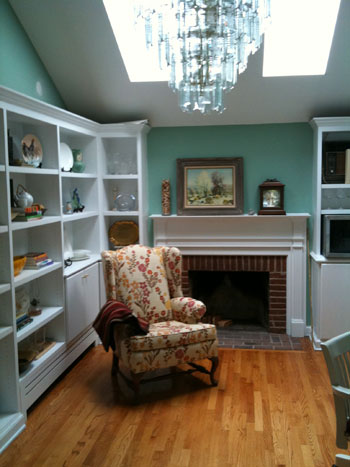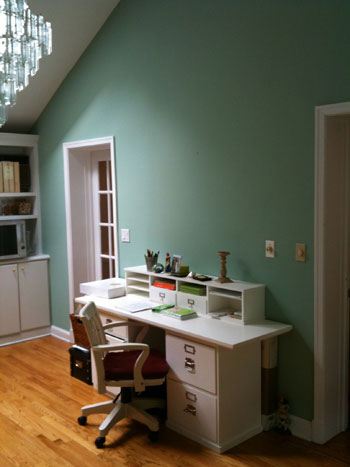 Here's the plan: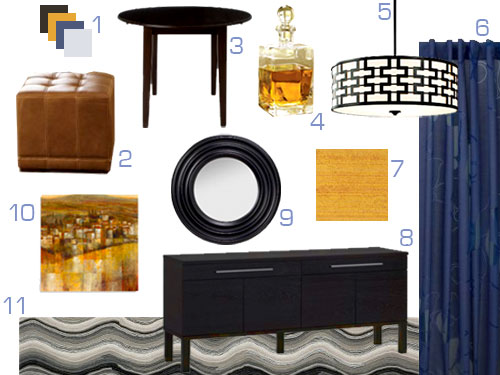 And now for the mood board breakdown.

1. This soon-to-be multitasking space will work for entertaining thanks to a buffet, a mini-bar station and two different seating areas- but it'll also be perfectly functional for doing crafts and even yoga. Gotta love a room that does it all. And our color palette will be dramatic and moody with the navy and weathered gray tones that Bethany loves. The walls will get a nice rich smoky navy color (Benjamin Moore's Ashland Slate 1608) and the built-in bookcases will get a soft stony-gray hue (Benjamin Moore's Winter Solstice 1605) for a chic and current effect. It will instantly feel elegant, polished and enveloping thanks to the new color scheme, and we'll bring in some rich wheaty-gold colors to warm things up a bit along with a few dark wood pieces of furniture to anchor the entire room. Mark my words- this after will be almost unrecognizable!
2. Two of these rich caramel colored ottomans will create a charming little seating area when they're placed on either side of the fireplace for guests who like to perch when Bethany and Blake have company. And speaking of that fireplace, we'd love to see the brick surround and the mantel painted the same weathered gray tone that will go on the built-ins for a stately look that's cohesive and crisp.
3. We'll also be bringing this clean-lined table centered in front of the large picture window with the two existing wingback chairs that Bethany already owns on either side (stay tuned for the new fabric we'd love to see on those). The great thing about placing two plush arm chairs angled in towards the center of the room on either side of a nice large table is that the chairs can easily be moved to face the table so Bethany can use it to do crafts and then redirected to the center of the room for entertaining (bam, the craft table instantly becomes a spacious side table that can also double as a place to put down drinks and appetizers).
4. And speaking of drinks, we actually think that Bethany's built-ins offer the opportunity to create a convenient mini-bar to the left of the fireplace above the closed base cabinets (which can be used to store additional barware and accessories while no one's the wiser). Meanwhile on the open shelf above that closed cabinet can display bottles of wine, other mixers, ice buckets, shakers, and even wine glasses hanging down (thanks to cheap and easy to install systems like this) to complete our nice little swanky mini bar. And placing all the bottles and bar accessories that are out in the open on a large tray will tie everything together and make it all feel organized. Oh and we can't forget this pretty decanter that Bethany can grab to serve drinks in style.
5. This bold new light fixture will make the room. And we love the graphic pattern (which Bethany is known to adore). The fact that it'll hold it's own in a room full of rich navy and gray tones is the icing on the cake- plus it only looks like a million bucks (it's a steal at just $159!).
6. We love the subtle graphic pattern on these rich navy curtain panels and the idea of layering them with a slightly softer and grayer navy wall will really add depth, interest and dimension to the space. Once they're hung high and wide on that giant picture window they'll create a perfect backdrop behind the new seating area and they'll add height to that wall which will mimic the height of the built-ins for a balanced and grand effect.
7. Here's the honey-colored fabric (on sale!) that we think will look amazing on the two existing wingback chairs that Bethany already owns. Especially when paired with the navy curtains and the dark wood table it'll create a rich and luxe palette that draws you in (whether you're in the mood for yoga, crafts, or a nice stiff drink).
8. This rich-toned clean lined buffet will be placed where the white desk currently resides to add more of that entertaining functionality that Bethany prefers (she already has a home office in another section of her house). From concealed storage to a surface to place appetizers and other entertaining staples it'll really add a lot to the space.
9. This great chunky round mirror will reflect tons of light and add a classic and luxe vibe above the fireplace. Plus we love how the geometric shapes in the pendant light will play with the round shape of the mirror and even the round table on the other side of the room. Mmm, shapes.
10. We mentioned that we'd be bringing in some golden-wheat tones to warm up all the gray and navy- and this gorgeous oversized canvas (just $99 and ready-to-hang) will look lovely above the buffet across from that wall of built-ins. Not only does it have some of the gray and navy tones found in the rest of the room, but the wheat tones in the new chair upholstery, the ottomans by the fire, and even some accessories that Bethany can pull onto those built-ins will all tie in with the rich honey undertones.
11. And last but certainly not least, this graphic patterned rug will add even more interest, drama, and plush inviting texture to the entire space. Seriously, with the geometric light overhead and even the grid-like pattern created by the built-ins, this soft zig-zag pattern will be an amazing counterpart. We'd love to see it placed under the front legs of the armchairs and the table over by the window to help define that little zone. This way there's still some open floor space for yoga but when Bethany is crafting and entertaining that area will feel cozy instead of stark.
So there you have it. A functional space full of graphic and inviting style that works for entertaining and quiet afternoon hobbies alike. We can't wait to see what you guys think!
Note: Our mood boards are now posted at least three days after they're sent to the client (so they have a chance to purchase everything before it sells out).
Update: We sadly can no longer find the time to take on client commissioned mood boards (we now whip up general inspiration boards instead) but if we ever reinstate them we'll make a big announcement!