Remember when we mentioned the love that we were feeling from Down Under thanks to a kind reader who informed us (surprise!) that our dining room was in Australia's Better Homes & Garden's magazine last month? She even sent over this scan of it for us to share (thanks again Jacqueline!).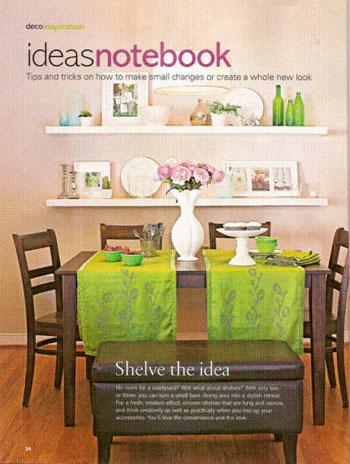 Well, we're learning that Aussies are a generous bunch. Shortly thereafter another Australian reader offered to send us her copy (thanks Megan!). And while she was at it she slipped a little Australian delicacy into the package. Check out the contents description: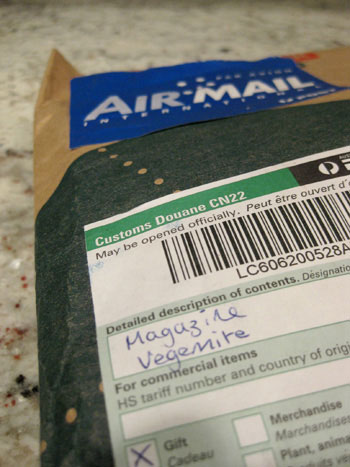 Yes, that does say "Magazine" and "Vegemite" (I wonder what the postal workers were thinking). Apparently after the little Vegemite-related taste debate that ensued in our last post's comments, she wanted us to try it for ourselves. And we were so game.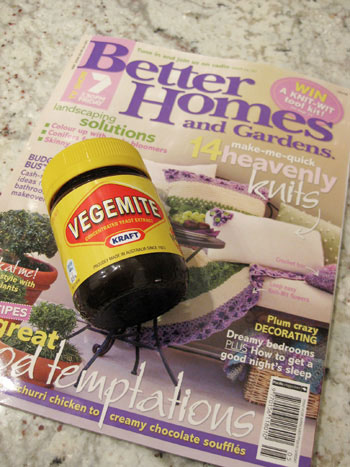 Having heard it was an acquired taste, Sherry and I approached the Vegemite with caution. It sure did look like a jar of chocolate, but certainly didn't smell like one.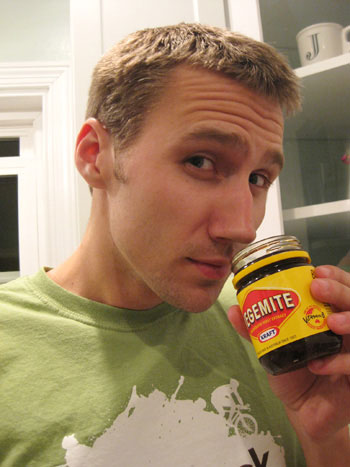 I decided the smell was a mix of chocolate, plums and damp wood (a delicious combination, no?). I believe Sherry's conclusion was that it just smelled "yeasty," which makes sense considering it says "concentrated yeast extract" right under the name on the label. But Megan didn't send the Vegemite almost 10,000 miles for us to just smell it.
So, as a bunch of bona fide Australians suggested in the comments, we toasted a piece of bread until it was nice and crisp (it was the last one in the house, so we had to share) and spread on a thick coat of butter first. Then came the time to apply a thin layer of our new Australia treat (we heard more than once that thin was the operative word)…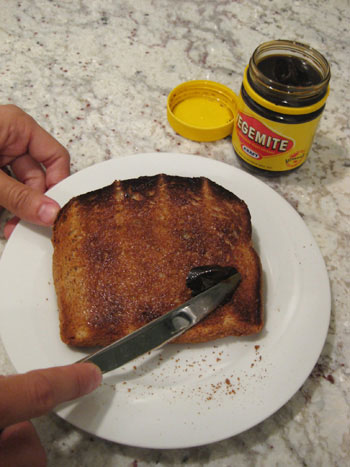 Did we do it right, Aussies? Is that thin enough or was that layer a bit too wimpy of us?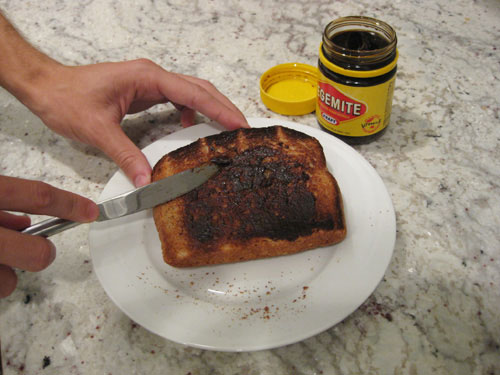 With the Vegemite finally spread, we cut the slice in half and rock-paper-scissored for the chance to try it first. I won (or lost, you decide). Here's the show Sherry got to watch as my taste buds went on an outback adventure: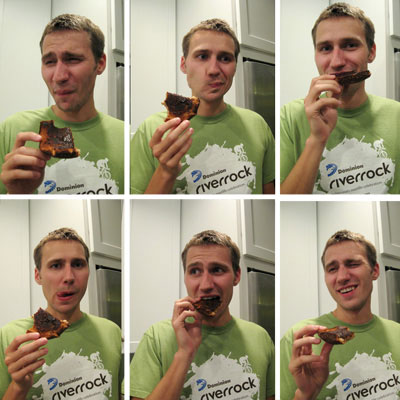 My verdict: I like the initial taste and the aftertaste, but there's a moment right in the middle of each bite where the Vegemite packs quite a punch and was too strong for my preference (it's very salty). But I downed the entire slice and then snatched the camera from Sherry so I could capture her Vege experience.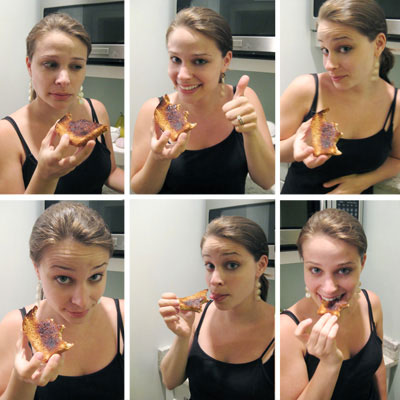 Sherry was skeptical at first (having watched me), but was quick to fall in love with it, actually. She gobbled up her piece almost before I could get any non-blurry pictures. Then later in the evening she even wished aloud (more than once) that we hadn't run out of bread so she could have more.
So there you have it – the Petersiks' run in with Vegemite. While I'm usually the adventurous palate in the family, the rest of this jar has Sherry's name all over it. But what we can agree on is that the Australian issue of BHG is awesome, making us even more flattered to be included. Thanks again for sending both of them our way, Megan!