Anne's living an dining room is ready for a fresh new look. Here's her letter:
I'm BEYOND excited to be getting a mood board from you two!!! I need your help with my living room, which is the first room you enter in our home. It does connect to our dining room, so any suggestions for that adjoined space would be welcome. My husband and I like modern and contemporary styles, perhaps with a dash of eclectic-ness. The only things we want to stay in the room are the entertainment center and the picture above the love seat (although that can be moved to a different wall). Everything else can go! I'd love an ottoman that can handle feet and has good storage along with window treatments- and I'd like to display pics of our family! In the dining room I'd love a new table and chairs and a new rug. I'd also love a new wall color. As far as colors go, I'd like it to feel warm, inviting, and homey– I totally love and trust your taste. I think I like most patterns and I like the idea of having a lot of texture in the room. We do have kids, so that's something to keep in mind. THANK YOU SO MUCH! Words can't express how grateful I am to be receiving your help! Giddy with excitement, Anne (& Colby)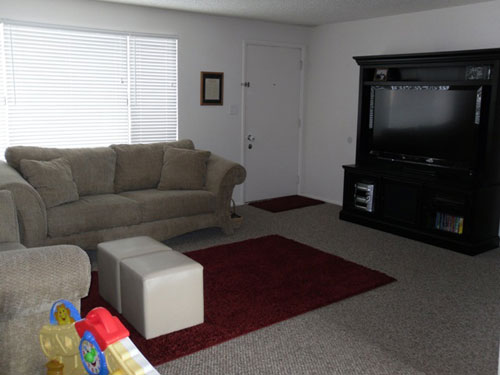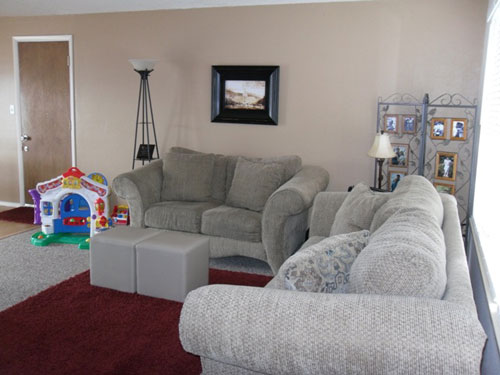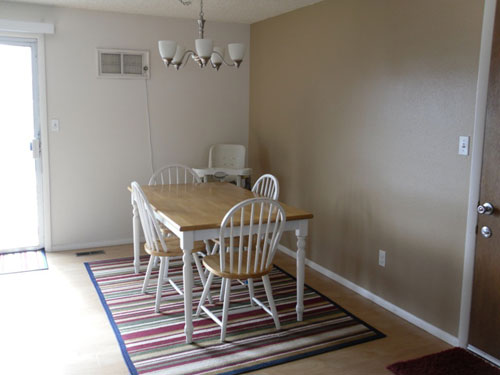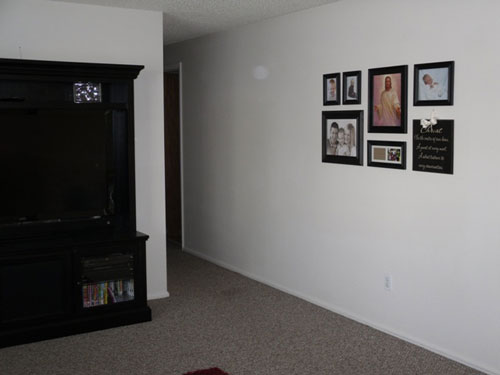 Here's the plan:
And here's the new layout suggestion: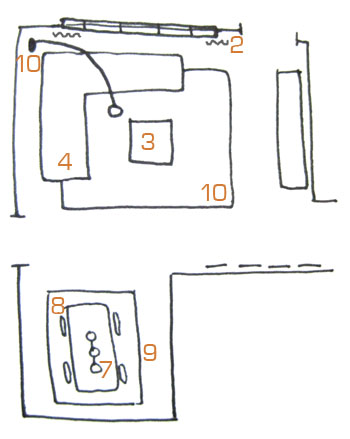 Now for the mood board breakdown.

1. Our color palette will be full of chocolates, reds, burnt oranges and creamy tans since Anne gravitates towards warm and cozy color schemes. When it comes to the walls, we'd love to see a rich caramel tone in the living room, down the hallway and in the dining room (try Benjamin Moore's Boardwalk 1102 or Camel Back 1103) for a seamless and open effect. This warm and wheaty color will add a luxe look and immediately take the adjoined rooms from flat and basic to earthy and inviting- and we'd love to see a lighter tone of the same shade on the ceiling to keep it from looking too stark and white by comparison (BM's Fennel Seed) although the trim and the doors will look great in crisp white for some nice definition.
2. These soft yet clean-lined beige curtains will look stunning once they're hung high (about an inch below the ceiling) and wide (around 18″) on both sides of the large picture window in the living room and the glass door in the dining room. They'll really pop with the deep and rich wall color while adding some nice enveloping softness to the harsh lines of those windows and doors. Plus they'll introduce some welcome balance by being present in both spaces and will make the ceiling feel about a foot taller thanks to the vertical element that they'll create.
3. We looked everywhere for the most functional and hardworking storage ottoman we could find and this handsome (on sale!) ottoman really fits the bill. The rich dark leather texture is definitely kid-friendly (ie: easily wipeable) and the fact that each of the four quadrants has a tray top that can be turned over to hold things like drinks and a bowl of popcorn is a nice family-friendly bonus. Plus the generous size will tuck right into the "L" created by the slipcovered sectional that we'll be bringing in for even more kid-friendly functionality and warmth.
4. And here's that sectional now (in Idemo beige), with a super easy to care for slipcover and an amazing price tag for such a spacious piece (we've heard nothing but rave reviews from readers and friends when it comes to Ikea's affordable and stylish Ektorp line). Tossing a few orange and red pillows (like these and these in geranium) on the sofa will break up all the sandy tan and add even more easy ambiance and casual style to the space.
5. We're obsessed with this art idea for above the sofa (on the wall directly across from the entertainment unit) since this flock of birds will add more of our red accent color along with a ton of texture, interest and movement to the space. And since the price is so nice ($54 for the whole shebang- no frame necessary) we even think that Anne could spring for two of them to make a real focal wall with both sets (just hang them very close together so they look like they're all one flock). We especially love that they will be "flying" towards the dining area, so they'll draw the eye from one space to the next for a nice seamless and fluid transition.
Of course this means that the existing piece of art above the sofa has to find a new home, but we love the idea creating an even larger art arrangement on the wall across from the window (which already has a collection of black frames on display). We think adding to these and building a bigger and more expansive "gallery" wall effect (that's about 4 x 6 feet wide in total) will really add presence to that side of the room while balancing out the furniture on all of the other walls. Plus Anne wanted a place to hang more family pictures and this solution will create just that.
6. Although Anne has kids she can still introduce a few decorative accents in burnt orange and red thanks to her existing media cabinet. By placing a few vases (like this one), baskets or even plants in red or orange pots on top and inside the TV stand she'll break up all that black. And Anne can even use tricks like poster putty to keep things like the vases and planters from shaking if kids are jumping around on the carpet below. Another place to add a pop of orange or red would be in the adjoining dining room where she can toss down a nice orange or red runner with a large kid-proof wooden bowl full of apples or oranges to keep things stylish yet easy-to-maintain in there as well.
7. We saw this gorgeous dining room light fixture soon after we found the floor lamp for the living room (stay tuned for details on that a little later), and we thought it would look amazing hanging over the new table in Anne's eating area. It really will tie into the lighting solution that we found for the living room's seating area, and the clean yet classic design will amp up that eating space in a snap.
8. And speaking of the dining room, here are the new table and chairs that we found (at a great price for all five pieces). The easy-wipe seats are super kid friendly, plus they'll tie into the new ottoman that Anne will be bringing into the adjoining living room. And as we mentioned, adding a warm orange or red runner with a wooden bowl full of apples or oranges will really polish up the entire dining area in a snap.
9. We love the idea of this seagrass rug with a red border in the dining room (the price is amazing!) since it'll really coordinate well with the textural red, orange, tan and brown rug that we found for the nearby living room. The main thing to remember with a dining room rug is that it will ideally be big enough for all of the chairs to be pulled out while remaining on the rug, so we hope an almost 5 x 8′ version like this one will make the eating space feel more open and functional.
10. Here's the aforementioned 8 x 10′ living room rug with tons of gorgeous texture and interest. This is definitely The Thing that will make the room. We love that it has every single color in our entire palette and that it will ground the slipcovered sectional and our luxe richly toned ottoman to tie everything together for an inviting and cozy seating space that draws people in from the moment they enter. Plus the great linear pattern will be fantastically convenient for hiding any and all kid-casualties (stains and specs of dirt) since the movement and pattern will make things like that virtually disappear.
And we mentioned that the lighting we dug up for the living room will really work with what we found for the dining space, so here's the stunner of a floor lamp that we'd love to see placed behind the corner of the sectional so that it arches over the seating area and illuminates the entire space. We love how the three hanging pendants will tie into the similarly shaped light fixture over the nearby dining table- and we also think that the added vertical interest that it'll bring to the room will really work with the high-hung curtains to lift that ceiling so everything feels even more open.
Oh and speaking of expanding the space, painting that wood-toned door right off of the dining area with some crisp white semi-gloss paint will really help to tie it in with the rest of the doors in the space (like the front door which is already white) for a more seamless and airy effect.
So there you have it. A warm and cozy living and dining room full of inviting style. We can't wait to see what you guys think!
Update: We sadly can no longer find the time to take on client commissioned mood boards (we now whip up general inspiration boards instead) but if we ever reinstate them we'll make a big announcement!