After Ania came to us for help with her living and dining room (and sent over the amazing after pics!) we were thrilled to hear from her again. Here's her letter:
Sweet, sweet victory! I got a mood board before they sold out! Ok, I'm back for some design advice for our multi-functioning office. I was inspired by a previous client of yours and wanted to incorporate more lounge furniture. We would like a room for our computer/books, a day bed to lounge/read on during the day (and potentially board a guest overnight), and last but not least: an area for our two Basset Hound children's beds and feeder. Style-wise, I have recently fallen hard for the modern classic look. Clean lines, no clutter. The only thing that must stay in the room is our new white Parson's desk and our matching dog feeders. I would love a way to hide the actual computer (on the floor) and printer. We'll have our wire-chaos under control soon because we grabbed some desk cable mangers. I love almost all colors (and my hub and I are definitely not color shy so bring it on!) but in particular I really like oranges, teals, yellows, blues, greens, greys, and purple. I see that you keep Burger's crate in an open closet and it got my wheels spinning. Maybe we should remove the closet doors and make the dogs a little love nest inside? You have no idea how much I am looking forward to painting this horrible room. And congratulations to you two on your beanita! Looking forward to hearing from you :) – Ania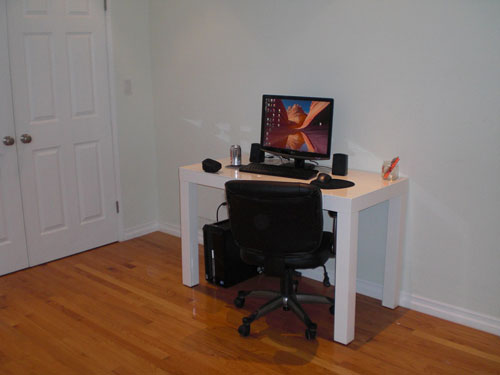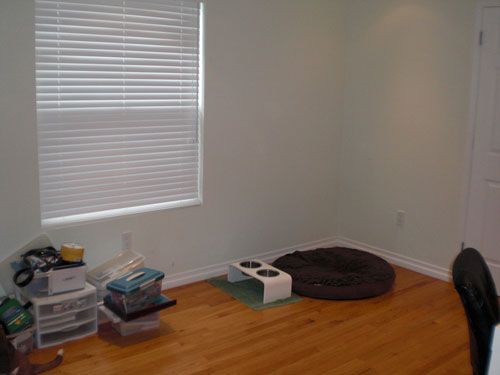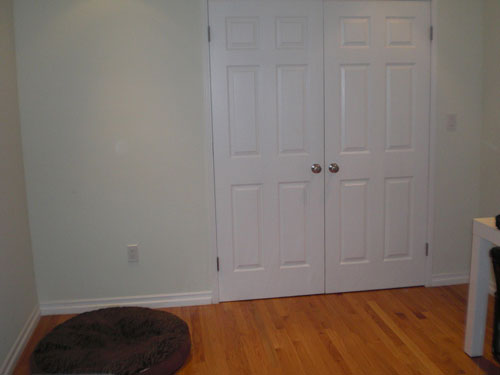 This space is primed for a major makeover. Here's the plan: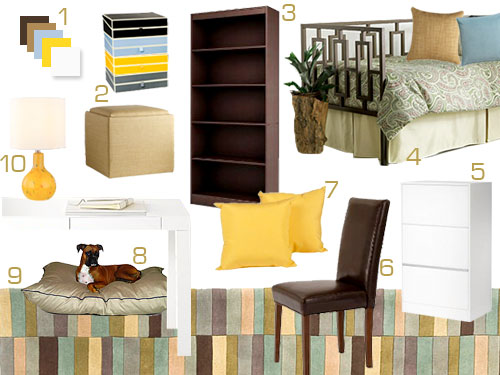 And here's the new layout: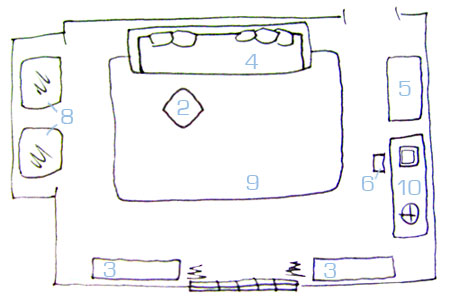 And now for the mood board breakdown.
1. The color scheme for this space will be full of dark chocolates, neutral tans, soft smokey grays, and some hits of glossy white. As when it comes to the accents, we'll be bringing in a splash of moody gray-blue and some cheerful sunshine yellow to keep things energetic and fun. As for the walls, we'd love to see them with a subtle coat of smoky gray (try Benjamin Moore's Alaskan Husky) which will pick up tones in the rug and a few other items in the space while setting the scene for a loungy office environment.
2. We're all about sleek looking storage and organization (folders and filing systems don't have to look blah and industrial!) so this great stack of boxes from The Container Store (found here and here) is the perfect way to keep paperwork and important office supplies on hand without cluttering up Ania's desk. We also use storage ottomans in our house to corral everything from bills and receipts to board games (read more about that here) so this nice woven grasscloth ottoman will add texture and lounge-like style while providing even more concealed storage.
3. Ania mentioned that she had lots of books, so we love the idea of adding a large bookcase on either side of the window to create a balanced and functional wall that can be used to store everything from books to even more files and office supplies (popping them in baskets and lacquered boxes will work 'em right in). And adding some yellow decorative accessories (vases, candlesticks, etc) along with some house plants in crisp white pots (Ikea has some great cheap-o varieties) will break things up and keep the bookshelves from looking too flat and utilitarian.
4. This gorgeous dark wood daybed (on sale!) is both sculptural and super functional since it can be used for reading during the day and can even accommodate an overnight guest. We also love that the dark tone ties in with the two bookcases that will flank the window across the room. And picking up any neutral tan-toned bedding for it will create a great foundation while introducing a few pillows in bright yellow along with some tan ones and blue ones will really keep things inviting and cohesive.
5. This sleek white office storage piece will add an amazing amount of function while looking great next to the white lacquered desk (and it's actually cord-friendly so it's made to store a printer and even a computer base along with a ton of files).
6. We actually have the same parson's desk as Ania, and this is the comfy and plush chair that we sit on every day when we're working on the blog. The rich chocolate leather is super easy-care, and it actually helps to tie the white office furniture in with the darker wood pieces in the room (like the daybed and the bookcases) for a balanced but not overly matchy-matchy look.
7. Here are those aforementioned yellow pillows that we'd love to see on the daybed to add some pops of playful color (yellow is actually also an accent in the makeover that we whipped up for Ania's living and dining room along with some neutral tans, chocolate furnishings and crisp white tones- we love a subtle connection like that so rooms across a house still relate to each other). And bringing in a few more yellow accessories (like a large horizontal piece of yellow art to hang above the desk) will add even more energy and fun to the entire space.
8. Two of these plush and neutral dog beds (in khaki) will look upscale and cozy in the closet nook that Ania mentioned in her letter. We love the idea of removing the double doors that lead to the closet to make a little puppy lounge in there complete with two large dog beds and Ania's already existing matching food & water dishes. To add even more personality to their little pup nook, we'd love to see the walls inside of the closet painted Bridgewater Tan by Benjamin Moore (it's a rich tawny tan with a bit of a wheat undertone that will pick up colors in the rugs, pillows, etc). Adding large framed art (also in yellow like the piece across the room that will hang above the desk) will lend even more "polish" to this former closet so it looks a lot more integrated and intentional.
9. Here's one of our favorite finds for this space- a colorful and graphic modern 5 x 8′ rug with every color in our scheme and then some. By placing the front two legs of the daybed on the rug (along with the storage ottoman) it will really ground the entire space and make the room feel warm and inviting thanks to the soft texture and cheerful color underfoot. Plus the pattern is super dog friendly since movement and varying tones really help to obscure stains or dirty paw prints.
10. Here's the West Elm desk that Ania already owns (we included it to show her how adding other white and dark chocolate furnishings will really create a balanced and cohesive look even though everything won't be the same tone). As we mentioned, it's also our desk and we love it… plus adding a cheerful yellow lamp (on sale!) will provide functional work light as well as another shot of our happy accent color.
Oh and to finish off the space, we'd love to see these crisp and modern white grommeted curtains hung high and wide on the window across from the daybed to add softness and height in a snap.
So there you have it. A chic lounge-y office full of function and inviting style. We can't wait to see what you guys think!
Update: We sadly can no longer find the time to take on client commissioned mood boards (we now whip up general inspiration boards instead) but if we ever reinstate them we'll make a big announcement!