Andy and Courtney are ready to transform their bedroom while adding some serene color and a splash of personality (along with a cozy and casual vibe). Here's their letter:
We would describe our style as casual. We'd like this room to mirror the rest of our home, which has a cottage feel (sorta beach cottage, definitely NOT country cottage). When it comes to the furniture stores that appeal to us, we like Pottery Barn but we're also attracted to the home goods that are sold at Urban Outfitters and Anthropologie (but we like to stick to an Ikea and Target budget). We're not married to anything in the room with the exception of the TV. It would be great if we could keep it in the same location since that wall is wired for cable. Also, we like our existing Pottery Barn lamps. However, if they can't be incorporated easily, it's no big deal (we can always use them elsewhere). In terms of the furniture, we're so over the bed. We would really like a recommendation for a new queen sized option. The only other must have recommendation is a rug of some sort. The floors are sorely missing one! And we're definitely ready to paint! We've included a pic of our recently remodeled bath (that actually sits right outside this room). We'd love to see the colors there reflected in our bedroom, particularly the cool blues. When it comes to colors in general, we like colors that can be found in nature. We'd also like to see some fun patterns incorporated to give the room some personality. Thanks! – Andy & Courtney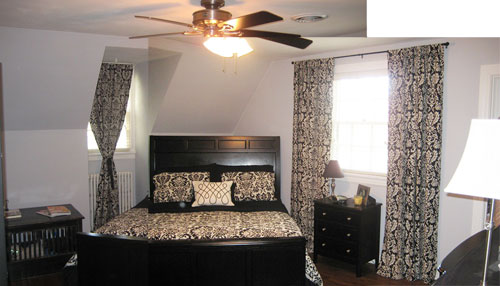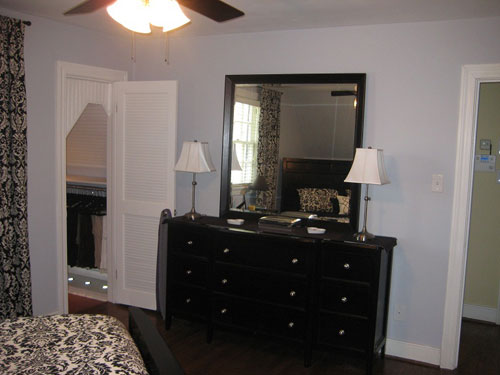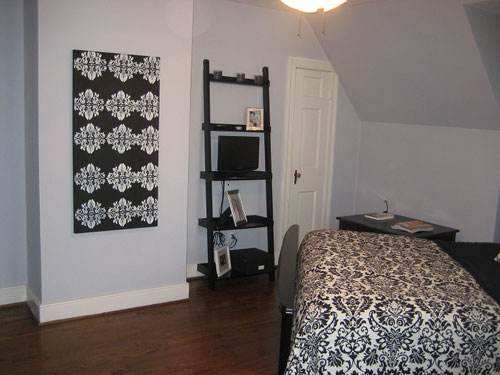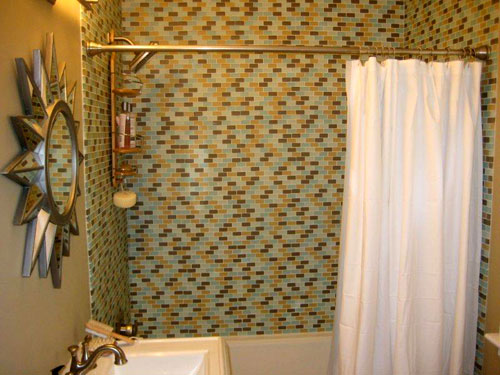 Here's the plan (full of inspiration thanks to their newly renovated bathroom, pictured above):
And here's the new layout suggestion: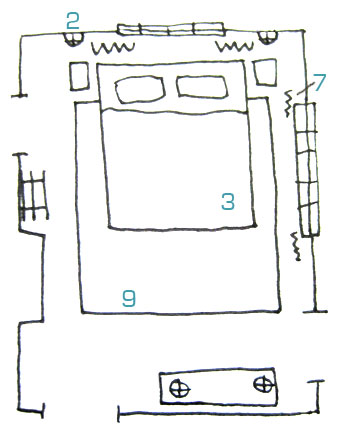 Now for the mood board breakdown.
1. Our color palette is based on Andy and Courtney's request for blues and other casual beachy chic hues that will tie into their adjoined bathroom (isn't that tile amazing?!). So we'll be bringing in some rich dark chocolate wood tones along with some tans, and a plethora of blue tones from turquoise to the palest aqua. When it comes to the walls and the ceilings, we'd love to see everything painted a super subtle aqua color (Benjamin Moore's Healing Aloe 1562). And the reason we mentioned that the ceilings should get that same treatment is because in rooms with sloped ceilings we like to see everything get a coat of the same light hue to keep things from feeling chopped up and disjointed.
When it comes to their furniture, we know Andy and Courtney requested a new bed and also mentioned that the leaning bookshelf along with the double dresser could be replaced but we definitely think they can stay (to save a bundle while still creating an entirely new look). One possibility would be to paint the bed, the bookcase, and the dresser a glossy white tone (using this simple furniture painting tutorial). But we did hunt down a replacement bed and dresser just as they asked, so they could opt to replace the bed with something like this (which is hundreds cheaper than a similar version from Pottery Barn) or decide to bring in this luxe upholstered headboard with a cheap-o bed frame and a skirt for a totally polished look. And as for the dresser, we liked the look of any dark double dresser like this one (to tie into the dark side tables that we'll be adding) if they do decide to replace the bed.
2. Our big idea for the space is placing the bed centered under the smaller window with the sloped ceilings for an instant focal point that's both balanced and inviting. And later we'll explain how the curtains can be hung outside the window to create a dramatic and serene headboard extension of sorts (for even more cozy and casual ambiance). Then placed about 5″ away from the outside edge of each curtain panel, we'd love to see these chic plug-in wall sconces (on sale!) hung above these dark (and incredibly affordable) side tables which will flank the bed to add some function and even more balance to that focal wall. Plus there's nothing better than turning the lights off from bed (and controlling the one on your side if your other half would rather snooze while you read). In fact we're quite familiar with the concept because we looove our plug in sconces, and we know firsthand how much architecture and elegance they can add without necessitating any major electrical work. Score.
3. This geometric bedding will add interest and texture to the room for that beachy chic vibe that effortlessly ties into those great glass mosaic tiles in the nearby bathroom (we even hunted down a similarly toned second option that's a smidge cheaper right here).
4. We mentioned that we'd love to see the leaning bookcase get a coat of crisp white paint (and if painting the existing one is a total impossibility, they can always grab a white version here). Then it can remain on the same wall with the TV in place (since that was one of the only things Andy and Courtney wanted to keep) but be totally transformed once it's accessorized with some punchy turquoise items (like these sculptural ceramic containers) along with some textured baskets to house clutter and tie into the deeper tones in the new bedside tables.
5. A few of these pillows (found here, here, and here) could be tossed on the bed to add to that effortless mixed and matched look that ties into those layered and colorful mosaic tiles in the bathroom.
6. Replacing the overhead ceiling fan with this light and linear pendant lamp would make an amazing difference (the space will instantly feel airier and have tons of playful personality). And it'll relate to everything from the striped textural rug to the patterned bedding. Oh and don't worry about Andy and Courtney staying cool- we have them covered in the fan department. Stay tuned…
7. Simple white vivan curtains from Ikea (the exact kind that we have in nearly every room of our house) will add breezy style and a spacious and open vibe without breaking the bank (it doesn't get much cheaper than these babies). And we'd love to see them hung high and wide on the bigger picture window to the left of the bed and also hung high and wide with a rod that's mounted outside of the window enclave behind the bed. By hanging a long rod high and wide above the bed (in the same length as the bed) the curtains will create a breezy extension of the headboard that extends all the way to the ceiling for tons of height and style. And to keep the curtains from draping oddly thanks to the sloped ceiling, Andy and Courtney can hang a stainless steel cup hook or coat hook on either side of each panel where the wall slope meets the regular perpendicular part of the wall and use rustic and beachy twine to tie a loop from one hook to the other to gently pull the curtain panel in so it hugs the angle of the wall. The result will still be effortless and breezy, but it'll be nice and tailored looking so the panels follow the line of the wall (and aren't draping a few feet away from the bottom of the wall).
8. For the part of the wall that bumps out next to the leaning bookcase, this large 24″ x 32″ print will add color and interest to that entire side of the room. And we think painting the existing mirror above the dresser on the other side of the space (either white if the dresser gets painted that color, or even bright turquoise if the dresser is replaced with a dark wooden one) will keep the room feeling open and airy. And as for the blue coral, we thought that would look lovely atop the dresser or even on the leaning bookcase with the TV and the other blue accessories and woven baskets we already mentioned.
9. This tone on tone jute rug is a total steal for the size, and it'll inject a ton of beachy casual interest and texture to the space when it's centered under the bed to ground the sleeping space.
10. This handsome high quality table fan can be placed on the dresser which just happens to be directly across from the bed to keep the sleeping situation nice and cool. We actually replaced our bedroom's overhead fan with a Hunter table fan and the power is completely comparable (not to mention that the fan itself is intensely charming). It really is a win-win switcheroo, because the whole room feels more spacious and open when you remove a ceiling fan, but you don't have to sacrifice that nice breeze that you've grown accustomed to.
11. These sweet turquoise tea lights would look great on each of the dark wood night tables or even grouped on the leaning bookcase or the dresser across the room. The idea is just to bring in some brown, tan and blue accessories to work with our color scheme while adding layered interest that ties into the adjoined bathroom. And other decorative items can be found super cheap at places like Home Goods or even at garage sales (if they're they wrong color, it's nothing a can of aqua spray paint can't solve).
So there you have it. A bedroom full of casual and inviting style. We can't wait to see what you guys think!
Update: We sadly can no longer find the time to take on client commissioned mood boards (and just whip up general inspiration boards instead) but if we ever reinstate them we'll make a big announcement!