Our good friend Ana over at Knock-Off Wood has an office that's bursting with potential. And she's totally up for transforming her space on a dime with some DIY magic. She actually plans to share her progress and keep us posted along the way, so we can all look forward to seeing how things evolve in there. Here's her letter:
Thanks so much for helping me with my office! I had a high maintenance newborn when the design decisions were made so I did what the experts say – stick to safe neutral colors. Now I've got a beige & brown office that's less than inspiring. In fact, I can't stand to be in this room – it's like working at the DMV. I could possibly be committing career suicide by showing the photos, so here's a floor plan and you can assume that it's a total blank slate. I'm open to all your ideas! I can paint, paint the trim, put track lighting up, etc. I think the only thing I cannot do is redo the wood floor. It's a tiny tiny room but I hope to create a space that reflects the creative, positive and organized person I am. I like color, but I'd love white walls & trim – just because it makes photos so crisp (for when I need to shoot of a piece of furniture for my blog). And I was thinking about espresso base cabinets, shiny white floating shelves, stainless hardware, and stainless filing cabinets as a starting point. I'd also love to see some modern patterned fabric for curtains- and a bright floral rug could do the trick. Oh and lots of light, either in lamps, track lighting or a pendant. And my favorite idea for the desk is to build something with a stainless steel or mirrored finish. Can't wait for your ideas!- Ana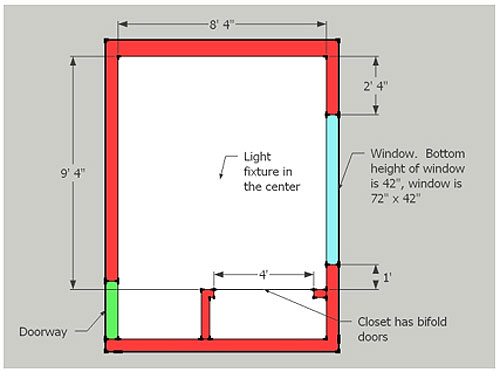 Here's the plan: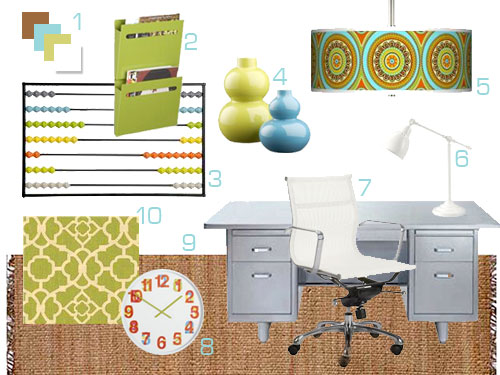 Now for the mood board breakdown.
Ok, here's our brain dump for Ana's space. Since she's such a creative soul we didn't want to pen her in with a specific floor plan because she's amazing at construction and floor planning herself so we wanted her to feel free to take the ball and run with it in any and all directions! We're just here to serve as a springboard for her creative genius (which is oh so apparent) so we want Ana to feel free to do with our ideas what she will:
1. We love Ana's idea of crisp white walls (Benjamin Moore's Decorators White is always a great choice) and as for the trim, she could take the serene white on white approach and paint it the same crisp white color as the walls (with semi-gloss or gloss instead of flat/satin like the walls) or she could do something totally fun and give the trim a splash of soft pear green paint to really frame out the whole room and add a bit of energy and a unique creative vibe (Benjamin Moore's Sesame 381 is a nice subtle pear green that would tie in with all the white and the colors in her future pendant lamp.
2. This fun green wall rack will organize magazines, catalogs, mail, folders and anything else she'd like to have on hand for inspiration.
3. Oh and we were totally obsessed with this, and wondered if Ana could DIY a giant oversized version to hang over her desk, which we'd like to see on the back wall. It could be a totally inspiring and interactive object to have in an office- especially if Ana makes it with her own two hands! Another fun art option would be something else that's colorful and oversized, like this amazing giant map (at an amazing price!).
4. We adored these punchy vases in two of our accent colors and thought they could add eye-pleasing interest to the open shelving that Ana would love to bring in. They'd look great among more functional items like woven baskets and bins full of files and other necessary paperwork.
5. This pendant light would be a super easy way to add instant personality and a lively inviting feeling to Ana's office. We love large-ish pendant lights hung about a foot from the ceiling in a small space- they're such a chic exclamation point for the room.
6. Every office needs an amazing desk lamp or two, so one of these (in white) on either side of Ana's long stainless desk (more on that later) will really add balance and dramatic effect to the entire back wall- especially with that awesome oversized map or abacus art hanging above them. Of course if she ends up with a shiny white desk instead of a stainless one for some reason, grabbing two of them in the stainless finish would also look amazing…
7. We agree that shiny white floating shelves with lots of stainless hardware and stainless filing cabinets would look awesome- especially if Ana could build a mirrored or stainless desk like she described in her letter. As we mentioned, we thought it would be nice to place the metal desk on that 8'4″ back wall (building a desk that's around 6-7′ long will really feel open and expansive) and then Ana could even slip a stainless filing cabinet (or a white one since the desk will be stainless) under one or both sides of the desk since it'll be so oversized that it'll easily accommodate her chair as well as some filing systems.
Oh and we'd love to see a white desk chair like this to go with the crisp white walls to continue that clean and modern vibe. Of course Ana can build an office chair too (goodness knows the girl can build anything!) but we just loved the fun lines and ergonomic design of this one (and it's way cheaper than the designer ones that it's knocking off, and we know she loves a knock off!).
8. This colorful and dynamic clock works so well with the tones in the pendant light that we selected for the space- it's almost like they were meant to be.
9. Although Ana mentioned a bright and patterned rug, we think with the pattern and color in the curtains (more on those later) and the new pendant light will call for something a bit more subdued – so it doesn't feel too crazy in there. You definitely to walk the line between an energetic/invigorating space and a crazy/anxiety inducing room full of too much hue and print. Plus this rug will add that rustic textured element that will ground some of the airier and more modern things so they still fit in with the rest of her home's aesthetic- and you can't beat the price.
Then as she mentioned in her letter, Ana could build in some cabinet bases complete with open shelving hanging over them on that left wall across from the window and even add more matching cabinetry under the window across the room for balance and tons of much-needed function (keeping the cabinets white along with the shelves and using woven baskets and colorful storage boxes and bins will keep things really light and airy, but if she wants more dramatic richness, she could also go dark brown with the base cabinets just for some substance).
10. And when it comes to the window, we'd love to see this playfully patterned fabric (on sale!) used to create billowy floor to ceiling curtains (hung super high and super wide for a more expansive feeling). Paired with the printed pendant, these will definitely breathe life and fun into the room while all the white on the walls and the crisp open shelving will keep things from feeling too chaotic.
Finally, when it comes to boxes, bins, and other office supplies that Ana can display on the open shelves, her desk, and the top of those built in cabinets she'll be adding, anything in our color scheme (think pear green, turquoise, sky blue, white, medium brown) will look amazing.
So there you have it. An office full of energy and function. We can't wait to see what you guys think! And of course to follow along as Ana whips her room into shape.
Update: We sadly can no longer find the time to take on client commissioned mood boards (and just whip up general inspiration boards instead) but if we ever reinstate them we'll make a big announcement on the blog!