When Amy wrote to us asking for some family room CPR, we jumped at the chance to add function and style to the large living space that her family desperately needs to maximize on a strict budget. Here's her letter:
A co-worker of mine shared your blog with me a week ago after she found it on www.cvillestyle.com and I recalled seeing the article in R. Home and wanted to seek your advice on making over our family room. My husband and I bought our 1950s cape-style home six years ago… a few short years later and we've added three to our family (a schnoodle dog, a three-year-old son and an 18 month old daughter) and are in dire need of more communal space. We have a great space but it just needs some design help to make it comfortable and cozy for the whole family. We'd love assistance with a color palate and the layout. It's a strangely shaped room ("L" shape) and the furniture we have now is sparse. We don't have a huge budget to work with, so any help you can give us using what we have (while adding a few affordable pieces) would be great. We like the rug and the picture above the fireplace and would love to use those in the design, but we aren't wedded to anything. Thanks so much for your time and thought. I love your blog and very much look forward to your response. -Amy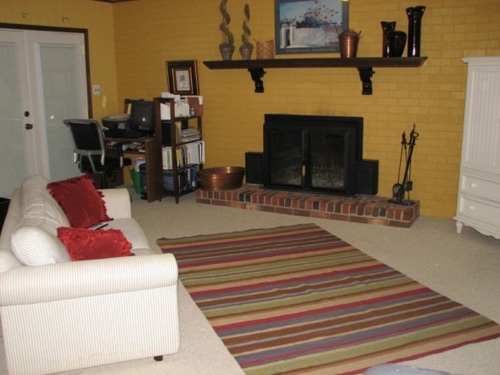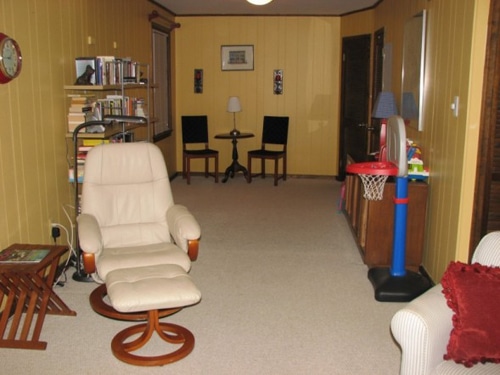 We think Amy's L-shaped space is bursting with the potential for a few distinct areas for tons of family function & fun. So here comes our handy dandy mood board to break it all down:
Here's the mood board breakdown.
1. A fresh new palette will work wonders on this space, so we'd suggest painting the paneled walls (and that dark brown ceiling trim) a pale green hue (try Glidden's Pine Scent) for a calm and refreshing feel. We also think that painting the entire brick fireplace a crisp white (along with the doors, door frames, window frames, and even the brick hearth) will add a completely current feel to the room. The brighter green color will serve as our accent color (along with a tiny splash of eggplant for contrast) and the neutral tan tone represents the color we'd like to see on the couch (in the form of an easy-clean slipcover that Amy can grab at Bed Bath & Beyond, Target, or Linens N' Things on the cheap). So although the mood board appears very white and stark, the big tan couch and the green walls will add color while the light wood furniture will keeps things casual and cool.
2. This adorable and über affordable children's table and chair set from Ikea will definitely work with our small budget to introduce a reading/drawing/work area for Amy's children. We'll get to where it goes in a minute.
3. We'd love to see two of these discounted accent pillows on the tan slipcovered couch- and since they're eco-friendly and budget friendly they're truly the perfect choice.
4. This bookcase represents the one that the couple currently has along the wall in the second photo, and we think that they can definitely rework it by placing it along the back wall (in place of the small table and chair arrangement). We're willing to bet that no one really uses that seating area anyway, and we think the bookcase would add function to that unused wall (plus they can add baskets to the bottom shelf for toy storage). Moving the bookcase frees up space for the children's table and chair set, which we think would look great against the left wall with the colorful striped rug beneath it to define the kids-only area. Lastly, painting the wooden hutch on the opposite wall a pale tan or a pure white color will definitely allow it to stylishly coexist with all the lighter woods in the space (and make it appear less bulky to boot).
5. We couldn't resist this adorable rocking chair (in our accent color no less) to sit on the striped rug in the children's zone. And at $9.99 (!) it's a fun and frugal addition to the space.
6. We think that simplifying the mantle will allow the artwork above it to really shine (which is one of Amy's favorite things in the room), so by removing all the objects and replacing them with two natural and serene accents, we think the mantle will feel lighter and effortlessly stylish. The first item we'd suggest would be a simple $16 piece of faux coral that could replace all the objects on the right side of the mantle. Stay tuned for the second object for the left side…
7. This woven basket can stand on a table or be hung on a wall, and we think hanging a series of three of them horizontally on the wall above the kids table will add stylish storage that also serves as wall art. Heck, at $6.99 each, Amy could even introduce a few more above the adult desk area for added storage as well.
8. One piece that we definitely tried to work with was the existing chair and ottoman in the living area, but we just couldn't make the darker wood tone and the retro shape work. So we did the next best thing by searching high and low until we found a clean and current looking arm chair (that matches our light wood) tones and won't break the bank). Where else can you find a $149 arm chair that rocks (both literally and figuratively)? And by painting Amy's round pedestal table white (which we displaced by moving the bookcase to the back wall) it can serve as a side table next to her fab new arm chair (since the current side table is a tad too dark). The seating area as a whole will look less awkward after relocating the striped rug to the kids zone, since it seemed to accentuate the diagonal placement of the couch. Bringing in two simple square ottomans (from Bed Bath & Beyond, Target, or Linens N Things) in place of a coffee table will also add storage and seating to the space while warming it up even more.
9. And now for the second accent piece for the mantle, which could replace everything on the left side. This stunning faux orchid is so believable (and maintenance free) that we couldn't resist. And since green's complement is purple (they're across from each other on the color wheel) it'll really pop.
10. And last but not least we have the office area, which we think would look great in tones of white to balance out the white armoire on the other side of the fireplace. Switching out the current desk and the bookcase divider for this super affordable Target desk and fabulously cheap Ikea chair will make the office seem cleaner and more updated while adding the perfect pop of white to balance that big white armoire.
So there it is, Amy's fresh and fun family room makeover. We think just repainting will make all the difference in the world, and we're certain that adding a children's zone will add function and purpose to the space. What do you guys think? Any ideas to add to the mix?
Update: We sadly can no longer find the time to take on client commissioned mood boards (we now whip up general inspiration boards instead) but if we ever reinstate them we'll make a big announcement!