This weekend kicked off Richmond's latest tour of new model homes. The "Dream Home Tour" is March's answer to last October's "Parade of Homes," which we covered last fall. This one was much smaller (60 homes vs. 158) but it still a great opportunity to check out the latest design ideas featured in brandy new homes just hitting the market.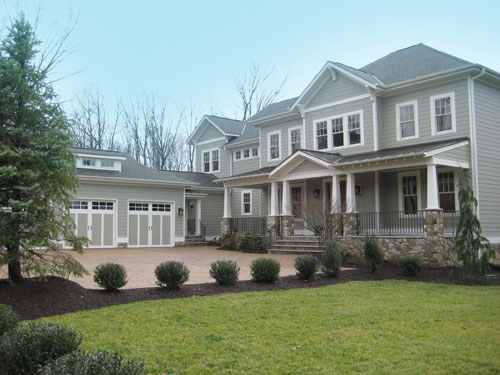 Between dozens of cookie-cutter houses, we were happy to spot some unique, interesting and inspiring designs in the bunch. There were even some beautiful exteriors, like the swank Craftsman-inspired home above. (Sherry was so in love with this one I practically had to drag her out of the front yard).
Here are some of the trends we picked up on after touring a dozen of the "Dream Homes":
Ceiling Details: Lots of beams, coffering, recesses and molding details spiced up ceilings in many formal dining rooms- but we found some in other rooms too, like this peaceful bedroom below.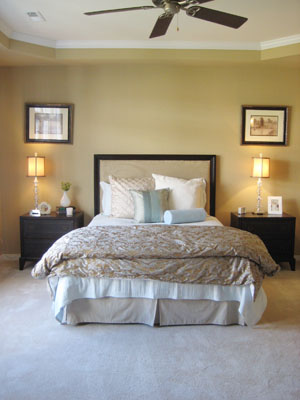 Mudrooms: Yep, they were everywhere. Those stylish Pottery Barn style stations for coats, shoes and droppin' the mail anchored the back entrance to just about every home we toured. Glad we already jumped on that bandwagon (even if we did it on a budget).
Tile All the Way Up: When builders weren't using those stock vinyl tub surrounds, they were showing off their grouting skills by taking tile from floor-to-ceiling. Check out this spacious masterpiece from a million-dollar home we pretended we could afford.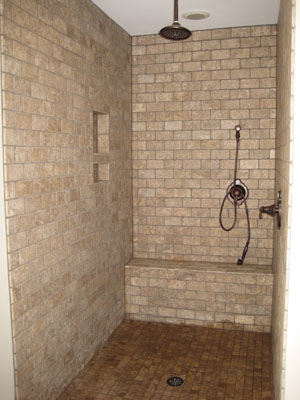 Bathroom Built-Ins: Just when we thought our new kitchen cabinets were enough, we've now noticed that built-in bathroom cabinets and wardrobes are the true sign of an updated home. I guess if you've got the extra space, why not flaunt it? Here's a different view of that million-dollar home's fancypants bathroom. Oh to have all that custom storage…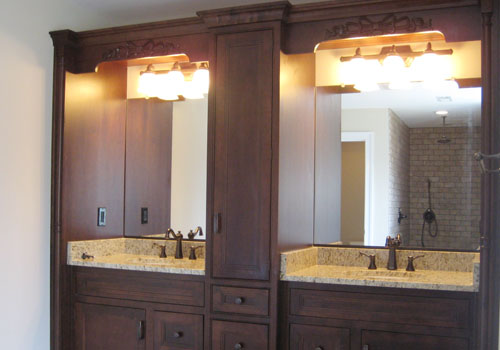 Tacky & Tasteless: And last but not least, we again witnessed that some model home stagers just can't keep their tacky tendencies in check. Need I remind you of last fall's jungle mural spotting? The over-the-top wall paintings were extremely abundant when it came to kids' rooms (little boys must really love skateboards on their walls) but there was also some spillover into other parts of the house, like this faux-window in a windowless laundry room. I hope that faux-dog is enjoying the faux-breeze.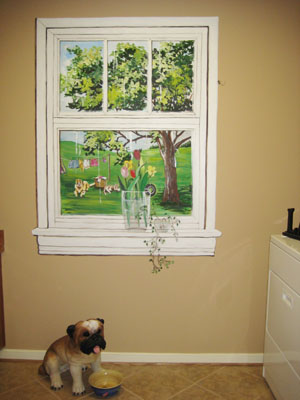 The "Dream Home Tour" continues this weekend from 11am – 5pm, so check it out if you're in the Richmond area. It's completely free and you can get a map to each of the homes in Saturday's Richmond Times-Dispatch. We promise you'll have a good time, find some design inspiration and probably have a good laugh or two. And heck, you might even snag some free Girl Scout cookies.