When Amanda wrote to us for design advice, we couldn't wait to cozy up her stunning and spacious new home. Here's her letter:
Love your house. Love your style. You almost inspired me to sell my house and start looking for a rancher of my own. =) My husband and I have just finished a house and now that we've started moving furniture in, I'm realizing that we need some help making our first house feel like a real home! This big open room so reflects our life (the kitchen, dining room and living room are all open to each other) but right now it feels staged and not as comfy as I'd like. I want people to just feel like falling onto my couch and staying for a while when they walk through the door. That is why I chose the darker color for the walls. I'd probably call my style "rustic modern" but I also like the look of Pottery Barn and Pier 1. The wall color has to stay as well as the couches (but if the color is off I'm open to slipcovering). I would also like for the dining set to stay. Some of the main things I need help on are throw pillows, curtain ideas, accessories and accent colors. Thanks so much in advance for your help. No pressure, but I am counting on you guys! – Amanda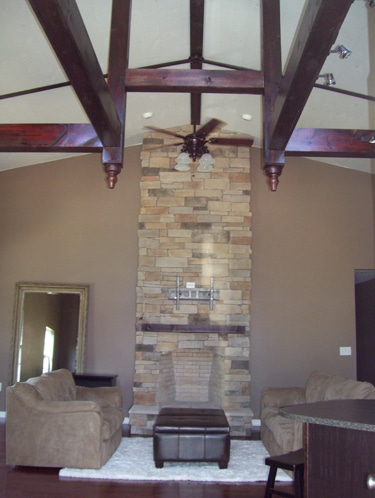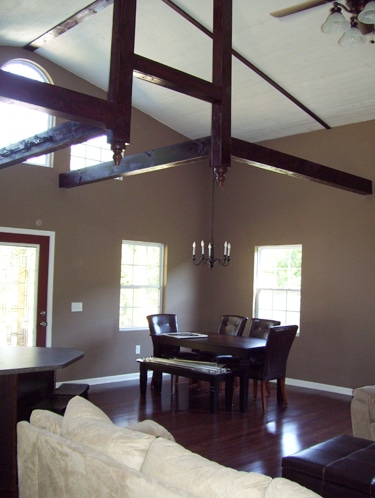 The soaring beams, rich wall color, and wide open space have so much potential, but we can definitely see the challenge that such an expansive space can pose. Without further ado, our handy dandy rustic modern mood board:
Here's the mood board breakdown.
1. Our warm and cozy color scheme will complement the mocha wall color and deep brown beams with some tangerine and golden colored accessories. We'll also bring in some lighter tan tones for contrast and depth.
2. Amanda will be blown away by the huge difference some soft curtains will make in the space. They'll warm things up and soften the harsh rectangular windows throughout the space. Since these textured curtains come in a color that's similar to the wall tone they'll immediately feel cozy and at home in the space- as if they were always supposed to be there. Nothing jarring, just pure softness, interest, and texture. And hanging them a bit higher and wider than the windows ensures that they won't block any of the light.
3. This jawdropping faux antler chandelier will inject a major dose of rustic sophistication to the space, and at 20 inches high and 41 inches wide, it'll definitely have presence over the existing dining table (while the current chandelier looks a bit small for such an expansive space). It's definitely a splurge but it's hundreds of dollars cheaper than similar chandeliers that we found of its size. *Designer tip: a dining room chandelier should be hung so that the bottom of the fixture is 30 inches above the tabletop to keep things comfortable, cozy and romantic.
4. Injecting a splash of goldish-yellow onto the dining table in the form of a cheerful table runner from Target will break up all the wood tones in the chairs, the table, and the beams up above. Such a simple solution to dress up a dining space in a snap.
5. We think two of these fun and warm cork trays on the ottoman (filled with everything from books and magazines to candles and keepsakes) will lighten up the big dark rectangle of leather while adding some texture and interest to the space. And Amanda will be amazed to see how quickly a few personal touches (some books, a pile of postcards, some old family pictures in a bowl, etc) will make the space feel like home.
6. The stunning stone fireplace is flatscreen ready, but we think adding some rustic charm to the actual fireplace opening would cozy things up and look oh so warm and inviting. A woven basket (check out Michael's, Target, or Linens N' Things) full of some logs for the fire would look great tucked right inside the fireplace opening- and they'll be at the ready for a crackling fire when the colder months roll around.
7. Amanda's current living room rug looks a bit small in such an open room, so we'd suggest switching it out for a 9×12 area rug in a light tan tone (being sure that it's substantially lighter than the couches for depth and contrast). On the mood board we've shown a cozy textured jute rug from Overstock.com (a real steal for the size) and we also think a second rug of this sort (maybe even a matching one to keep the spaces cohesive) would look great under the dining area to define that space as well. We know some people aren't fans of carpeted dining areas, but a natural jute rug is so easy to care for (it literally deflects dropped food and spilled drinks) so we think it's a great choice for both spaces. And if Amanda would like a bit of variety, a fluffy flokati rug in the living area would perfectly complement the jute rug we've suggested for the dining room. Designer tip: In a dining space, the rug should be large enough for all four legs of each chair to remain on the rug even when they're pulled out and in use.
8. For that touch of modern rustic, we love this updated take on a deer head (it's sculpted out of resin!) and think it will draw the eye up once it's hung above the flat screen on the fireplace. With such a vertical feature in the room (the fireplace) and so much detail near the ceiling (those beams) it's nice to add some interest at varying heights to keep things looking balanced.
9. Sometimes the simplest things make the biggest impact. For a genuine "homey" feeling, a sweet bowl of oranges on the island in the kitchen will bring our color scheme around to that corner of the room. And a nice golden colored bowl would allow Amanda to inject both of her accent colors into that corner.
10. We also think some glass containers (full of everything from cherry tomatoes or cereal to pasta or flour) will dress up the kitchen countertop and add interest to the backsplash while obscuring all the outlet plugs.
11. A few fun mix & match pillows will add some plushness to the seating area and gussy up those couches. If Amanda just brought in four orange pillows (one in each corner of the couch) to room would continue to look staged, but by bringing in a few different textures, patterns and colors, it keeps things looking warm and personal instead of predictable.
12. And lastly, a chunky textured throw in a modern hue (our fun tangerine accent color) tossed over the arm of one of those couches will thoroughly complete this rustic modern makeover.
Well, what do you guys think? Any ideas of your own you'd like to add to the mix? Feel free to fire away.
Update: We sadly can no longer find the time to take on client commissioned mood boards (we now whip up general inspiration boards instead) but if we ever reinstate them we'll make a big announcement!