After spending time on the rest of her house, Allyson's finally ready to transform her bedroom. Here's her letter:
We're very excited about our bedroom's impending transformation!  It's essentially a blank canvas and we've spent a lot of time on the rest of our house, but haven't made it to this room yet. I was trying to define "our style" when I saw the description of your nursery- it's exactly what I was thinking!- "modern-meets-traditional (clean lines and punchy patterns without much stark white) also with a charming lived-in look." Casual, lived-in, cozy, but modern-ish is perfect for us. We're not afraid to go a little vintage, especially with accessories. We also like oversized art. We have a 4.5 month old son, so nothing too sharp or breakable (or only a few of those things). We need help with organization and storage. Most of the furniture needs to stay for the storage factor (the wicker chest can go) and the TV has to stay! We'd love a NEW NEW NEW wall color- and we would also be open to painting the furniture. We gravitate towards blues and greens of all shades. No patterns that are too busy, but we can certainly take some (we like stripes and modern patterns). Looking forward to your ideas! -Allyson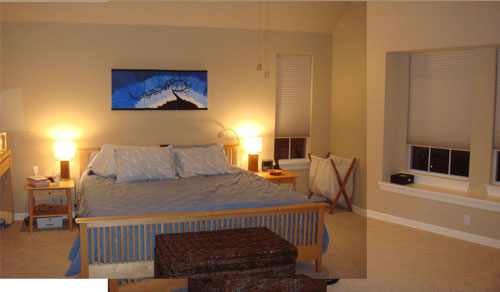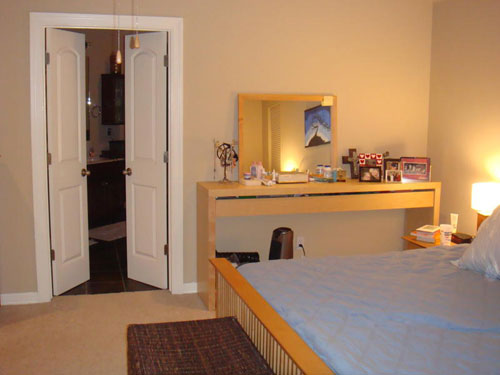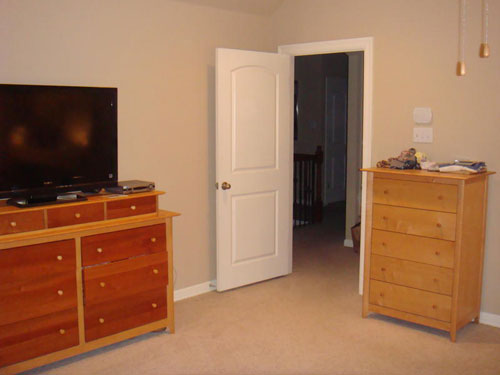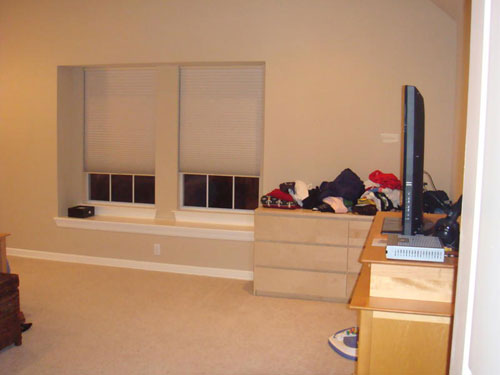 Here's the plan:
And here's the new layout suggestion: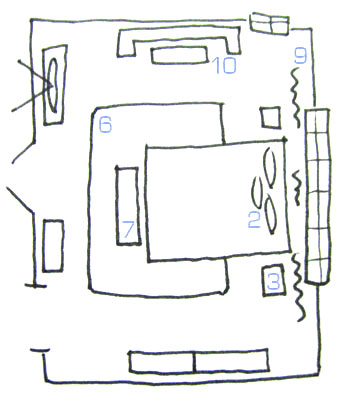 Now for the mood board breakdown.

1. Allyson is dying for a new color on the walls and we think a soft and moody greeny-gray-blue (Benjamin Moore's Healing Aloe 1562) will be airy and amazing in there. We'd love to see it on all of the walls and even carried up onto the vaulted ceiling because it's very subtle and enveloping. Just that change alone will take this room to a totally different level since it will no longer appear to be one flat color (since the existing wall color is very similar to the wall to wall carpet). Then we'll layer in some chocolates, some lighter mocha and tan tones, and some deeper and more saturated muddy gray-blues. The effect will be a dimensional and serene room with some great textures and even a splash of praphic pattern for a modern-meets-traditional look.
Allyson also mentioned that almost all of her furnishings must stay, but expressed an interest in painting/staining them. We couldn't agree more! She can give them all a second life with a little elbow grease to completely elevate them to a much higher-end look. The bed along with the wood dresser and chest by the door (both shown in the third photo of the space above) can be sanded and stained a nice deep brown tone with stain (Allyson can just swing through Home Depot and ask what they recommend- it's very simple stuff). Meanwhile the Ikea vanity and the malm bookcase aren't solid wood so we'll suggest a slightly different "overhaul" approach that's a bit less difficult than painting or staining veneer. Stay tuned for those details…
2. Once the bed (along with a lot of the furnishings) gets a deep brown facelift, it'll add so much dimension (whereas in the photos above, almost all of the furnishings match the carpeting and those walls). And for even more contrast and a dash of crisp and modern style, we'd love to see a clean white duvet on the newly darkened bed frame with a few steely blue gray and warm tawny wheat pillows to tie into a lot of other colors that we'll be layering into the room.
3. Since Allyson mentioned that they need as much storage as they can get, these clean-lined bedside tables with two drawers each will add almost a dresser's worth of concealed stash space when they're placed on either side of the bed (which will be moving in front of the large picture window with fun graphic curtains that will serve as the ultimate headboard). Placing the bed in this location of the room will allow for a furniture arrangement that shifts the focus from the TV (which will no longer be the first thing you see when you step into the room) and onto the large peaked ceiling wall, which will now feel perfectly balanced and inviting with the big window framing out the large and luxe bed.
But what's that glimpse of textured grasscloth that you see behind the night table in the mood board above? Why it's our idea for breathing a richer and more sophisticated life into the existing malm dresser along with the Ikea console vanity (since they're both made of veneer and can't be stained or repainted as reliably as solid wood). Applying simple grasscloth wallpaper to the surfaces of these chunky square pieces and holding it in place with some nice strong adhesive (Allyson can check with her local hardware store to see what they recommend- perhaps something like Liquid Nails or even wallpaper glue) will give them a totally chic and exotic look. Plus a layer or two of protective poly will make them nice and durable (again, Allyson can check with the paint pros at her local hardware store to see what they recommend for "sealing" those newly grassclothed furnishings). Of course this may sound like a lot of work, but we love that Allyson is down with painting and otherwise "refreshing" the furnishings that she already has. And if she decides it's too much trouble, she can always sell her two existing blond wood pieces on Craigslist and invest in the same deeper toned versions from Ikea for a more cohesive and polished look that doesn't blend in as much with the carpet.
4. We're all about layering textures and colors instead of creating completely matchy-matchy rooms where all the furnishings and accessories look like they came from a set in a department store. So we love the idea of placing this modern round black mirror above the soon-to-be-stained chest next to the door and two of these gorgeous chunky square wood mirrors hanging about five inches apart above the console vanity that will move to the wall to the left of the bed (as you face it). They'll both bounce a lot of light around the room and their thick frames will feel balanced in a space with such high ceilings, plus the function that they'll add will allow for easy make-up application in front of the vanity and provide one last glance for Allyson as she heads out the door.
5. We always always always love statement making lamps on nightstands that flank the bed, and these shapely gourd lamps (for quite a great price considering the fact that similar ones go for $150+) will really add upscale elegance to the modern Ikea nighstands. Along with some stunning curtains they'll single-handedly take the entire sleeping area to a new level (and provide that nice turn-off-the-light-from-bed-convenience that everyone appreciates).
6. This 8 x 11 hand tufted wool rug (such a steal for the size) is one of those punchy modern pops in the room that will take it from beige and bare to completely layered and polished. We love a rug under a seating area or a sleeping zone in a large room (even one with wall to wall carpeting) because it defines a smaller zone and creates a cozy room within a room (which draws the eye away from things like the TV and towards the more luxurious area of the space- like a plush sectional or an inviting fluffy white bed).
7. This elegant and leggy upholstered bench will look great at the foot of the bed (perhaps with a nice steely blue throw and some glossy magazines stacked on it) for even more ambiance and inviting style. A few traditional and classic items like this bench will balance out the more graphic and modern things- like the rug and those vintage-esque printed curtains- for a gorgeous balanced look that's not too much of one style or the other.
8. Allyson mentioned that she loves large scale art, and it doesn't get much more amazing than this giant canvas map that's ready to hang and perfect for our palette. It'll inject more of that serene vibe to the room, tie in with our color scheme and even add a touch of "escapism" to the bedroom since Allyson can now gaze at it from bed and think about her next vacation. Plus such a large piece (the long double dresser that will sit below it and anchor that entire wall of the room) really calls for an equally substantial piece of art to add scale and interest to that big bare expanse.
9. Here are the aforementioned curtains that we love for their graphic and almost vintage style that ties into our color palette and even plays well with the patterned rug- especially once things like the white bedding and the darker furnishings are brought in and it all starts to come together. We'd love to see three of these panels hung from a classic oil-rubbed bronze rod that's installed high (about 10″ above the window) and wide (about 18″ beyond each edge of the window) for an immediate infusion of style and softness. Oh and the reason we called for three panels is that one will go on each side of the rod (to create the illusion of an even larger window) and one will hang in the middle of the two windows (to obscure that sliver of wall so there appears to be a much wider expanse of uninterrupted glass). We'd also suggest hanging the very same curtains at the same height on that smaller window on the wall to the left of the bed (hanging them wide will make it seem less skinny and long) for a cohesive feeling in the room.
10. And last but not least, this rich brown ottoman will offer up even more storage and it'll slip right under the console vanity for a place to sit when putting on make-up. We adore the classic and traditional nail-head trim (which also has a slight vintage look to it- like an old heirloom or a steamer trunk from decades past) along with the rich warm brown color (which ties in perfectly with the square vanity mirrors and even some of the leaves in the gorgeous and graphic curtains). Plus the price is pretty delicious too.
So there you have it. A bedroom full of modern-meets-traditional style. We can't wait to see what you guys think!
Update: We sadly can no longer find the time to take on client commissioned mood boards (we now whip up general inspiration boards instead) but if we ever reinstate them we'll make a big announcement!