When we got word that Alice and her boyfriend Dave needed our help with their living room, we grabbed our laptop and got right to work. Here's her letter:
My boyfriend Dave got me your decorating advice for Christmas! He knows that I am a big fan of your blog. I'm so excited! Six months ago, my boyfriend and I moved into a sweet little cottage in Northern California. Because we were both fresh out of grad school, many of our furnishings came from friends and family. Now that we have had the chance to save up a bit, we would like to make over the living room. I would love to find a way to make the room feel a little more polished and light. In particular, we would love help with the layout. There's currently a lot of empty space next to the piano and we're very open to rearranging everything in the room. I would describe our taste as fresh, informal, and comfortable – with a preference for clean lines. For now the wall color stays (it is a rental) as well as the couch, side tables, rug, coffee tables, piano, and tv table.  However, the two chairs are optional- and the lamp, piano bench fabric, and the paintings all may go. We would love to see an accent color in the light french blue or periwinkle blue family. There is some light grey-blue in the carpet. Thanks so much for your help! – Alice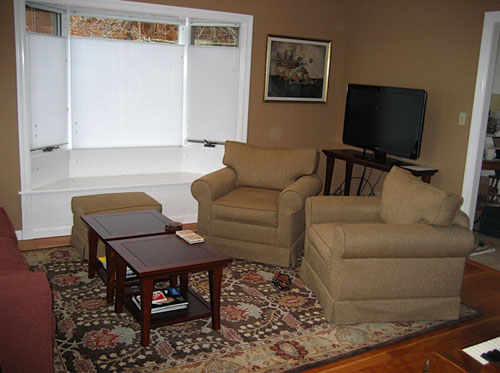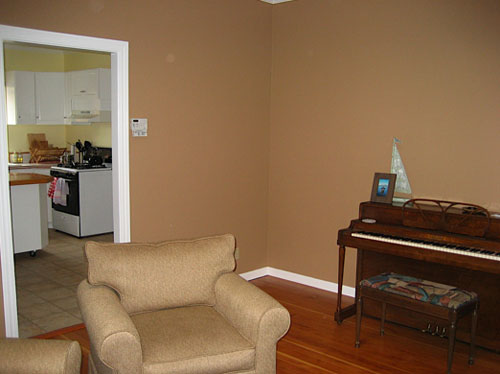 The bones of this room are great, and we'll definitely be able to work with a lot of Alice's existing pieces to add a lighter and more polished feeling along with a fresh new floor plan. Here's the mood board:
And now for the mood board breakdown.
1. Our color palette in here will be defined by the existing sofa and rug which incorporates some tawny brown tones along with cranberry, a dash of pale blue and some other soft neutral tones to keep everything feeling crisp and current. Along with adding some soft blue accents at Alice's request, we'll also be suggesting an entirely new floor plan.
We'd love to see the sofa in front of the larger bay window in the space (the largest piece of furniture often looks best against the longest wall, and in its new home the sofa will also get to rest on the longest side of the rug for even more balance and cohesion). Of course the side tables should follow the sofa to the long wall and flank the sofa on either side and the coffee tables should also follow suit and live centered on the rug in front of the sofa. Then the piano can be placed in front of the smaller bay window where the couch used to reside and the the TV stand can bemoved over to the wall that currently houses the piano (for easy viewing from the sofa along with a more subtle appearance when people enter the room). And lastly, placing one of the existing chairs to the right of the sofa (as you face it) angled in towards the coffee table will fill out the space that used to be inhabited by the TV (and add a bit of extra seating).
While Alice and Dave will lose one chair in this layout, they'll gain access to the soon-to-be-upholstered piano bench which will fit in seamlessly with the rest of the space. And there will be no more bare corners thanks to a few potted floor plants that we'd suggest for either side of the piano and also to the left of the TV stand (we love Ikea for their inexpensive house plants and sleek white planters). Plus, by moving the sofa to the longest wall, it creates balance and a much more polished symmetry to the room, which will draw people's eyes right out those gorgeous bay windows that will so nicely frame the seating area.
2. Here are some pretty glass candlesticks that we'd love to see on top of the piano so that the sun will stream through that bay window and gleam off these pretty pieces.
3. And here's the fabric we'd love to see on that piano bench. It'll just cost $7.95 to give the entire piano a facelift- and this pattern will add a bit of casual polish thanks to the traditional paisley print with some fresh, crisp blues worked in.
4. As far as art is concerned, we searched high and low for something stylish that won't break the bank (since Alice needs at least four pieces to hang around the room- one on either side of the sofa, one on the wall where the TV used to live, and one on the other side of that doorway to the kitchen). We happily stumbled upon two inexpensive series of black and white prints so Alice can easily snag 6 stunning photographs for just $24! The great thing about this series is that it's natural but not too flower focused (don't wanna get too girly for poor Dave) and although this series is a bit more floral in nature, we think they balance each other out and will work quite well together in crisp black or dark wood frames.
5. Just like the art we trolled the web for something that looks polished and luxe without busting the budget. And although we originally fell in love with these blue silk curtains from West Elm, we dug a bit more and found these blue silk panels for less than half the price- plus they have a nice little trellis detail in another color from our palette.
6. To complement the glass candlesticks that we'd love to see on the piano, we'd also like to add more light and a bit of gleam to the coffee table with these round glass candle holders which will add a gentle ambiance when lit. And at $3.95 a pop, Alice can't go wrong.
7. Curtains and a set of matching table lamps will make this room, so although Alice needs to keep most of her furnishings in the space, her room will completely transform with the addition of those stunning blue silk curtains and these gorge table lamps on the existing side tables flanking the sofa. They have a clean-lined sort of masculine shape to appeal to Dave, but they also have a quiet elegance and a polished look for Alice. And they're priced about a hundred bucks cheaper than any others of their kind. Score.
8. In a room with a patterned rug and patterned curtains, many people would stick to solids from there on out. But we think this room will come alive with a bit more of that layered, patterned style, which is why we chose the paisley print for the piano bench and this great patterned pillow for the couch and our remaining armchair. Thanks to the common thread that ties all of our printed and patterned pieces together (they're all full of the tan and blue tones from our palette) everything will come together like magic in the room.
9. But although Alice and Dave want a polished finished product, they also adore a casual atmosphere, so instead of two matching pillows on either side of the couch and another on the chair nearby, we thought a mix of a few pillows would add to the warm inviting feel without getting too matchy matchy. Gotta love a plethora of plush pillows, and this pale blue one is just $1.49. No that's not a typo. Amazing!
10. And because odd numbers are so great in decorating, why stop at two pillows when Alice and Dave can have three? This geometric patterned one will tie in with the circles on the blue pillow above, and the colors work perfectly with everything from the walls to the rug. Yum.
So there you have it. Alice and Dave's lighter and more polished living room. It'll really be a huge transformation, and a budget-friendly one at that (thanks to the fact that they're keeping a lot of their existing pieces). We can't wait to hear what you guys think!
Update: We sadly can no longer find the time to take on client commissioned mood boards (we now whip up general inspiration boards instead) but if we ever reinstate them we'll make a big announcement!