Alena's living room is ready for a major makeover. Here's her letter:
This is the perfect 25th birthday present to myself! We recently painted our open living room, dining room and entryway Benjamin Moore's Hawthorne Yellow. I'd like to replace the carpet with hardwood, bamboo, or tile in all those spaces so any suggestions with that are welcome and I need more help with the living room specifically. I like modern and natural looks. Duce is our huge boxer puppy who is allowed on the furniture so everything needs to be dog-friendly and/or washable. I'm not afraid of color, but also love neutrals. I'm stumped because of our open floor plan. The Van Gogh poster has to stay (it can be moved). The TV has to stay put, obviously. The yellow La-Z-boy chair was very expensive, but now that we've painted the walls yellow, it clashes so it can go. I absolutely hate the couch, so it must go. The Ikea wall mirror is new, but can be moved anywhere in the house. The brown tables should stay, but I can refinish or paint them. Everything else can go and I wouldn't mind more seating, either. – Alena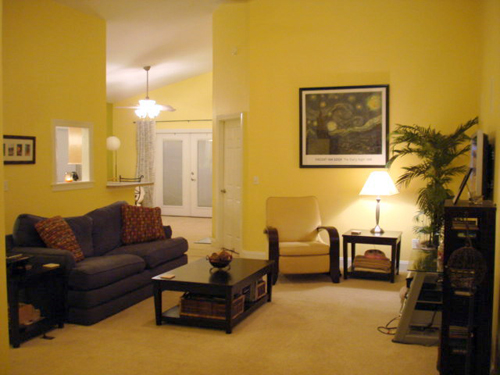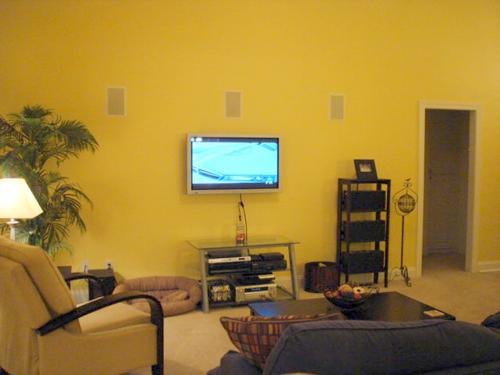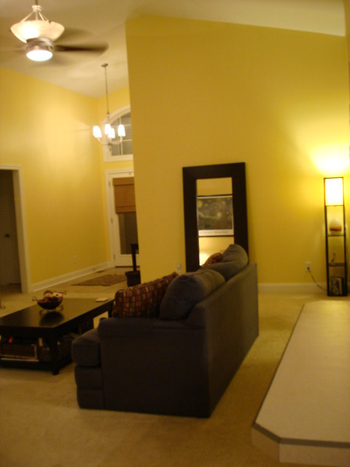 Here's the plan: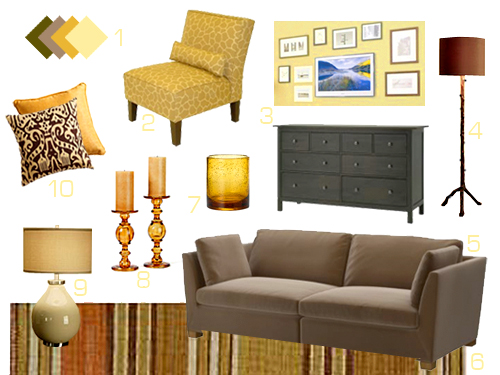 And now for the mood board breakdown.

1. With that rich Hawthorne Yellow paint on the walls we'll keep things warm and inviting by layering in chocolates, mochas, and amber tones to work with the deep wood furnishings for a modern and natural-yet-luxe effect. And introducing lots of subtle patterns and textures will really make the open floor plan feel cozy instead of cavernous. Alena also requested a floor suggestion for her entire open plan (including the kitchen and dining room) so because we've been so happy with hardwoods in our kitchen, living room and dining area we found this gorgeous mocha option that we know will look amazing throughout her home (and it's just $3.59/sq foot!).
2. Alena mentioned she'd love extra seating so two of these slipper chairs (to replace her La-Z-boy) can be brought into the space thanks to the addition of an area rug that we'll use to define the seating area so the chairs can float on the two corners of the rug closest to the TV (angled in towards the coffee table). And the detailed tone-on-tone pattern will add interest and tons of polish to the space- while remaining completely dog friendly- without breaking the bank (they're just $299 each with free shipping!).
3. We'd love to see the floating TV grounded by a large chest of drawers (in the same rich wood tone as the existing accent tables) which will provide tons of concealed storage space for everything from DVDs to board games. We also appreciate the fact that it's a bit taller than a traditional media stand (which would look off in a room with such tall ceilings and a floating TV hung where it is on the wall). And speaking of that floating TV, hanging framed photos like this (all with generous mats for a polished effect) around the flat screen will instantly diffuse all the focus on the TV and make the whole wall an interesting arrangement full of memorable moments and prints that Alena loves. Tip: making all the art black & white or keeping it all in a similar color palette will help tie everything together for a cohesive overall effect.
4. We loved this amazing twig floor lamp with a rich mocha shade that will tie in with everything from the wood furnishings to the sofa and add even more subtle interest to the warm and welcoming space. It's sort of like sculpture thanks to the cool twiggy base (plus Alena can get 20% off by entering M20 at checkout). We'd love to see it in place of the chunkier lamp with shelves seen in the last photo to the right of the mirror. And speaking of the mirror, we like it exactly where it is. Since this room doesn't have any windows, the mirrored pane creates a "window" of sorts to expand the space and bounce around lots of light. Perfect choice Alena!
5. We're totally enamored with this gorgeous sofa from Ikea. It's the perfect color and completely washable so it's super dog friendly. It's definitely one of their more high end models and we think it'll look like a million bucks in Alena's space (and really last for the long haul). We especially can't wait to see it paired with the slipper chairs and the rug we hunted down.
6. And here's that 8 x 10 rug in all its glory. Everything from the modern stripes to the textured tones (it's practically our entire color palette) makes it meant for Alena's room. And in open floor plans like hers (especially in rooms with super lofty ceilings) tossing down a large area rug instantly defines a cozy seating area- creating an immediate room within a room. And not only does it add texture and color while defining the seating area, it will allow Alena to place those two slipper chairs that we hunted down on the rug facing the sofa on the opposite corners, angled in towards the coffee table for balance and style to spare. Of course the existing coffee table can be plunked down in front of the sofa to ground things even further, and we'd love to see both of the matching side tables placed on either side of the sofa for even more balance across from those matching chairs.
7. Gleaming amber and honey colored accents will really make this room come alive, so we'd love to see these great glasses with small candles in them placed in a line down the middle of the coffee table to break up all that wood and create a sparkling runner of sorts (that can really set the mood when lit). Plus the price (just $29 for six glasses) is pretty hard to beat.
8. For more of that glittering amber ambiance, we'd love two of these candle holders on one side of the chest of drawers that will be placed under the TV for sophisticated asymmetrical style on the cheap (they're on clearance for $9.99!).
9. Then for a bit of symmetrical interest in the room, we'd like to see one of these gorgeous table lamps on each of the existing matching side tables (which will be moved to flank the sofa). Plus Alena can get 20% off by entering M20 at checkout. The great thing about switching the floor in the living room from carpet to hardwood means they can add floor outlets under each side table (which is always a selling point not to mention oh so convenient) or they can skip that step and just tuck the cords under the rug they'll be throwing down so they're less of a tripping hazard when they're plugged into the nearest wall outlet.
10. Sometimes it's the little things that really liven up a space, and the wall of frames around the TV, the gleaming amber accents, and this textured and rich pillow pairing will really make the room feel special. We especially love that the patterned ikat pillow is just $5.68 on clearance so Alena can easily snag two for her sofa, and the honey colored solid pillow is also a steal at $14.95 (so grabbing two of those to pair with the patterned ones on each side of the sofa will be no sweat).
Oh and we can't forget the Van Gogh painting that must stay in the room. We think keeping it on that wall but centering it and lowering it at least a foot will help it fit right into the rest of the decor. And if Alena settles on warm mocha wood frames around the TV, she might want to get a matching frame (or re-stain her existing Van Gogh one) so it really ties in with the rest of the wall art.
So there you have it. An inviting modern living room full of warm and cozy style. We can't wait to see what you guys think!
Update: We sadly can no longer find the time to take on client commissioned mood boards (we now whip up general inspiration boards instead) but if we ever reinstate them we'll make a big announcement!