Abby's office is already full of inspiration and eye candy, and we're beyond thrilled that she came to us to add more storage and style to boot. We're huuuuge fans of her amazing wedding site Style Me Pretty and we can't wait to see how her office will transform with a few simple upgrades. Here's her letter:
I'm SO excited that you're going to be helping us whip the Style Me Pretty office into shape. Since my husband and I work from home, it can quickly become a place of total chaos. The good news is that it has great bones: a biggish space, gorgeous desks from Crate & Barrel, awesome chairs (knock-offs of course) and a few cute-ish accessories. On paper (and on entry) it's gorgeous. The problem is we have zero storage space, zero organization and close to zero style. There are papers/files falling out everywhere, ridiculous amounts of cords, bins and boxes on the floor, pathetic attempts at wall decor. It's not good. At all. And as someone who thrives on beautiful things, this has become such a sad space for me. Even the dog is depressed about it. So, if you could help us design a space that allows us to thrive creatively, we would be forever grateful! We like clean & modern with touches of whimsy and a few antiques here and there for texture and a bit of history. As for what stays, the desks and chairs do, but everything else can go! The whole house is white so a big wall color might look out of place, but I'm open to suggestions. I like lots of accent colors (yellows, chartreuse, hot pink, whatever) and I also LOVE white. Think Domino mag: hip & chic. Thanks so much for the help! Can't wait to see what you do. – Abby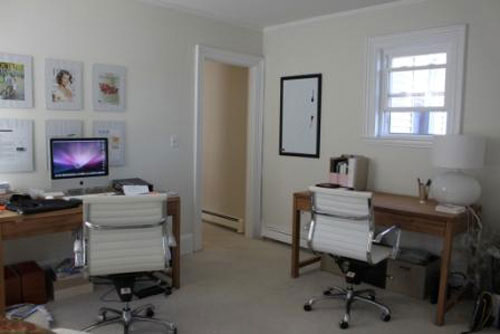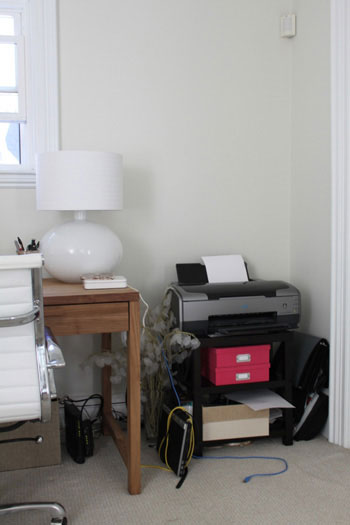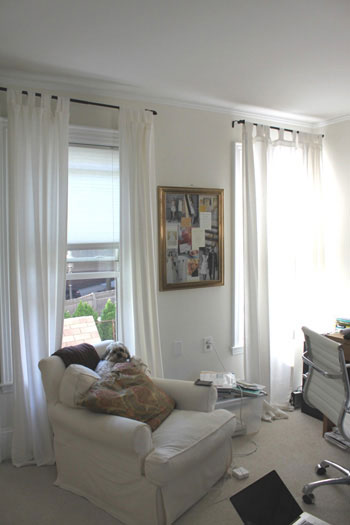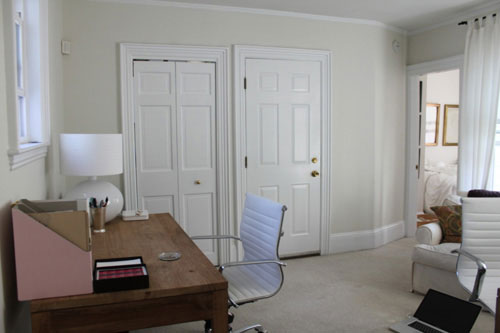 This office runneth over with posh potential. Here's the plan:
And now for the mood board breakdown.
1. Our color palette will contain an abundance of fresh white tones, clean-lined oak furnishings, and some vibrant pops of pink and yellow (two of Abby's favorite colors) in the smaller accessories for a happy-go-lucky vibe.
2. We love the existing Crate & Barrel desks, and thought Abby could introduce some coordinating whimsy in the form of these wooden birds that could be perched on the windowsill above her desk for interest and charm (three small ones on one side of the window for asymmetrical interest would be sweet). And speaking of that window, we'd love to see it dressed in the same chic white curtains that the other ones in the space wear so well for a bit more balance and cohesion (pulling the desk about 6″ from the wall should allow those curtains to drape to the floor as the others do). Oh and speaking of those desks, these amazing leg cord managers can make leggy desks like Abby's look crisp and cord free thanks to hidden systems in the back that run the cords down the legs for a seamless look. And at $9 per system, they're a total steal.
3. For the area on the wall above the other desk, we think a giant work of art will add interest and presence. But instead of a traditional framed print or photo we happened upon this amazing oversized map of the world and instantly fell hard for it. The vibrant hues will enliven the entire room, and it's certainly a nice distraction when it's time for Abby to take a few minutes to daydream about traveling the world or quiz herself on her on state capitals. Mounting it up sans-frame either with rails, pins, or even on a roll-down mechanism will add vintage charm and more of that uncommon & interesting Anthropologie flair- and it ties in perfectly with our color scheme to boot.
4. This vibrant and happy pillow will breathe new life into Abby's existing armchair while further establishing the pops of pink and yellow that we'll be bringing into the space.
5. The vintage charm of these antique-ish pinboards from Pottery Barn (on sale!) made our day, and we'd love to see one hung longways on either side of the newly added curtains that will be placed high and wide on the window above Abby's desk. Voila: the perfect place to pin up inspiration and even pics of her sweet bambino.
6. For the strip of wall between the long already-curtained windows on the other side of the room, three of these clean-lined floating shelves hung about 20″ apart will create a nice little display spot for framed accomplishments, favorite Etsy art, and other meaningful objects that will make her room feel welcoming and homey.
7. This is one of those how-did-I-ever-live-without-it pieces. Sliding it in front of that strip of wall between the windows below the new floating shelves will instantly create a side table that also provides tons of file and office supply storage while almost disappearing thanks to the soft white tone and the small footprint. Seriously life changing.
8. We couldn't resist this hot pink vase for the top of the filing cabinet or even one of the desks since it adds so much chic style and punchy color for just 25 beans.
9. We're huge fans of these monogrammed mugs from Anthropologie, and we love the idea of lining up four of them to spell out the word "work"  and using them to store often-used office supplies like pens, scissors, and paper clips on one of the desks.
10. This is the second piece of furniture that will instantly take this room from fabulous to fabulous and functional. Placed to the right of Abby's desk that sits under the window, this amazing filing cabinet can also double as printer storage and keep all of those wires under control thanks to an opening in the back of the cabinet meant for just that purpose (check out the photos of it open to get a sense of all that it can do). And the price is better than an ugly one from Office Max. Score.
11. We couldn't get over these mouthwateringly chic and fun storage boxes from The Container Store, and we would love to see a colorful stack of them (brown, pink, and yellow) on either desk for even more space to tuck things away in style.
12. We love the idea of introducing small touches of stainless steel for a slight industrial vibe in Abby's crisp and modern office, and this linear wastebasket not only coordinates with the casters and the drawer pulls on her new white storage cabinets, but it'll serve as bona fide sculpture in the room. And the mix of materials and interesting lines that it adds to the space is oh so Domino and chic-lectic (chic & eclectic).
13. Since one good pillow usually deserves another, we'd love to see this sweet little bird-printed one tossed in front of the larger pink and yellow striped one on the white armchair for an easy layered vibe.
14. And last but not least, Abby will find that once she hangs curtains on the window above her desk, they will frame out a bit of the wall under the windowsill that will practically be begging for a bit of interest. Instead of hanging a small piece of art, we'd love to see three of these great printer's letters standing on the desktop to spell out SMP (Style Me Pretty!) for a charming 3-D touch to fill the void between the curtains. Gotta love those personal touches for an office that makes you feel right at home.
So there you have it. A workspace full of easy and layered style. We can't wait to see what you guys think!
Update: We sadly can no longer find the time to take on client commissioned mood boards (we now whip up general inspiration boards instead) but if we ever reinstate them we'll make a big announcement!