Ok, so we're in the middle of finally getting that crown molding installed (that I got for John as one of his Christmas presents). But you may not realize, I certainly didn't, that it takes a lot of prep before crown molding can go up. Everything has to come down off of the walls and all furniture has to come into the center of the room so that the ladder can easily navigate the circumference of the space. So here's what all of our living room stuff looks like crammed into the third bedroom.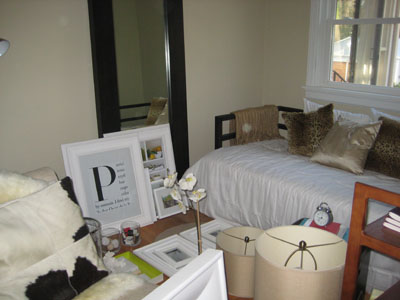 But enough about the molding. When it's completely finished we'll have some purty before and afters for ya. But the purpose of this post is to share the switcheroo I pulled on our best-purchase-ever-Ikea-shelves. Since I had to take everything off of them for the crown installation, it was the perfect opportunity for a little presto-chango. See, they used to house everything from frames to vases to plants to books to shells to canvases. And they had a broad range of shapes, sizes and colors on display.
I thought bringing in some kitchen items (dishes, bowl, mugs, etc) would make sense now that the side of the room that houses our shelves has semi-recently been turned into our dining area. And lo and behold, I adore the end result. It's a lot simpler when it comes to the color palate (it's pretty much exclusively white and green) and it just feels so fresh and new (it never hurts to change the scenery every once in a while). So without further ado, I present to you my new shelving arrangement: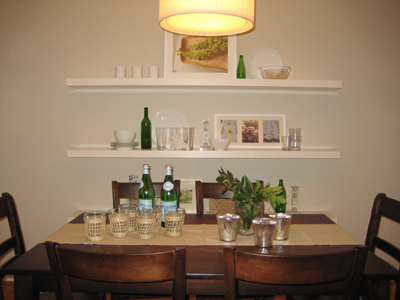 Thoughts? Ideas? General musings? Haikus?