Why cook when you can call Papa John's? Last night when our friends Noah and Jessica came over for a meal/intense game night, the evening was full of firsts. Like actually using our dining table (we're embarrassed to admit that we've been eating out A LOT lately, and when we do dine at home it's usually Hot Pockets in front of the TV).
After our sophisticated adult dinner of pizza from the box, we made our way into the den and played some raucous rounds of Racko (one of our favorite new games) by the fire. They even brought over some tasty treats: Chocolate Chip Skullies.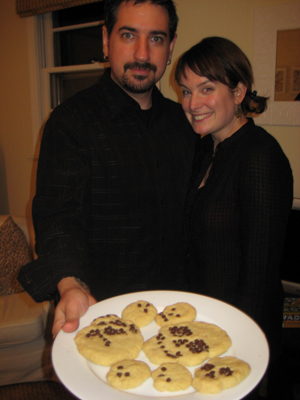 Noah runs an uber cool website called skulladay.com, so click here to see more of his gorgeous skull creations (and get your mitts on the insanely delicious cookie recipe).