I'm a type-A kinda gal. I admit slash attempt to embrace that quality, because it's just who I am. So to that end, after we did our first superlatives post back in July, I kept thinking about how it would be nice to have the earlier seven months worth of project breakdowns – to fill in the gap between January (two weeks after we moved in and essentially when we started doing projects) and July (when we started doing monthly roundups). It's just fun for us to see a month at a glance, and we thought it might help some of you guys dig up specific projects without trolling through 432 posts in our archives. Scrolling through twelve posts to recap an entire year isn't bad, right?
So that "would be nice" thought festered for a while, and started nagging me more and more and then it went from thinking about it (aka: wouldn't that be nice) to obsessing about it (aka: do it before your brain eats itself!) so eventually I gave in and spent the last few months chipping away at it. Of course they don't include every last blog post (there aren't any Reader Redesigns or House Crashing posts or other random not-really-house-related things) but they're full of all the noteworthy projects and adventures that we've had each month for the past year.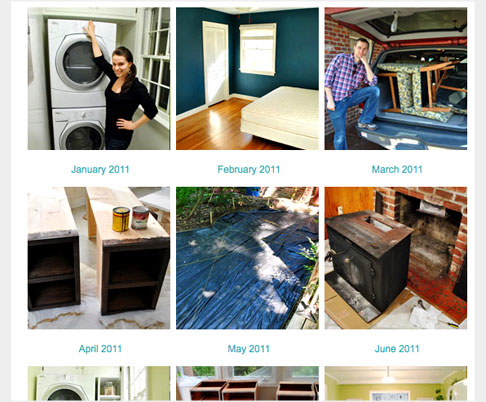 I figured I could silently post them at the end of each correlating month (by pre-dating them so they'd drop into the archives in the right order), but I also realized that hiding them "back in the day" isn't as helpful as rounding them up in one big easy to troll page with 12 boxes to see the entire year at a glance. So here ya go (you can access that page anytime by clicking the box on the sidebar that says Quick Monthly Round-Ups). It was one of our resolutions to make our archives easier to navigate, so we figure this is a good first step.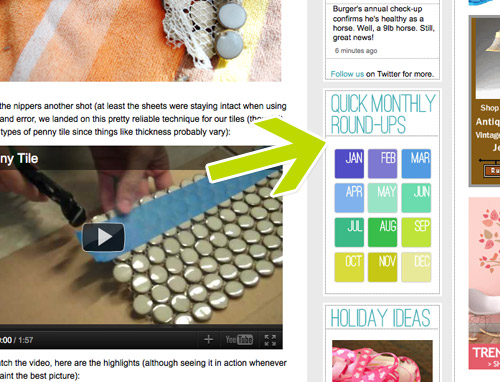 Hope you enjoy the walk down memory lane. And here's to another twelve months full of projects, posts, the bean, the Burgsie, and random ceramic animals of all shapes and sizes! We're probably getting our penny tile on as you read this, so stay tuned for a big update with some wide shots and another video all about the application process tomorrow!
Psst- We're craigslisting our full sized sofa bed from our first house's office/guest room/playroom, so here are the deets for any interested locals.