Happy Friday y'all! We have some interesting house guests today (we'll instagram/Facebook a sneak peek as soon as we get the ok) so we thought we'd have some Friday fun over here. We used to make at least one mood board each week and we'd get your thoughts every Friday with Burning Questions (little home-related "would you rather…" polls) but somehow over the years our smorgasbord approach narrowed and before we knew it things were feeling pretty our-house focused. Which is why one of our blogiversary goals was to get back to the variety that we used to have so much fun with (goal #2) and to include "more of you" (goal #4). So we thought this feature would be a fun way to highlight some cool mood-board-worthy stuff while getting your take.
So here's the big question: if someone slapped $460 into your hand, would you go for this big statement making armchair or this collection of lower priced items and accessories?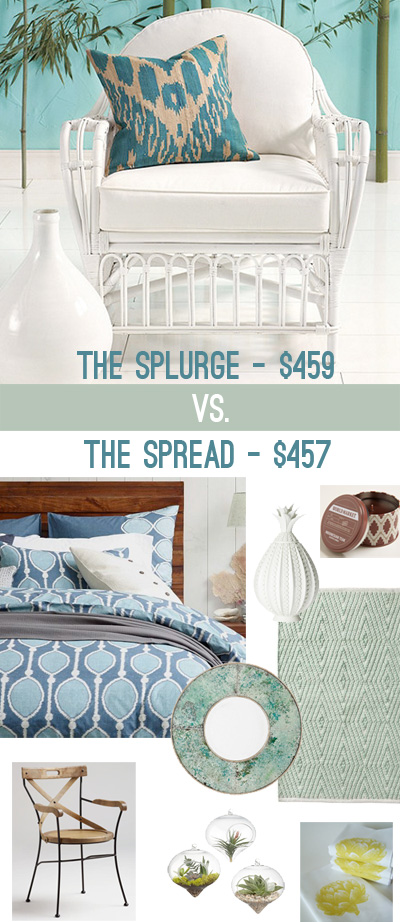 The splurge source: This armchair.
The spread sources: This bedding, this pineapple vase, this candle, this mirror, this bath mat, this accent chair, these hanging glass terrariums, and these artichoke printed napkins.
I can totally see arguments for each side, so I can't wait to see which way you guys go! And feel free to elaborate in the comments.