It was really fun to read about all of the smitten betrothed people on this week's wedding-themed giveaway from sister sites Two Paperdolls and Louella Press. We hope you all love being engaged and adore your big day. And hopefully, at least for one of you, this week's prize (a free set of custom letterpress invitations) will be a beautiful part of making that dream wedding come true.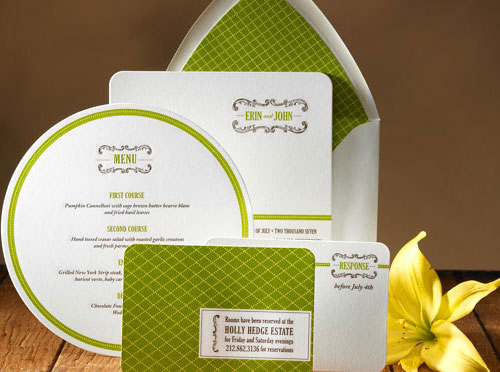 The great news is that even if your name didn't float to the top this week, Louella Press is offering all YHL readers 20% off any wedding invitation order of $750 or more for the entire month of July. Just mention Young House Love when calling or emailing to snag the discount. By our math, that means you can save at least $150. Score!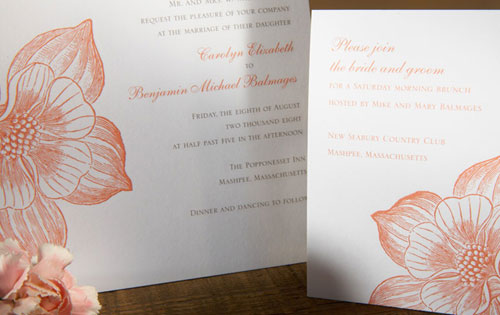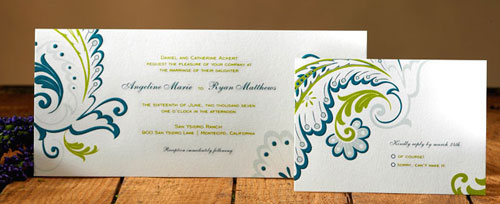 But since it's not ever a wise move to make a bride wait, I guess I should get on to naming a winner. After asking random.org who the lucky lad or lady is (on bended knee of course) we learned that our big winner is… Pippin (who's getting married at a Colorado destination wedding next summer). Congrats! And best wishes to you and your soon-to-be-spouse.
Oh and don't worry if you didn't snag the big prize this week, on Monday we're back to non-wedding themed loot, and let's just say there's some pretty cool booty to be had (and yes, there's a clue in there somewhere). Stay tuned…
See more info on our Giveaway FAQs page. Pics courtesy of Two Paperdolls & Louella Press.