As people who enjoy personalized/monogrammed things (what? it's not girly- I love typography) reading everyone's entries on this week's giveaways gave us a ton of customizable DIY projects to add to our to do list (we're already the proud owners of personalized art, mugs, towel hangers, paperweights and, of course, our personalized stamper from The Paper Cafe and Three Designing Women.)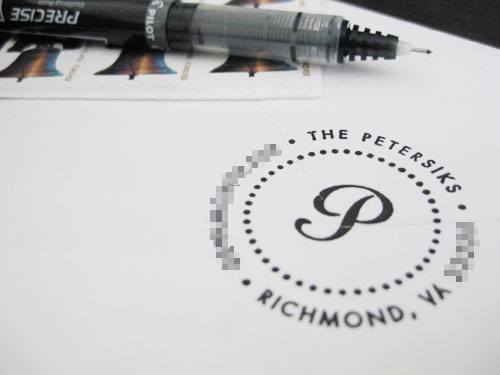 But on to the giveaway winner. First of all, for the 3,700-some of you who didn't win today, you sort of won anyway – The Paper Cafe is offering all YHL readers a special 15% discount on customer stampers and colored ink sets through Monday. Just enter YOUNGHOUSE15 at checkout. Not a bad consolation prize, eh?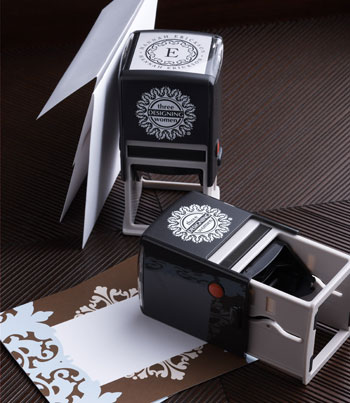 Ok, now we'll move on to the two lucky winners who will get to add to (or begin) their me-centric collection of objects with a free stamper (in any design), a bonus color ink replacement and an assortment of other fun paper items (gift tags, list pad, note cards and wine hang tags). We sent a beautifully addressed letter to random.org and it lovingly wrote back the names of our two winners: Kate O. (the owner of monogrammed towels) and Shanna (who loves her monogrammed pillowcases and sheets). Congrats ladies! Now you just have to spill the beans about which design you'll each be choosing.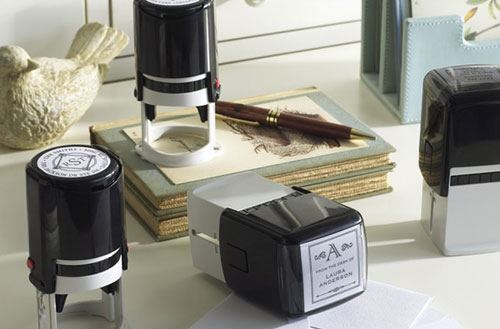 And fret not if you didn't win this week. We've got some locally "grown" prizes in the hopper for Monday so stay tuned…
Get more info about our freebies on our Giveaway FAQs page. Pics courtesy of The Paper Cafe and Three Designing Women.
Psst- Looking for a few DIY monogramming projects? Check out how we made wall-worthy monograms from old magazines and fonts we loved (both projects were cheap and easy).