Reading all of your holiday entertaining plans on this week's giveaway really got us in the mood for the seasonal festivities. Hope you don't mind if we decide to crash some of the parties you guys are throwing. We promise we won't each. Much. Well, I take that back – one of us is eating for two after all. What if we promised to bring you some glimmering holiday goodies from Z Gallerie in return? Then do we officially gain permission to stuff our faces?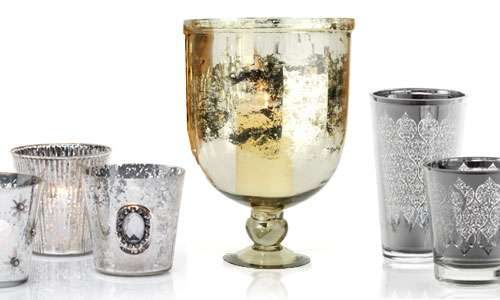 Well, as much as we'd love to bribe our way into all of your parties with these sparkly Z Gallerie decor items, we've only got one set to give away to one lucky guy or gal. So after hyponotizing random.org with the two ribbed Antique Mercury Votive Cups, silver Antique Mercury Hurricane and Puccini Hiball glasses in this week's prize pack, it randomly revealed our winner's name: Brooke (whose party staples are good wine, good treats, a crackling fireplace and Christmas music). Congrats! Now when should we come over? Just kidding. Sort of.
As for next week, we've got a prize for one of you (no matter where you live in the world!) that'll help you spread holiday cheer all year long. Fun, fun, fun…
Get more info about our freebies on our Giveaway FAQs page. Images courtesy of Z Gallerie.