Isn't it a small world? Especially with the World Wide Interweb at the center of it all. So we thought you guys might enjoy this funny story about where this crazy blogging train takes us sometimes.
The Backstory: Last spring I went to a local writing seminar because our friend Noah (who's also a published author, award-winning blogger, and all-around-good-guy) was speaking and we wanted to show our support. Sadly Sherry missed out because she had a conflicting "make-up party" to go to with my sister. No lie. Anyways, on the panel was another Richmond-born author named Jenny Block. She was very funny and the story about getting her book published was very interesting indeed. Naturally it made me curious to read her book, so I made a mental note and headed back to pick up a sure-to-be-heavily made up Sherry from her party (she did not disappoint).
The Yard Sale: Fast-forward to June and I spot Jenny's book, Open, at a local yard sale. Sherry seemed a bit worried when she saw me grabbing for a book subtitled "Love, Sex and Life in an Open Marriage" but I reassured her that my sole interest was in seeing how this witty speaker's voice translated on to the page, NOT in opening our marriage to others (and I realize this sounds like a typical guy duping his wife, but trust me here – I've seen enough episodes of Big Love to nix that idea).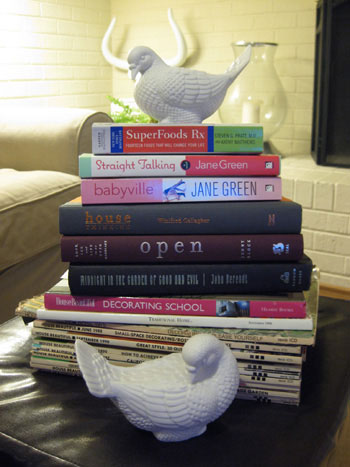 The Blog Post: After the yard sale we blogged about our finds in this post. Along with the post, we shared the picture above, where you can clearly see the titles that we purchased. The small worry that someone would recognize the title and start wondering if Sherry and I were becoming, um, "adventurous" did actually cross our minds…
The Email: Well, someone did recognize the book. A friend of the author's emailed her the link which prompted an email back to us from Jenny herself: "It looks as if you bought my book at a yard sale! I'm not sure if I should be happy or sad since that means the original owner no longer wanted it. LOL. But I'm glad someone scooped it up! If you want to drop it in the mail to me, I'd be happy to sign it to you and send it back."
So we did. And she did. And now we've got this: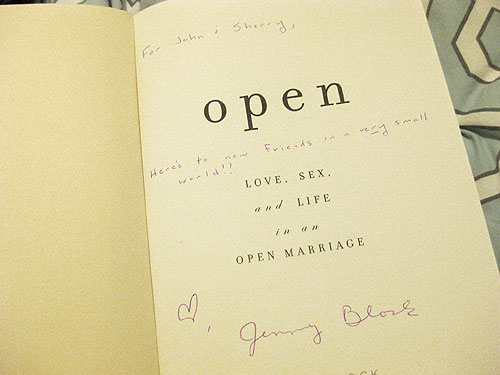 Oh, and I'm about halfway through the book and it has been a very interesting read. And I can say with the utmost confidence that I'm more than happy to keep my marriage closed! So that's our latest small world story. Do you guys have one to share? Or any other good reads that we should put on our list?