When Trudi tasked us with helping her create a fresh new dining zone and sitting area we rolled up our sleeves and whipped our our paint decks. Here's her letter:
We're looking to warm up the whole space with a new wall color and I would like a dining area and a sitting/reading area. I love color: lime green, blues, yellow, white, tans, I like graphic and floral prints. Oh and I'm over red. I like pops of color on white or light furniture… but I have 3 small children (4, 2 & 9 months) so a lot of white won't work for now. Traditional, modern, beachy, glamorous, casual I like them all. I love the painting (it was my first big purchase when I bought my first house). The piano will be removed and I just purchased a sisal rug with a black border and parson chairs with black slip covers for the table, but they were inexpensive so the slipcover color can change if necessary. The benches are out, the buffet is an old dresser that can be replaced, I would love a round dining table for 6 but I don't know if I have the room so we may have to keep the dining table, I will leave that up to you. We are also planning to get a new light fixture and I have a Pottery Barn Charleston chair in a half that I can buy a slipcover for if you think that would work. I'm so looking forward to your design ideas, being a stay at home mom this is where I spend most of my time and I really want to love what I see. Thanks! – Trudi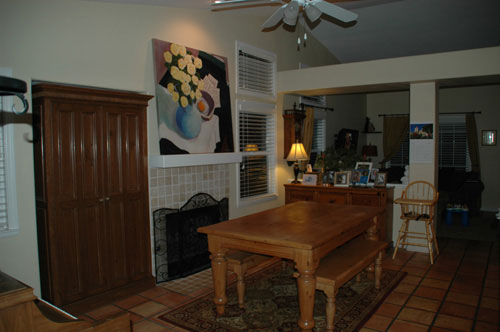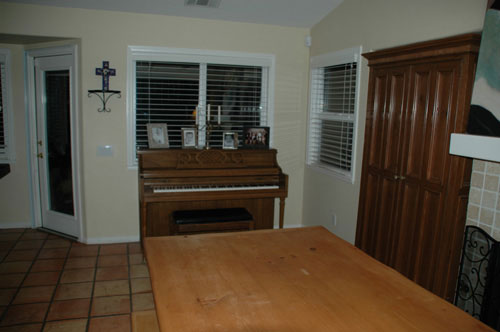 There's nothing like clearing a few things out and bringing some fresh new life into a space. Here's our plan:
And now for the mood board breakdown.
1. Trudi's attraction to bursts of color inspired us to bring in some punchy splashes of blue and green (which pick up the tones in her painting above the fireplace). We'll keep things classic by tempering those dashes of hue with warm and inviting neutrals and a few hits of sophisticated black. We also love that Trudi already ordered a sisal rug with a black border and some black slipcovered parsons chairs, and we'd actually suggest that she paint her existing buffet a nice glossy black to instantly add drama and style to the piece that she was ready to move out of the room. We'd love to see a serene and subtle celedon color on the walls (it always looks great with black and white and tan) and we think bringing this color into all of the adjoined rooms will keep the whole floor plan feeling open, fresh and cohesive (try Benjamin Moore's Ceadon Green).
2. We looked high and low for a classic and stylish light fixture for above the dining table, and we swooned when we saw this clean and elegant design.
3. And speaking of lighting, we'd love to see the newly painted black buffet with a matching lamp on either side of it. These posh turquoise-toned leather-looking beauties will add a cheerful dose of color to that side of the room (and they look far more spendy than they actually are).
4. Trudi mentioned that she wanted a sitting area where the piano resides, and since she already has a Charleston chair and a half from Pottery Barn, she said she'd be happy to slipcover it. We'd love to see it covered in durable and timeless "Caramel" twill, which will work seamlessly with the rest of the space (and come clean in the wash when the kids have grubby hands). We also found this vibrant green velvet pillow to toss onto the neutral chair and a half for a bit of fun and color that can be switched out whenever the mood strikes.
5. One of our favorite finds for the space, these fabulous patterned curtains (in Tadashi Black) should be right up Trudi's alley (she mentioned that she likes graphic prints and floral patterns and these babies have both). They'll perfectly complement her black slipcovered chairs and sisal bordered rug while adding height and glamour to the entire space. We'd love to see them all hung high and wide at the same height- which means that Trudi should mount the highest one first and hang the rest on the same line. It looks like the window near the buffet and the pass-through is a good deal higher than the others in the room, so hanging the curtains at that height throughout the space will make things feel more balanced and cohesive. And Trudi can use the same bamboo blind trick that we used in our living room to make all the windows appear to be that tall (hanging bamboo blinds to bridge the gap between the curtain rod and the window so no one's the wiser). This curtain trick will be the single most transformative thing Trudi can do to create a welcoming and stylish space. Curtains can really make the room!
6. Since our curtains have such a strong and bold pattern, we'll want to eliminate the existing fireplace screen which may compete with the new drapery panels (and also draws attention away from the neutral fireplace tiles above it). This clean-lined substitute will still keep little hands and feet out of the firebox while injecting a crisp and current feel in a snap.
7. Here's a sisal rug with a black border similar to the one that Trudi already ordered. We're crossing our fingers that she picked up an 8 x 10 rug for the space, because that size will better accommodate a new round table and allow for the chair legs to rest on the rug (whether the chairs are pulled out or tucked in). And even if Trudi wants to decorate in phases, keeping her current table and painting it black is another great way to crisp it up so it looks like new (it will also look great on a bigger sisal rug)!
8. To add more of that splash of color that Trudi adores, we'd love to see this turquoise vase full of these yellow flowers in the center of the new dining table that we dug up (round tables often need something with a bit of height in the middle of them). The beauty of this pairing is that it will subtly mimic the blue vase with yellow flowers in the art above the fireplace without looking too obvious and matchy-matchy (while connecting the round table to the round pendant hanging above it for one balanced vertical line in the middle of the dining area).
9. This slipcovered parson's chair is similar to the ones that Trudi already ordered for the space. We think they'll look fabulous atop her black bordered sisal rug (and dirty little hands won't be cause for concern). Of course they'll also look amazing with those graphic curtain panels!
10. And last but not least, we looked far and wide for a spacious round table that can accommodate 6 people (this one's 60″ wide, which we think should still fit in Trudy's space). A round table is a great way to go when you're looking for easy flow and a chic yet casual feeling, and we can't wait to see the table centered under the new light fixture that we dug up. Trudi may find that she actually has to swag her light fixture to make it appear centered over the table (this can be done easily with a plant hook on the ceiling above the table which will allow her to drape the excess cording over the hook so the light now dangles perfectly over the table). And speaking of the table, it's especially beautiful (check out the top view on the site!) and extremely highly rated, and we also love that it ties in with the color of the existing hutch in the nook next to the fireplace while the black slipcovered chairs will tie in with the soon-to-be-painted black buffet.
So there you have it. Trudi's new dining and sitting area with some fun pops of color and a lot of classic and timeless appeal. We can't wait to hear what you guys think!
Update: We sadly can no longer find the time to take on client commissioned mood boards (we now whip up general inspiration boards instead) but if we ever reinstate them we'll make a big announcement!