When Lydia and Chris contacted us for help with their living and dining area we immediately saw their home's potential. Here's their letter:
We're so excited to see what you come up with! We recently moved into our home and at the time we thought that an open floor plan would be great, however, it's a bit of a disaster since neither of us are decorating savvy. We have very high ceilings and it's a much larger space than either one of us knows what to do with. We could really use your help! We love your living room and den and when we watch home makeover shows we're generally attracted to a mid-century (50's mod) look. Things that must stay: couch and tv (we're open to a new entertainment/tv stand & are willing to remove the accompanying towers). We'd also love if you could work in our white apothecary chest and two gray armchairs. We just had the place painted (it's a warm pale yellow) so we'd like to keep the paint. We are hoping to put in wood floors soon, so an area rug will be a must and we'd also like window treatment ideas. Thanks! – Lydia and Chris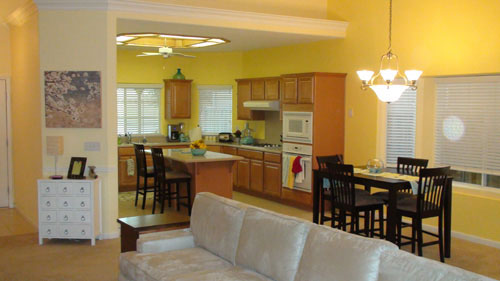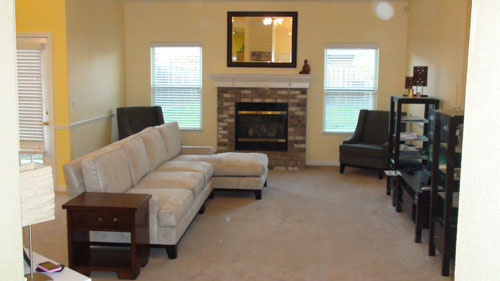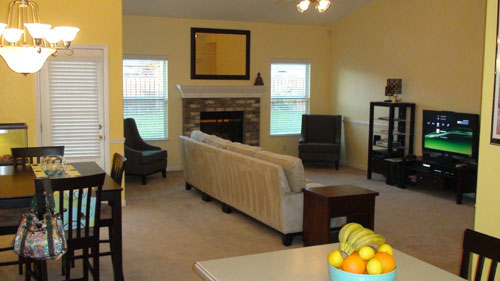 This open plan is begging a new furniture arrangement and some fresh new accessories to take it to the next level. Here's the plan:
And now for the mood board breakdown.
1. Our color scheme was inspired by the warm yellow walls and the amazing striped rug that we found for the room. Deep chocolate furniture pieces (and new wood flooring) will balance out our punchy red, orange and yellow accent colors. And some bright crisp white will further tone down the poppy accessories for a warm and inviting space to relax and dine in style.
2. A few yellow accent pieces like this fun little lamp (on sale!) will create little "moments" around the room. And we'd love to see this guy on top of the white apothecary chest (in place of the existing lamp) to bring more of our accent color over into that area so it feels more integrated.
3. Again bringing some of our accent colors over to the dining area is a great way to tie this big open living space together. A textured, rich red & orange runner will break up all the dark wood in the dining area. And once we bring in a coordinating lamp and vase the entire space will feel warm and welcoming.
4. Hanging this sleek and stunning pendant (on sale!) over the dining table will add more of that mid-century modern look that Lydia and Chris adore. Plus it'll really play off of everything from the wall color to the accessories around the room for that flawlessly cohesive and clean-lined effect.
5. On top of the runner in the middle of the table, this dreamy vase combines the colors of the runner and the pendant for a polished and posh effect. It looks gorgeous even without flowers, so the low-maintenance vibe that it brings to the room will also make entertaining easier than ever.
6. We'd love to see this woven side table (a total steal, by the way) in the place of the current sofa side table for a more casual and integrated effect when paired with the sectional. We also have a new floor plan for the living area, so another two of these woven side tables will also look great next to each of the gray armchairs which will be shifting a bit in the room. Stay tuned for those details…
7. This gorgeous lamp doubles as a work of art. And it will actually be one of the elements in this mood board that makes the space. Stuck in the corner to the left of the fireplace in the second picture above (where one of the gray chairs currently lives) this light will arc gracefully over the couch and provide cozy ambiance for anyone who wants to snuggle up and read on that side of the sofa.
8. These sweet and sculptural vases reinforce our happy color scheme and we'd love to see two of them grouped together on the right side of the mantel while the left side of it remains clear (we adore an asymmetrical mantel, and these vases are all the pop that Lydia and Chris will need for a current and modern effect).
9. And we'd love to see this mirror (which just happens to be majorly on sale for its size) hung above the mantel in place of the existing rectangular one to create soft smooth curves for an open and airy effect.
10. This is the other piece that will make the space. Not only does this fabulous 8×10 rug tie together our entire color scheme, but it's seriously affordable (you'd be hard pressed to find a better deal anywhere, and it's from Pottery Barn!). Here's where we'll explain the slightly tweaked room layout. We'd love to see the room cleared and this rug placed in the center of the room, then the sectional can be placed facing the same way it used to with its front legs on the rug (it will probably shift back about two feet towards the wall, which will really open things up. Then we'd like to see the towers on either side of the TV stand go away so each of those gray chairs can flank the TV stand (Lydia and Chris will want to angle them in towards the sofa for a cozy look). The chairs can be moved in a bit towards the sofa while the TV stand stays against the wall- ideally the front two legs of the armchairs will be on the 8×10 area rug just like the sofa's front legs for a totally tied together seating area. Rugs are so great at anchoring an arrangement like this! And since the rug has soft turquoise stripes as well, the turquoise accents in the nearby kitchen will tie right in (and can even be introduced into the living and dining area too).
Then of course our arc lamp will take the place of the armchair that used to be to the left of the fireplace and the two woven side tables will be brought in next to each armchair to further define each of those little sitting areas (now people will have a place to put a book or a glass of water). The last woven side table will take the place of the existing side table on the side of the sofa, and the entire seating area will come together before Lydia and Chris' eyes. With everything feeling more balanced in the room, and the rug trying all the elements together, Chris and Lydia might long for a coffee table to further ground the seating area, so we dug up this one to complement the other furnishings and even the arc lamp.
11. These accent pillows will look cozy and inviting tossed on the sectional and even the two gray armchairs.
12.We loved this sweet poppy art, and thought it would look great above the apothecary chest to tie more of the red and yellow accent colors over into that area for a more cohesive effect.
13. Crisp white curtain panels will keep the dining area and living room feeling breezy and airy. We'd love to see our favorite Vivan curtain panels from Ikea hung high and wide over each window in the space (they're so cheap and so great- we even have them in our living room). And using inexpensive bamboo blinds to cheat the windows even taller like we did in our living room would complement their tall ceilings and tie in with those woven stools perfectly.
So there you have it. Chris and Lydia's fabulous new living and dining room plan. We can't wait to hear what you guys think!
Update: We sadly can no longer find the time to take on client commissioned mood boards (we now whip up general inspiration boards instead) but if we ever reinstate them we'll make a big announcement!